Update 2018-10-28: Now at State Line Ramp! Yes, we've moved downstream, to plenty of water, no deadfalls, plus shoals, in two states (Georgia and Florida) and four counties (Lowndes, Brooks, Madison, and Hamilton).
-jsq, John S. Quarterman, Suwannee RIVERKEEPER®
You can join this fun and work by becoming a WWALS member today!
FOR IMMEDIATE RELEASE
Hahira, GA, October 8, 2018 — By popular demand at the Hahira Honeybee Festival, WWALS has extended the deadline for early-bird $20 tickets through Saturday, October 13, for the WWALS Boomerang paddle race, coming up Saturday, November 3, 2018. This new event goes downstream and back again on the Withlacoochee River and the west edge of Valdosta, the largest city in the Suwannee River Basin, only a few miles from Valdosta State University. Someone from the Atlantic coast of Florida won our spring BIG Little River Paddle Race this spring, and kayaks or canoes from everywhere are welcome at the Boomerang as well. If you don't have a boat, two outfitters so far have signed up to supply those. There will be food and drink and music at this WWALS fall paddling festival.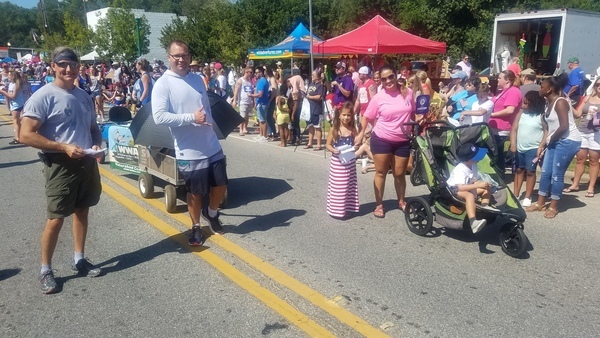 WWALS Boomerang organizer Bobby McKenzie and family with fellow WWALS board member Dan Phillips in the parade at the Hahira Honeybee Festival.
Boomerang paddlers will race from Langdale Park Boat Ramp, just off of North Valdosta Road (US 41), down the Withlacoochee River to Sugar Creek Landing, and back upstream. If you don't want to race, you can just paddle, and if you don't want to paddle upstream, you can take out onto Gornto Road. Bobby's four-year-old son finished our other paddle race, so paddlers of all ages are welcome.
For all the details and to get tickets, Continue reading →