WWALS Boomerang paddle race: Georgia into Florida and back again! 2020-10-24 [Up]
Tickets: $20 online until October 15, then $30.
To encourage others to get a ticket, social media events: facebook, meetup.
Flyer:
Publicity:
2020-10-20: This Saturday, with more sponsors and higher water: WWALS Boomerang paddle race into Florida and back to Georgia 2020-10-24

2020-10-06: Video: Cleanups, WWALS Boomerang, and wood pellet plant on Steve Nichols radio show 2020-10-06
2020-09-04: Boomerang mentioned in the Valdosta Daily Times

WWALS will sponsor the Boomerang paddle race Oct. 24 at the state line boat ramp. Competitors will race from Georgia into Florida and will make a return trip.

2020-09-04: Press Release, WWALS Boomerang 2020-10-24,

Hahira, GA, September 4, 2020 — For the third year, people will paddle down the Withlacoochee River from Georgia three miles into Florida, and back upstream, in the WWALS Boomerang! Canoes, kayaks, and paddle boards are welcome to register starting at 9 AM, Saturday, October 24, 2020, with the race to begin at 11 AM. There will be prizes, and food, and drink. "There will be plenty of water, no deadfalls, and probably some shoals to make it more interesting," said Boomerang mastermind and WWALS Outings Chair Bobby McKenzie.
Last year's winners:
You can join this fun and work by becoming a WWALS member today!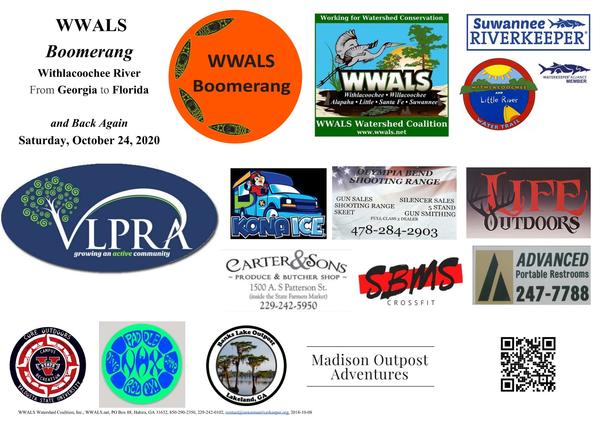 Sponsor banner, WWALS Boomerang 2020
PDF