WWALS: Sabal Trail red pipe going into the ground in Hamilton County, FL 2017-01-14 [Up]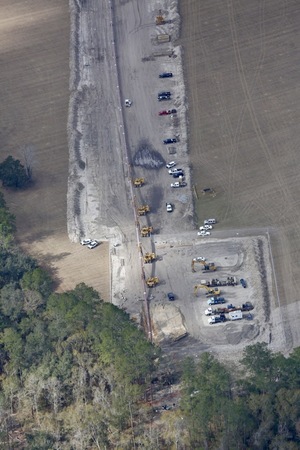 Red pipe going into Hamilton County HDD, 30.4098870, -83.1640110
The day of action against Sabal Trail at the Suwannee River saw hundreds turn out on land, water, and in the air and got a lot of press, but Sabal Trail continued to pound pipe into the ground in Hamilton County, Florida, going under Suwannee River State Park (SRSP) and the Suwannee River.
Lynn Buchanan posted a facebook video taken from the woods of Suwannee River State Park.
Below are photographs by Beth Gammie for WWALS from a Southwings flight piloted by Roy Zimmer, navigated by Can Denizman, January 14, 2017. You may reuse these pictures provided you cite the source: Beth Gammie (or John S. Quarterman) for WWALS Watershed Coalition.

This picture: by John S. Quarterman for WWALS at 4:43 PM from SRSP. Note the 15 Florida Highway Patrol cars, where in the pictures below by Beth Gammie from the air a few hours earlier there were only a few Hamilton County Sheriff vehicles.
-jsq, John S. Quarterman, Suwannee RIVERKEEPER®
You can join this fun and work by becoming a WWALS member today!
Follow this link for the google map, and it's embedded below.