Much more in a blog post a day.
---
Help Suwannee Riverkeeper save the Okefenokee Swamp
You can object to a titanium strip mine proposed far too near the Swamp.
---
Fourth Annual WWALS Boomerang Paddle Race:
Tickets are available $20 online until October 15, then $30 online or at the event.
https://wwals.net/pictures/2021-10-23–boomerang/
---
Right to Clean Water and four more Florida constitutional amendment ballot initiatives.
Sign them all at fl5.org.
---
WWALS Mission: WWALS Watershed Coalition (WWALS), established June 2012, is an IRS 501(c)(3) educational nonprofit charity that advocates for conservation and stewardship of the Withlacoochee, Willacoochee, Alapaha, Little, Santa Fe, and Suwannee River watersheds in south Georgia and north Florida through education, awareness, environmental monitoring, and citizen activities. That's throughout the entire 10,000 square miles of the Basin and Estuary in Georgia and Florida, from the Okefenokee Swamp to the Gulf of Mexico.
FAQ, Board, Staff, Committees, News and PR
Suwannee Riverkeeper®, since December 2016, is a staff position and a project of WWALS as the member of the WATERKEEPER® Alliance for the Suwannee River Basin. See our Frequently Asked Questions (FAQ).
---
Report: any issue you see affecting water in the Suwannee River Basin.
---
Issues: get involved in the advocacy of WWALS, for solar power and rights to clean water, air, and land. We oppose new mines (titanium or phosphate) and coal ash, fracking, new pipelines, and liquid natural gas (LNG) export, new toll roads, as well as corporate agriculture using too much water, too much fertilizer, and too many pesticides.
---
Water quality testing: read up on how the rivers are cleaner, get trained to test, or donate to our volunteer water quality testing program.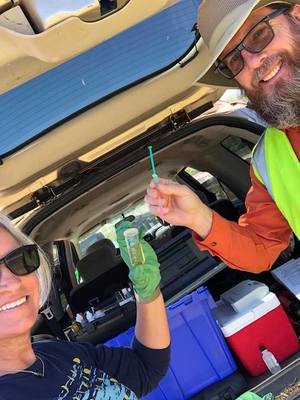 ---
Outings: Come on some of our frequent paddle outings and cleanups, at least one a month.

---
Join us: Outings are free once you become a WWALS member.
---
Kayak Raffle: $950 value, and tickets are only $5 each or five for $20.
---
Water Trails: we organize two, with web pages, interactive online maps, z-fold brochures, road signs, and at-water signs with details of what to expect upstream and down. Plus maps of another, and a composite map of all three, covering the entire 10,000-square-mile Suwannee River Basin in Georgia and Florida.
---
WWALS Online Store: Hats, stickers, notecards, and more!
---
Join WWALS now to support our outings and advocacy, and you get into outings for free, plus our monthly newsletter.
---
Posts with new information on outings, advocacy, and more appear almost every day: https://wwals.net/posts.