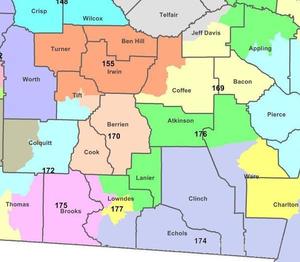 To find your legislator you can type in your ZIP code here: http://openstates.org/find_your_legislator/
Or here's a handy list of Georgia House members in WWALS territory, extracted from the Georgia House website.
In boldface are those whose district is in the direct path of the Sabal Trail fracked methane pipeline, or who represents the seat of a county that is.
See also Georgia Senate and Elected Officials.
180, Steven Sainz, R – Woodbine, 404.656.0177, steven.sainz@house.ga.gov, Charlton and Ware Counties
177, Dexter Sharper, D – Valdosta, 404.656.0126, dexter.sharper@house.ga.gov, Lowndes County
176, James Burchett, R – Waycross, 404.656.0188, james.burchett@house.ga.gov, Lowndes, Lanier, Atkinson, and Ware Counties
175, John LaHood, R – Valdosta, 404.656.0188, john.lahood@house.ga.gov, Brooks, Thomas, and Lowndes Counties.
174, John Corbett, R – Lake Park, 404-656-0213, john.corbett@house.ga.gov
172, Sam Watson, R – Moultrie, 404.656.0213, sam.watson@house.ga.gov, Colquitt, Tift, and Thomas Counties
171, Joe Campbell, R – Camilla, (404) 656-0254, joe.campbell@house.ga.gov, Colquitt, Mitchell, and Grady Counties
170, Penny Houston, R – Nashville, 404.463.2247, penny.houston@house.ga.gov, Cook, Berrien, and Tift Counties
169, Dominic LaRiccia, R – Douglas, 404.656.0287, dominic.lariccia@house.ga.gov, Coffee and Ben Hill Counties
155, Clay Pirkle, R – Ashburn, 404.656.0188, clay.pirkle@house.ga.gov, Tift, Irwin, Turner, Ben Hill, and Coffee Counties
152, Ed Rynders, R – Albany, 404.656.6801, erynders@bellsouth.net, Worth County
148, Noel Williams, Jr., R – Cordele, 404.656.0188, noel.williams@house.ga.gov, Crisp and Wilcox Counties
139, Patty Bentley, D – Butler, 404.656.0287, patty.bentley@house.ga.gov, Dooly County