Flyer
Flyer Map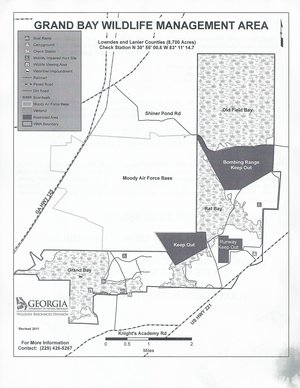 GRAND BAY WILDLIFE MANAGEMENT AREA

Lowndes and Lanier Counties (8,700 Acres)
Check Station N 30° 56′ 00.6 W 83° 11′ 14.7

GEORGIA
DEPARTMENT OF NATURAL RESOURCES
Revised 2011

For More Information
Contact: (229) 426-5267
Flyer Text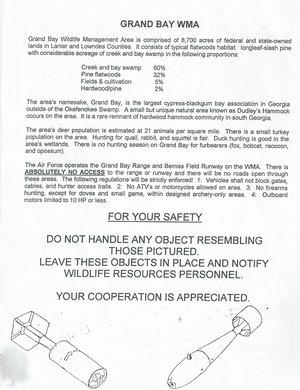 GRAND BAY WMA
Grand Bay Wildlife Management Area is comprised of 8,700 acres of federal and state-owned lands in Lanier and Lowndes Counties. It consists of typical flatwoods habitat: longleaf/slash pine with considerable acreage of creek and bay swamp in the following proportions:
Creek and bay swamp 60%
Pine flatwoods 32%
Fields & cultivation 5%
Hardwood/pine 2%
The area's namesake, Grand Bay, is the largest cypress-blackgum bay association in Georgia outside of the Okefenokee Swamp. A small but unique natural area known as Dudley's Hammock occurs on the area. it is a rare remnant of hardwood hammock community in south Georgia.
The area's deer population is estimated at 21 animals per square mile. There is a small turkey population on the area. Hunting for quail, rabbit, and squirrel is fair. Duck hunting is good in the area's wetlands. There is no hunting season on Grand Bay for furbearers (fox, bobcat, raccoon, and opossum).
The Air Force operates the Grand Bay Range and Bemiss Field Runway on the WMA. There is ABSOLUTELY NO ACCESS to the range or runway and there will be no roads open through these areas. The following regulations will be strictly enforced!
Vehicles shall not block gates, cables, and hunter access trails.
No ATV's or motorcycles allowed on area.
No firearms hunting, except for doves and small game, within designed archery-only areas.
Outboard motors limited to 10 HP or less.
FOR YOUR SAFETY
DO NOT HANDLE ANY OBJECT RESEMBLING
THOSE PlCTURED.
LEAVE THESE OBJECTS IN PLACE AND NOTIFY
WILDLIFE RESOURCES PERSONNEL.
YOUR COOPERATION IS APPRECIATED.
Pictures
12 May 2010 Swamp Streams by John S. Quarterman
12 May 2010 Structures in the Swamp by John S. Quarterman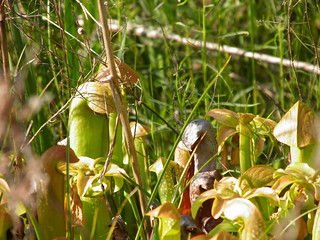 12 May 2010 Pitcher Plants by Gretchen Quarterman
22 October 2008 Grand Bay WMA Wildlife by Tom Spinker
Parks and Trails, Lakeland-Lanier Chamber of Commerce

(Adjoins Banks Lake on the southern border in Lowndes County)

Grand Bay is a partnership between the Wildlife Resources Division and the Coastal Plains RESA. This facility offers a 1/2-mile boardwalk, a 54-foot tower, and an education center. A certified teacher is on hand for a full day of instruction. Make reservations as early in the school year as possible, even as early as the first day of pre-planning. Local schools have priority over other groups.

For more information, please visit the Grand Bay page of the Coastal Plains RESA website.

Grand Bay Wetland Education Center
4661 Knights Academy Road
Valdosta, GA 31605
(229) 333-0052 (229) 333-0052 (fax)

New Georgia Encyclopedia

The Robert Patten Grand Bay Wetland Education Center, located ten miles north of Valdosta in Lowndes County, teaches and demonstrates the complex ecological relationships between plants and animals. A partnership between the Georgia Department of Natural Resources and the Coastal Plains Regional Educational Service Agency, the center concentrates on the contributions of a functioning wetlands ecosystem to a healthy natural environment. Its educational activities, including guided trips into the Grand Bay Wetland; working with live mammals and amphibians and reptiles; and interactive ecological experiments, correlate with the state of Georgia's curriculum standards. Approximately 6,500 schoolchildren visit the center annually.

The center also offers to the public an interpretative experience of the Grand Bay Wildlife Management Area, which includes the 18,000-acre Grand Bay/Banks Lake ecosystem. The size of the Grand Bay ecosystem is second in Georgia only to the Okefenokee Swamp, the largest wetland in the state and one of the largest in the Southeast. Like the Okefenokee, Grand Bay offers many plant communities, including upland longleaf and slash pine flatwoods, cypress and gum swamps, savannahs, and various shrub bogs.

Interpretive experiences include access to the wetland along a half-mile boardwalk, which ends at the Kinderlou Tower, a gift of local businessman Harley Langdale Jr. This structure, once a fire tower that overlooked Langdale Forest Products' timberland, has been modified to allow observation of Grand Bay's plant and animal life. The boardwalk takes the visitor through many features of the wetland, beginning with a wet savannah and coursing through shrub bogs, a black gum/cypress pond, and a prairie with various herbaceous plant communities.

In a separate area, visitors may fish, launch canoes along a maintained canoe trail (which also ends at the tower), and hike or bicycle along the Longleaf Pine Flatwoods Trail. Seasonal hunting is allowed in designated areas.

Greater Lanier County

While significant residential development has occurred in Lanier County near the base, a large portion of the lands nearest the base (between GA Highway 122 and GA Highway 221) is constrained by the presence of two large public uses, particularly the Grand Bay Wildlife Management Area (WMA) and the Banks Lake National Wildlife Refuge (NWR). This area is comprised of both federally and state owned lands, of which the Moody AFB owns the federal portion of the Grand Bay WMA. The base has granted the Georgia Department of Natural Resources authorization to use the Grand Bay Bombing Range under a license agreement. Other than these public recreational and conservation uses, the area has only a few small pockets of residential uses.

Greater Lowndes County

Similar to the adjacent land use characteristics in Lanier County, in Lowndes County the land uses to the east and south of the base are dominated by the Grand Bay WMA, which spans both counties. Specifically, the federally owned portion of the Grand Bay WMA is located in both Lanier and Lowndes, but the state owned portion of the WMA is located entirely in Lowndes County.

Economic Development Needs

Partnerships with local stakeholders for improvement of the Bemiss Road corridor,
Identification of development and redevelopment opportunities along Bemiss Road
Marketing and promotion of Banks Lake NWR and Grand Bay WMA

Our continuing commitment to be good environmental stewards and to continually improve our environmental performance is an important part of the mission at Moody Air Force Base (AFB). We ensure the quality of our environmental stewardship through aggressive pollution prevention, restoration, natural resources conservation, and environmental compliance initiatives.

We must continue to fully integrate environmental concerns in all phases of operations at Moody AFB. We are committed to comply with all applicable federal, state, local, and Air Force environmental laws and regulations.

By promoting a truly cross-functional approach to environmental stewardship, Moody AFB will ensure that ownership and responsibility for protecting and enhancing our environment rests not with one office or squadron, but with the entire 23d Wing.

Line Map PDF Topo Map PDF Color Infrared Map PDF Boardwalk Trimble Outdoors google map of boardwalk and pictures.