Nobody wants trash in rivers, creeks, and springs. Cleanups are great, but don't solve the problem.
WWALS is going upstream to try to stop trash at its sources: businesses that let trash escape their parking lots, and the companies that make all that single-use packaging. In between, we are sending grant applications for trash traps.
Here are a few recent successes.
Cleanups
Pafford's Landing, Alapaha River, Lakeland, Lanier County, GA

Pafford's Landing, trash, Alapaha River, Marines, boat, bags, potholes
2021-07-24: Bobby McKenzie and Suwannee Riverkeeper call in the Marines.
2021-09-29: Bobby does a one-man Pafford's Landing cleanup, posts video on facebook. Gets shared to a Lanier County fb group. Lanier County Sheriff calls in a Lanier BOCC member, who calls on the Lanier County Coordinator to get jail inmates to clean up regularly.
Sugar Creek: drains most of Valdosta, GA into the Withlacoochee River
Sugar Creek successes, driven by WWALS Intern Bobby McKenzie with assistance from his family, Russell Allen McBride, Suzy Hall, Suwannee Riverkeeper, and others:
2021-08-12: "If you see it, it'll break your heart. In a deadfall it all gathers," Valdosta Mayor Scott James said on his radio show to Suwannee Riverkeeper, about trash in Sugar Creek, just above the Withlacoochee River, where it washes downstream into Florida and the Suwannee River, onwards to the Gulf.
2021-08-14: Pop-up Sugar Creek cleanup by Bobby McKenzie, Russell Allen McBride, and Suwannee Riverkeeper.
2021-08-31: Valdosta City Council Tim Carroll advises he can think of several ways the City Council could fund trash traps.
2021-09-01: Meeting organized by WWALS intern Bobby McKenzie with Valdosta Stormwater Manager and Engineer, also attended by WWALS E.D. and Suwannee Riverkeeper.
2021-09-13: Suwannee Riverkeeper sent letter and white paper to Valdosta Assistant City Manager Richard Hardy (we will publish those soon).
2021-09-17: Valdosta Stormwater Division cleanup, Sugar Creek trashjam.
2021-09-30: Valdosta Stormwater bug-bitten Sugar Creek cleanup.
2021-10-09: Sugar Creek cleanup as part of big one with Valdosta and Lowndes County got several new participants and one new member.
2020-04-21: This all started with a neighbor report of the infamous Sugar Creek trashjam. After WWALS and Bobby did numerous cleanups there, and other communications, Valdosta is finally paying attention.
In between: trash traps

Bottles and cans, two types of trash traps
2021-11-30: Grant application sent to Coca-Cola for trash traps, with City of Valdosta and Macedonia Community Foundation as collaborators.
Upstream parking lots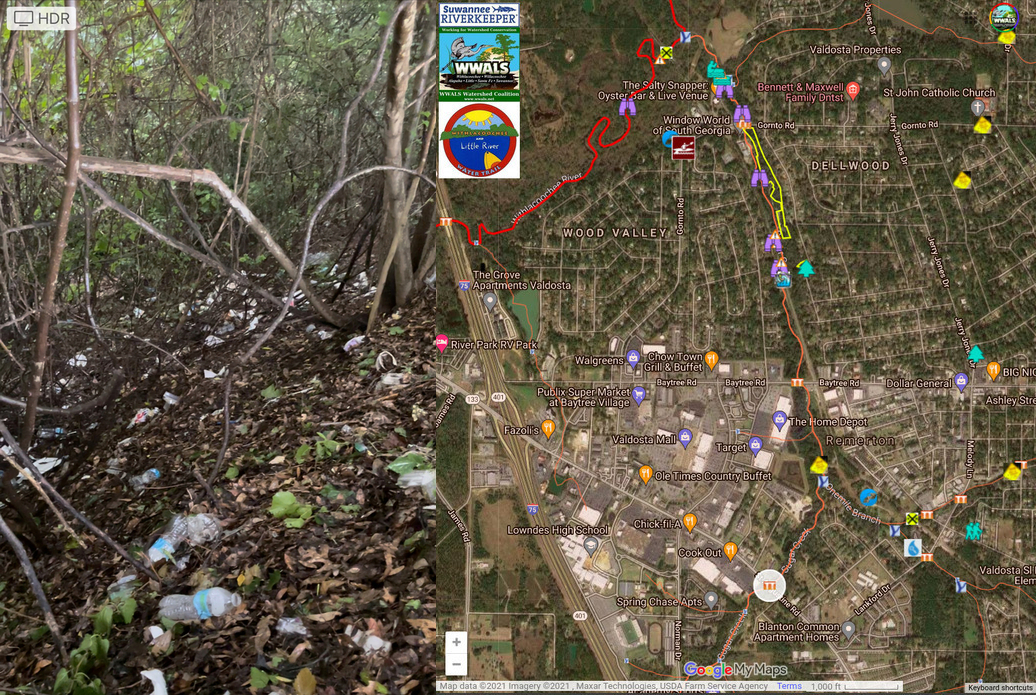 Trash heap, St. Augustine Road, Sugar Creek, Withlacoochee River
2021-07-16: Valdosta Code Enforcement letter to Stafford about trash in parking lot on St. Augustine Road (which Bobby had reported via Valdosta Click 'n' Fix). Letter doesn't mention trash at Hightower Creek, which runs into Sugar Creek, and then the Withlacoochee River.
2021-08-20: Valdosta Stormwater letter to Stafford.
2021-08-several: Bobby continues contacting Stafford, with videos of trash at Hightower Creek.
2021-09-sometime: Stafford changed its contract with its contractor, requiring keeping the parking lot clean down to Hightower Creek.
Now all the other parking lot owners need to do the same.
Also, Valdosta has quite good ordinances about trash, including requiring certain numbers of trash cans per numbers of parking spaces.
Higher up at the trash producers

Suwannee Riverkeeper patrolling by Bobby McKenzie
Promoting bottle deposits and styrofoam bans, as Maryland and Colorado already have done.
This fits with Plastic Free America .
You can help!