You can help by reporting any trash or litter problem you see in Valdosta with Valdosta's Click 'n' Fix smartphone app.
For trash or other problems elsewhere, here's how to report: https://wwals.net/report/.
Strategy
Nobody wants trash in rivers, creeks, and springs. Cleanups are great, but don't solve the problem.
WWALS is going upstream to try to stop trash at its sources: businesses that let trash escape their parking lots, and the companies that make all that single-use packaging. In between, we are sending grant applications for trash traps.
WWALS is addressing trash problems on the Alapaha River, mostly near Lakeland, Georgia, in Lowndes County, Georgia, and in Madison County Florida, among other places.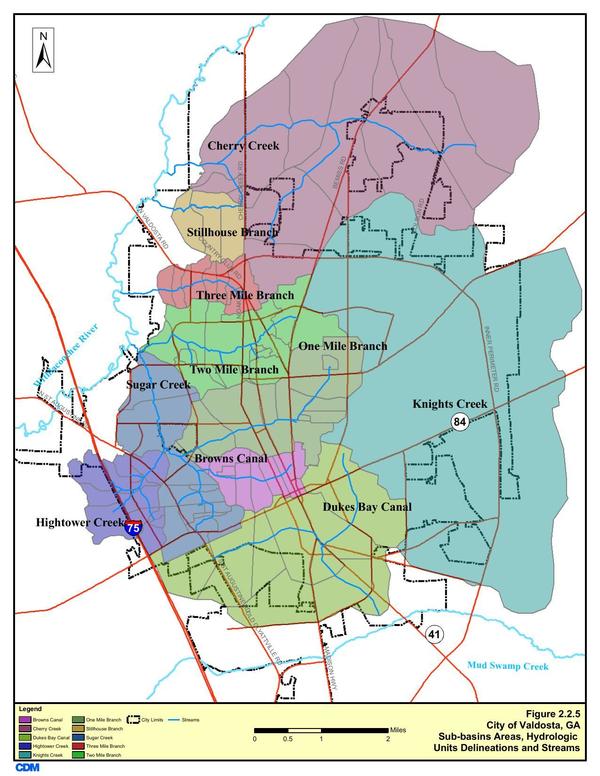 However, most of the trash problem in the Withlacoochee River is coming out of Valdosta, mainly out of Sugar Creek, into which drain Hightower Creek from St. Augustine Road; One Mile Branch from VLPRA HQ, Vallotton Park, Drexel Park, and VSU; and Two Mile Branch down from Bemiss Road, Ashley and Patterson Streets, and Joree Millpond. Some trash comes out of Threemile Branch down from Five Points and North Valdosta Road, and from Still House Branch from the Country Club. We haven't yet checked Browns Canal or Cherry Creek.
Then there are the Creeks that drain into the Alapahoochee River to the Alapaha River: Dukes Bay Canal and Knights Creek, which both feed into Mud Swamp Creek before it joins the Alapahoochee.
Here is an overview of the problem, sources, and solutions:
Here's the positive response we got from the Valdosta City Council to that strategy:
WWALS is following up with further communications with Valdosta to see what Mayor, Council, and Staff are going to do.
Tactics
Here are a few recent tactical successes.
Cleanups are great community-building exercises. But alone the only subsidize the upstream sources of the trash.

Lowndes County Chairman and Valdosta Mayor doing work
There are problems elsewhere, down I-75, for example.

Trash in water, No Dumping sign, trash where no fence
2021-09-04: Tires picked up by Elizabeth Reynolds, Graco Way. Madison County, Florida, Code Enforcement was already on it. Added contacts for MCCE to Report web page.
Pafford's Landing, Alapaha River, Lakeland, Lanier County, GA

Pafford's Landing, trash, Alapaha River, Marines, boat, bags, potholes
Berrien Beach, Alapaha River Berrien County, GA
Sugar Creek: drains most of Valdosta, GA into the Withlacoochee River
Sugar Creek successes, driven by former WWALS Intern Bobby McKenzie with assistance from his family, Russell Allen McBride, Suzy Hall, Suwannee Riverkeeper, and others:
2020-04-21: This all started with a neighbor report of the infamous Sugar Creek trashjam. After WWALS and Bobby did numerous cleanups there, and other communications, Valdosta is finally paying attention.
2021-08-12: "If you see it, it'll break your heart. In a deadfall it all gathers," Valdosta Mayor Scott James said on his radio show to Suwannee Riverkeeper, about trash in Sugar Creek, just above the Withlacoochee River, where it washes downstream into Florida and the Suwannee River, onwards to the Gulf.
2021-08-14: Pop-up Sugar Creek cleanup by Bobby McKenzie, Russell Allen McBride, and Suwannee Riverkeeper.
2021-08-31: Valdosta City Council Tim Carroll advises he can think of several ways the City Council could fund trash traps.
2021-09-01: Meeting organized by WWALS intern Bobby McKenzie with Valdosta Stormwater Manager and Engineer, also attended by WWALS E.D. and Suwannee Riverkeeper.
2021-09-13: Suwannee Riverkeeper sent letter and white paper to Valdosta Assistant City Manager Richard Hardy (we will publish those soon see Litter in the City of Valdosta….).
2021-09-17: Valdosta Stormwater Division cleanup, Sugar Creek trashjam.
2021-09-30: Valdosta Stormwater bug-bitten Sugar Creek cleanup.
2021-10-09: Sugar Creek cleanup as part of big one with Valdosta and Lowndes County got several new participants and one new member.
Update 2022-01-17: Sugar Creek Trash 2022-01-15.
Update 2022-01-26: Videos: Mayor and Chairman's Paddle, Trash, Swamp: Suwannee Riverkeeper on Scott James Radio 2020-01-20.
Update 2022-02-24: Valdosta trash in creeks and rivers 2022-02-22.
Update 2022-03-01: Trash and 12-foot alligator at Valdosta City Council 2022-02-24.
Update 2022-04-03: Need better trash boom on Sugar Creek 2022-03-31.
Update 2022-05-14: Mayor, Council, volunteers, helped WWALS clean up Sugar Creek and Withlacoochee River 2022-05-07.
Update 2022-05-16: Trash at No Water No Beer 2022-05-07.
Update 2022-06-21: Valdosta Watergoat installed in Sugar Creek 2022-06-21.
Update 2022-06-27: Trash boom good; more needed –Suwannee Riverkeeper @ VCC 2022-06-23.
Update 2022-06-30: Sugar Creek trash boom after 1.5 inches rain 2022-06-29
Update 2022-07-05: Click 'n' Fix of uncleaned Sugar Creek WaterGoat 2022-06-30
Update 2022-07-08: WaterGoat cleanout 2022-07-03.

Thanks to Russell Allen McBride for volunteering to clean out the WaterGoat trash boom on Sugar Creek that Valdosta bought. This is a temporary stopgap until Valdosta makes more complete plans to keep this trash from washing into the nearby Withlacoochee River, plus plans to stop trash from getting into the creeks.
One Mile Branch: drains through Vallotton Park, Drexel Park, VSU, into Sugar Creek

Ricardo St., Obama Ave, VLPRA HQ, One Mile Branch
Drains Taylor-Cowart Park, across Bemiss Road, Seymour Street, University Drive, Ashley Street, VSU north campus, Patterson Street, McKey Park, North Oak Street, Berkley Drive, Joree Millpond, Jerry Jones Drive, into Sugar Creek.
Three Mile Branch: drains Five Points, Winn Dixie, and North Valdosta Road

Threemile Branch, Trash, Country Club Drive
One of the goals is to keep the trash out of the Withlacoochee River. Trash booms to stop the trash from getting out of the creeks will mostly do that. But those won't stop the creeks from being eyesores and health hazards for children and adults: more work is needed upstream about fast food outlets and parking lots.

Bottles and cans, two types of trash traps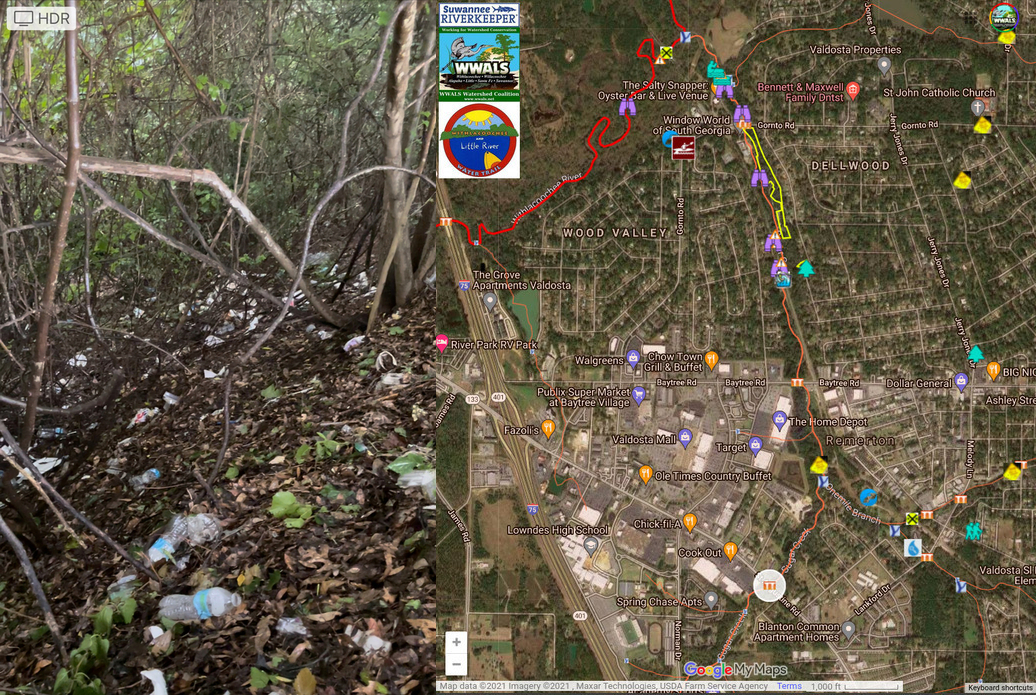 Trash heap, St. Augustine Road, Sugar Creek, Withlacoochee River
2021-07-16: Valdosta Code Enforcement letter to Stafford about trash in parking lot on St. Augustine Road (which Bobby had reported via Valdosta Click 'n' Fix). Letter doesn't mention trash at Hightower Creek, which runs into Sugar Creek, and then the Withlacoochee River.
2021-08-20: Valdosta Stormwater letter to Stafford.
2021-08-several: Bobby continues contacting Stafford, with videos of trash at Hightower Creek.
2021-09-sometime: Stafford changed its contract with its contractor, requiring keeping the parking lot clean down to Hightower Creek.
Update 2022-04-07: Fixed: storm drain next to Hightower Creek, Valdosta 2022-03-14.
Now all the other parking lot owners need to do the same.
Also, Valdosta has quite good ordinances about trash, including requiring certain numbers of trash cans per numbers of parking spaces. See Litter in the City of Valdosta: Sources and Solutions 2021-09-10.
Higher up at the trash producers

Suwannee Riverkeeper patrolling by Bobby McKenzie
You can help!
Report any trash or litter problem you see in Valdosta with Valdosta's Click 'n' Fix smartphone app.
For trash or other problems elsewhere, here's how to report: https://wwals.net/report/.
-jsq, John S. Quarterman, Suwannee RIVERKEEPER®
You can join this fun and work by becoming a WWALS member today!