It's surprisingly lovely, Sugar Creek. It has a great beach, stretches where birds are far louder than traffic, some shoals (thanks to a Valdosta sewer main), and it's wider in spots than the Alapahoochee River,
It's a shame it's always gotten trash and sewage.
Here's what we're doing, and how you can help with that and the rest of what needs to be done.

Beautiful Sugar Creek, but trashed
Meanwhile, Austin, Texas, is turning its urban Waller Creek into Waterloo Greenway of linked parks and trails down to the Colorado River.

LimnoTech: Restoration And Revitalization Of Waller Creek, Austin, Texas.
Sure, Austin is a much bigger city, but because of that it has a much harder problem.
Look at this beach on Sugar Creek:

Sugar Creek Beach, 09:54:45, 30.8571165, -83.3162398
That beach is on land Valdosta owns along the right bank upstream of Gornto Road.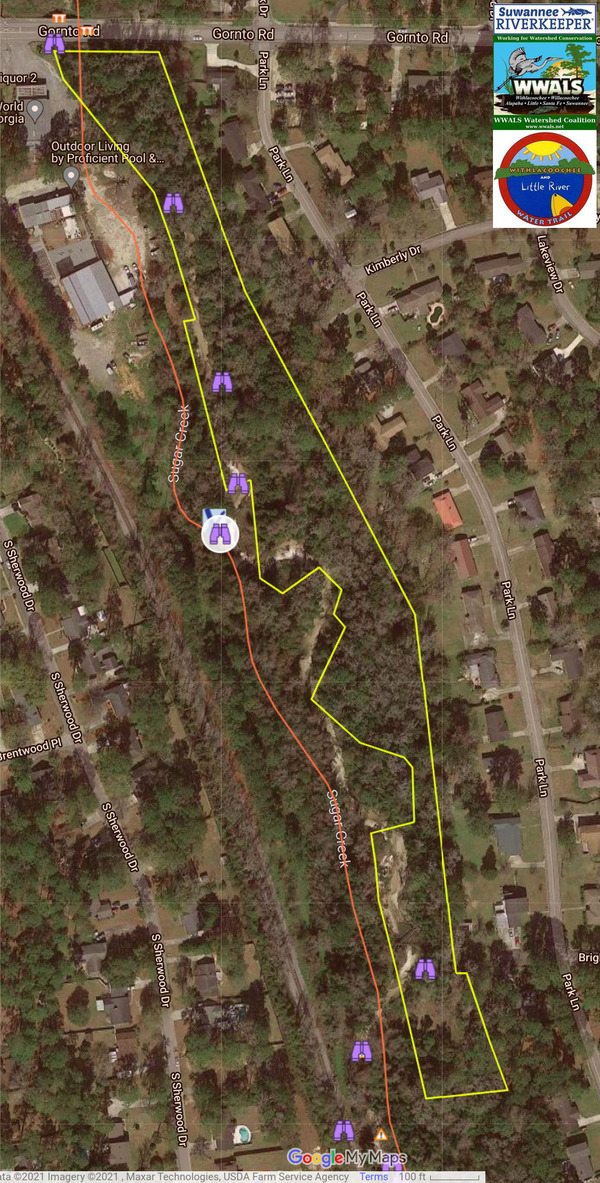 Map: Limbo Log, Sugar Creek Beach, City of Valdosta right bank, in the WWALS map of the Withlacoochee and Little River Water Trail.
Did you know you can paddle upstream under Gornto Road?

Gornto Road Bridge, upstream, 09:48:00, 30.8601390, -83.3172470
Almost all the way up to the Limbo Log, it's City of Valdosta land on the east side of the creek, for 4 tenths of a creek mile, or more than 2,000 feet.

Limbo log, 10:52:45, 30.8536902, -83.3151293
Much of the way Bobby McKenzie, Russell Allen McBride, and I did that on July 10, 2021, the water had the characteristic tannic acid tea color of a coastal plain blackwater river or creek.

Tannic acid tea color, 10:13:14, 30.8528290, -83.3151110
We paddled as far as a brush pile below the Norfolk and Southern Railroad Bridge.

Brush below NSFRR Sugar Cr. Bridge, 10:13:21, 30.8528290, -83.3151110
This has to be at least a Class I rapid, maybe Class II. I wouldn't want to paddle down it.

Valdosta Sewer Pipe Shoals, 10:20:13, 30.8520280, -83.3148300

Map: Sewer Pipe Shoals, NSF RR Bridge, Sugar Creek, Bland Park in the WWALS map of the Withlacoochee and Little River Water Trail.
It's mostly a straight line on up to Baytree Road, under the power line, west of the railroad.

NSFRR & Sugar Cr. up to Baytree Road, 10:24:53, 30.8516170, -83.3146870
Maybe we should come back with chainsaws.

Suwannee Riverkeeper canoe at NSFRR logjam by Russell McBride
According to Valdosta-Lowndes Parks and Recreation Authority (VLPRA), Bland Park extends all the way from Park Lane to the right bank of Sugar Creek. According to the Lowndes County Tax Assessors map, VLPRA does not own land all the way to the creek. Maybe they have an easement across the intervening private land. Either way, Bland Park would be a good place for a put-in to paddle down to the beach and on under the Gornto Road bridge to the Withlacoochee River; about one creek mile.

Slope up near Bland Park, 10:34:20, 30.8522800, -83.3147060
We'll be asking the City of Valdosta to look into this smelly water coming over the sewer pipe towards the bottom of the railroad bridge.

Especially nasty water coming out here, 10:40:31, 30.8525680, -83.3149180
And then there's the trash, hanging in the air, on the banks, in the creek.

Hanging styrofoam trash, 10:44:47, 30.8527480, -83.3146960
Below the railroad bridge, The Shallows are a good opportunity to practice poling your boat.

The shallows, 10:46:35, 30.8529172, -83.3149928
Can you limbo?

Limbo log, 10:52:45, 30.8536902, -83.3151293
The creek is deeper at The Narrows.

The Narrows, 10:56:03, 30.8542875, -83.3153208
But there's more trash.

Trash, 10:59:06, 30.8547281, -83.3149255
It's hard to believe you're only a short distance from a busy city street when all you can hear is birds singing.

Movie: Birds singing, 11:28:43, (12M) 30.8578586, -83.3161857
Back towards where we started.

Bobby at Gornto Road Bridge, 11:35:58, 30.8596630, -83.3172280
I let Russell use the Suwannee Riverkeeper Canoe.

Russell in Suwannee Riverkeeper canoe, 11:39:28, 30.8605760, -83.3177420
Downstream from the Gornto Road Bridge and Twomile Branch is the big trash jam on Sugar Creek.

Map: Gornto Road to Sugar Creek rash Jam in the WWALS map of the Withlacoochee and Little River Water Trail.
You've already seen the trash jam and the tower of trash.
And I did get the canoe back from Russell.

Suwannee Riverkeeper patrolling by Bobby McKenzie
We ended up with two canoes full of trash.

Two canoes with trash by Bobby McKenzie
Thanks, Sue Rafaelle, for the second canoe!
So Sugar Creek could be a gem of an urban waterway.

Map: Sugar Creek, Baytree Road to Withlacoochee River in the WWALS map of the Withlacoochee and Little River Water Trail.
For that, we need more cleanups. But cleanups won't be enough. We must stop the trash before it gets to the trashjam, and before it gets to the rapids, the beach, and Gornto Road.
Trash traps will help with that. We are talking to vendors and to the City of Valdosta about trash traps in the creeks, and we are working up grant proposals.

Bottles and cans, two types of trash traps
We need to get upstream businesses to keep their trash on their own property. We're working on that, with some traction already.
Farther on, we need to get bottle deposits in Georgia and Florida, like half a dozen other states already have.
And we need styrofoam bans, like Baltimore started, then Maryland followed, and Colorado.
WWALS: always playing the long game. And you can help!
-jsq, John S. Quarterman, Suwannee RIVERKEEPER®
You can join this fun and work by becoming a WWALS member today!
Short Link: