We would all like to see no more of these signs.

Photo: Scotti Jay, of Valdosta Caution sign at Troupville Boat Ramp, 2019-12-21.
Someone has decorated it with flowers, like a cross at a highway wreck site.
Update 2020-02-11 New problems elsewhere, February 2020 and later, have been moved to the WWALS Water Quality Testing web page.
Update 2019-12-14: Record Valdosta spill into Sugar Creek with no rain.
The 7,592,910 gallons of raw sewage spilled this time is more than the 6,273,595 gallons Valdosta spilled in two dozen incidents last December.
It's 3.45 times Valdosta's previous biggest single incident.
It's 42 times the biggest other spill in the GA-EPD Sewage Spills Report for December 10, 2019.
And it took Valdosta days to notice one of their biggest lift stations was offline, or that input to their biggest WTP was half what it should be.
How to get your well tested if you live near the Withlacoochee River in the affected area; follow this link.

Valdosta to Madison Blue Springs, in WWALS map of all public landings in the Suwannee River Basin, these all on the Withlacoochee and Little River Water Trail.
You can help WWALS test water quality by donating to our WWALS water quality testing program.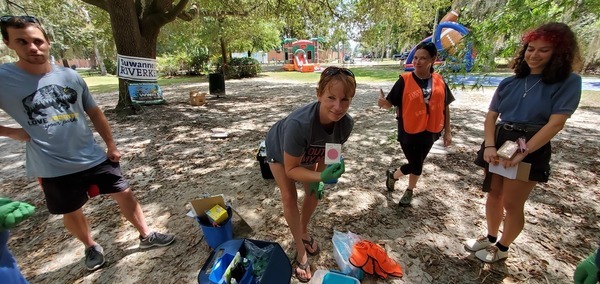 Suzy Hall with a Petrifilm.
Each bacterial test costs $6 for Petrifilms alone.
WWALS is spending about $40 a day on Petrifilms after this Valdosta spill.
Update 2019-08-21: Valdosta spill into Stillhouse Branch at Valdosta Country Club.
Update 2019-08-06: Valdosta spill into Onemile Branch at Drexel Park.

Pipe under bridge by apartments
Update 2019-07-11: Videos: Valdosta and Florida Counties about sewage 2019-07-10.
Update 2019-06-20: Valdosta FOG sewage running across Ashley Street.

Map: Withlacoochee and Little River Water Trail (WLRWT), with added Spill and testing locations.
Update 2019-04-28: Jim Tatum reports on FL Rivers Task Force meeting 2019-04-25.

Photo: Jim Tatum for OSFR; Darlene Velez of SRWMD explains the water quality missions of the state agencies.
Update 2019-04-13: Videos: Florida Counties meet Valdosta about sewage in rivers and wells 2019-04-10.

Movie: Notification –Rick Davis, Chair, Task Force
2019-03-17: Waterkeepers in Tallahassee 2019-03-13

Jim Tatum, jsq, Chuck Brannan, Merrillee Malwitz-Jipson, Kristin Rubin, Jane
Update 2019-03-02: Florida Rivers Task Force about Valdosta Wastewater 2019-02-28.
Videos: Florida Rivers Task Force about Valdosta Wastewater 2019-02-28


Movie: Approval of Resolution (115M) Task Force, clockwise from front: Scott R. Koons (NCFRPC), Ken Cornell (Alachua County), Anthony Adams (Lafayette County), Don Hale (Suwannee County), Gene Higginbotham (Dixie County), Kenrick Thomas (Gilchrist County), Danny Riddick (Bradford County), Thomas Demps (Taylor County), Beth Burnam (Hamilton County), Rick Davis (Chair, Madison County)

All Valdosta sewage spills 2015-2018
PDF
Update 2019-01-28: Valdosta City Council, January 24, 2019.
Update 2019-01-27: Valdosta December 2018 sewage and Hamilton County, FL legislative delegation 2019-01-16

Photo: Jessie R. Box for The Suwannee Democrat; Chris Mericle has concerns with the wastewater spills 2019-01-16.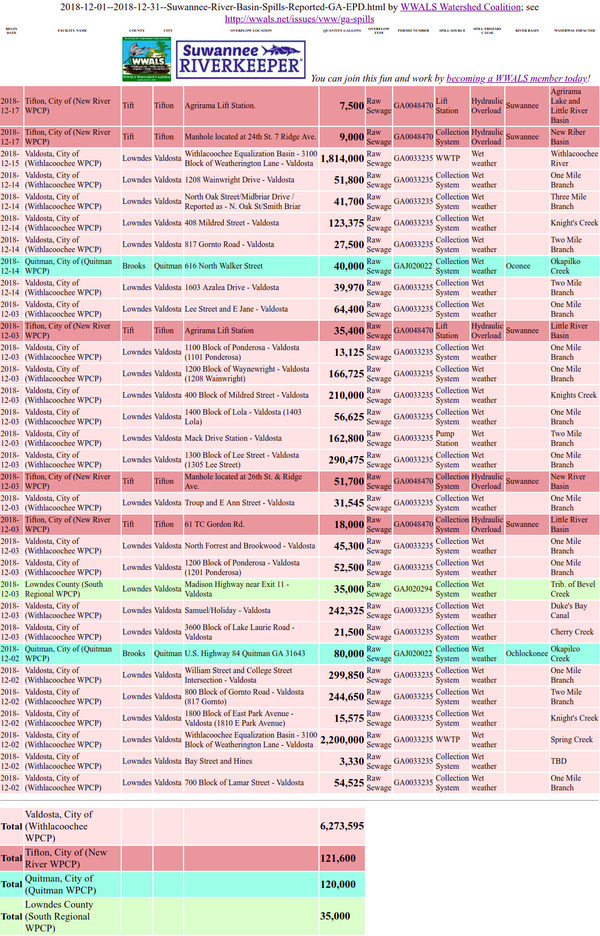 For the WWALS automated updates on GA-EPD Sewage Spills Reports, see wwals.net/issues/vww/ga-spills/.
Update 2018-12-22: Tifton spilled, Quitman at two places, and Valdosta at six places, plus we have much larger previous totals than expected for Valdosta in gallons and places.
Update 2018-12-05: See Lowndes County spilled, and Valdosta spilled 14 places, most ongoing 2018-12-05 and the raw data is in wwals.net/blog/issues/vww/ga-spills/. Here are just the Suwannee River Basin spills (Valdosta, Lowndes County, and Quitman) from December 2 through December 5, 2018.
[gdoc key="https://docs.google.com/spreadsheets/d/1cSuJoN9AWJpf1Ui1S8pzyJfhPcjUFWNEI6YfJvSz4U8/edit?usp=sharing" datatables_order='%5B%5B 0, "desc" %5D%5D ']
WWALS Science Committee Chair Tom Potter extracted and sorted every spill with an address in Valdosta since the beginning of 2015: Spill-Detail-sorted_Valdosta_2015–2018-09-19. See WWALS blog post for context.
[gdoc key="https://docs.google.com/spreadsheets/d/1tVHQ2GBpygWOFqWvlLu6vA8h72qNsPVaY3VZl1COXbs/edit?usp=sharing" datatables_order='%5B%5B 0, "desc" %5D%5D ']