Update 2019-12-30: Valdosta sewage in Florida 2019-12-26.
Maybe the two inches of rain last weekend are finally flushing the Withlacoochee River and diluting Valdosta's record-largest sewage spill. E. coli counts from Friday's testing are down from previous tests. Looks like the contamination is probably mostly in Florida now, so dilution would be good.

SL, Nankin, KF, SB, US84, HB, Control, 19:48:15
If E. coli counts continue to drop, and river levels stay up, we will paddle from Troupville Boat Ramp to Spook Bridge on January 18, 2020. You are invited to join us.
Only Knights Ferry Boat Ramp still showed an E. coli count at a worrisome level. Here are the results, followed by some commentary on each site.
| | |
| --- | --- |
| Hagan Bridge at GA 122 | 133 cfu/100 mL |
| U.S. 84 Bridge | 0 cfu/100 mL |
| Spook Bridge | 33 cfu/100 mL |
| Knights Ferry Boat Ramp | 300 cfu/100 mL |
| Nankin Boat Ramp | 133 cfu/100 mL |
| State Line Boat Ramp | 100 cfu/100 mL |

Hagan Bridge to State Line on the
WWALS map of the Withlacoochee and Little River Water Trail (WLRWT).
This is not the whole story, because I did not collect test water at the Little River Confluence with the Withlacoochee River, at GA 133, nor at Sugar Creek. A neighboring landowner tells me the Withlacoochee River just below Sugar Creek still smells like sewage. If there are still pockets of sewage there, they could flush loose in later rains and run downstream. We will investigate.

Whirlpak, bucket, river, Hagan Bridge, 15:25:14
Hagan Bridge on GA 122 is almost 19 miles upstream on the Withlacoochee River from Sugar Creek, so there is no chance that Valdosta's sewage made it up here. Yet at 133 cfu/100 mL Hagan Bridge is tied with Nankin Boat Ramp for second highest count of this batch. This is more evidence that other things get into the rivers than Valdosta's sewage. What things? Well, I don't know, but given the amount of trash near the river by the bridge, I'd guess human waste deposited on the riverbank. It could be livestock upstream. It's probably not first flush from wildlife, since the rains were five days before.
The river level measured 3.7 feet (124′ NAVD88) on the Skipper Bridge Gauge.

Whirlpak, river, rapids, bridge, 16:16:34
This one was surprising: zero (0) cfu/100 mL. Let's hope the rest of the river returns to that level. It was zero only two weeks before.
The river level was 3.2 feet (86.7′ NAVD88) on the Quitman Gauge at US 84. That's in our boatable range of 85.5′ to 94′ for that spot. Although as you can see, the rapids can be interesting: stay to the left.

Whirlpak, ripples, bridge, 16:41:09
The point of measuring both here and at US 84, only a few thousand feet aparat, was to see if they were different. They were. Spook Bridge was a tad higher, at 33 cfu/100 mL. That's still very low, which is good.
Why is it different? We don't know. It could be because the water is much smoother at below Spook Bridge than above US 84.
This Spook Bridge count is lower than the Knights Ferry count, same as Sara's Spook Bridge count was lower than Suzy's Knights Ferry Count of the same day (December 21st).
In this picture I was standing on the takeout for the January 18th Troupville to Spook Bridge Withlacoochee River paddle. If the counts stay down, we will paddle.

Whirlpak, river, ramp, 17:15:35
That 300 cfu/100 mL is down from the 533 Suzy Hall got the previous day. Counts can change that fast, especially with water moving like now in the river. At 300 I still would want to be careful getting that water on any cuts, and of course avoid ingesting it.
This 133 cfu/100 mL E. coli count is low enough not to be very worrisome, although we measured zero here two weeks before.
Still no warning sign; just this video surveillance sign.

Video surveillance sign, 17:47:57
Plus the road sign. Thanks, Lowndes County Public Works.
It's usually best to test before sunset, but there was enough light, and a friendly boater. Fortunately for him and us, at 100 cfu/100 mL, he should have been in no danger. Although we tested zero at the same site two weeks before.
Where is the sewage, then? Given that FDOH saw elevated E. coli counts at the state line on December 24th, probably the sewage is mostly in Florida now. Apparently FDOH is going to start weekly testing for Hamilton County, Florida, so maybe we'll get some updated data from them soon. If not, maybe we'll do some more testing in Florida.
However, given the report of sewage stink on the Withlacoochee just below Sugar Creek, we can't be sure there aren't more pockets that might wash downstream.
If you live near the Withlacoochee River in the affected area,
follow this link
.
I spent about $40 Friday on Petrifilms alone. Yes, I botched a few and had to discard them, as often happens even with the most experienced of testers. That is part of our quality control.
You can help WWALS test water quality by donating to our WWALS water quality testing program.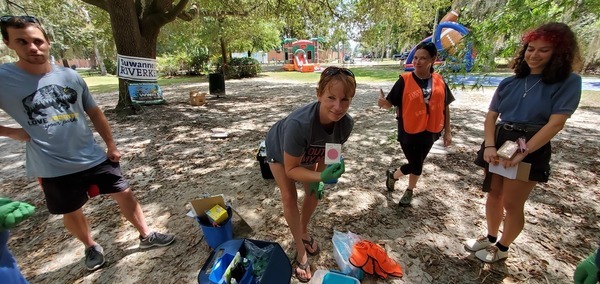 Suzy Hall with a Petrifilm.
Each bacterial test costs $6 for Petrifilms alone.
WWALS is spending about $40 a day on Petrifilms after this Valdosta spill.
It's on the WWALS website:
wwals.net/issues/vww/valdosta-spills/
-jsq, John S. Quarterman, Suwannee RIVERKEEPER®
You can join this fun and work by becoming a WWALS member today!
Short Link: