2019-12-28: High E. coli at state line in Florida DOH water quality data 2019-12-24.
At Nankin Thursday: 533 cfu/100 mL E. coli, well above the state limit of 200, and up from 33 on December 15, and zero on December 11 and 8 and November 23.
Florida already saw elevated bacterial counts at the state line on Tuesday, so the Withlacoochee River is apparently contaminated with Valdosta sewage all the way from Sugar Creek down to the Florida line. Yet Valdosta still hasn't put up any warning signs on the Withlacoochee River downstream from Sugar Creek.
That December 26th reading by Suzy Hall at Nankin Boat Ramp isn't as high as her recent numbers at Knights Ferry: 6,767 on December 24 and 4,966 on December 21st (with 100 on December 15th and zero on December 11th). Nonetheless, it looks like Valdosta's sewage has spread downstream from Knights Ferry to Nankin.
At 533 cfu/100 ml, you probably don't want to get that river water on you. Georgia standards indicate about 200 cfu/100 mL limit for recreational waters. 533 is way more than 200. See below for more on bacterial limits and what WWALS is doing to try to get them improved for the state of Georgia and our rivers.
Yesterday I collected samples at numerous spots along the Withlacoochee River. Those samples should be finished cooking this evening, so publication tomorrow seems likely.
I still didn't see any Valdosta warning signs on December 27th. When I asked Valdosta Utilities about that on December 26th, I was told "We did all we were required to do." That's what everyone else I've talked to who has contacted Valdosta is getting as Valdosta's party line.

No warning sign; only video surveillance sign
Hamilton County, Florida, has put warning signs at all their Withlacoochee River access points, plus at Suwannee River Campsites upriver on the Suwannee from the Withlacoochee Confluence.
But Valdosta says, "We did all we were required to do." The only Valdosta warning sign we've seen downstream of Sugar Creek remains the one at at Troupville Boat Ramp on the Little River, a few thousand feet up the Little River from its Confluence with the Withlacoochee River, just west of Valdosta.

Photo: Scotti Jay, of Valdosta Caution sign at Troupville Boat Ramp, 2019-12-21.
Someone has decorated that signpost with flowers,
like the crosses you see at highway wreck sites.
If you see any warning signs anywhere on the Withlacoochee River in Lowndes County, Georgia, please let us know. Send a picture if you can.
And you may want to call these numbers and ask why not:
(229) 259-3592 Valdosta Utilities, Director Darryl Muse
229-259-3500 Ask for City Manager Mark Barber
If you live near the Withlacoochee River and want to get your well tested, follow this link.
Yesterday I also got s recent bacterial data from the Florida Department of Health (FDOH), which I will be publishing. Spoiler: Florida detected elevated levels of E. coli and Fecal coliform at the state line on December 24th.
So it appears the Withlacoochee River is contaminated with Valdosta's sewage from Sugar Creek in Valdosta all the way to the Florida line.

Valdosta to Madison Blue Springs, in WWALS map of all public landings in the Suwannee River Basin, these all on the Withlacoochee and Little River Water Trail.
Data from the Florida Department of Environmental Protection (FDEP) is still not visible to the public. If I heard correctly, FDOH doesn't even have FDEP's data. FDEP doesn't publish for four months. What good such data is in a situation like this, I don't know.
I have filed yet another open records request for Valdosta's recent water quality data. Why isn't Valdosta's data in Georgia Adopt-A-Stream or otherwise publicly visible? There's some old Valdosta data in the Georgia Environmental Monitoring and Assessment System (GOMAS), but it stops in May and June 2018. See above Valdosta numbers to call.
All our WWALS reports after this Valdosta record-largest sewage spill are here:
wwals.net/issues/vww/valdosta-spills/
Our WWALS data is showing up Georgia Adopt-A-Stream; soon all of it will be there.
You can help WWALS test water quality by donating to our WWALS water quality testing program.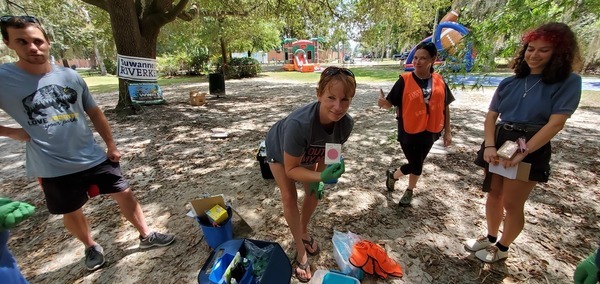 Suzy Hall with a Petrifilm.
Each bacterial test costs $6 for Petrifilms alone.
WWALS is spending about $40 a day on Petrifilms after this Valdosta spill.
There are at least two sets of relevant water quality standards: EPA and Georgia. WWALS is recommending Georgia fix its standards and reclassify our rivers.
According to Georgia Adopt-A-Stream's testing manual, Chapter 1: Bacteria and Water Quality:
EPA's recommended limit of E. coli within recreational waters such as swimming and water skiing (full body contact) within recreational waters is equal to or less than 126 cfu/100 ml (colony forming units per 100 milliliters of water) based on a geometric mean or a one-time measurement equal to or less than 235 cfu/100 ml. EPA recommends a set of standards for E. coli in fresh water bodies as a single maximum allowable count. These rates correspond to an acceptable risk level of 8 people out of 1000 getting sick.

Designated
Swimming Area
Moderate
Swimming Area
Light
Swimming Area
Infrequent
Swimming Area
E. coli
(cfu/100 ml)
<235
<298
<410
<576
The state of Georgia actually uses Fecal coliform as its water quality standard for bacterial contamination. E. coli is a type of Fecal coliform, and our WWALS E. coli counts are usually in the same range as Fecal coliform counts by Valdosta or Florida. Georgia Fecal Coliform Standards are 200 cfu/100 mL for freshwater for waters classified as Recreational.
Unfortunately, all our rivers (and almost all the rivers in Georgia) are classified as Fishing, for which the Georgia Fecal Coliform Standards are 200 (May-Oct) and 1,000 to 4,000 (Nov-April). Those standards are not realistic, since people use our rivers year-round. Fishing is also not a realistic classification, since people, including children, get into our rivers year-round, and paddling in kayaks and canoes involves getting river water on you, dripping off the paddle, or getting in or out of the boat.
This is why, as part of Georgia's federally-required Triennial Review of Water Quality Standards, WWALS recommends reclassifying all our rivers as Recreational and eliminating the higher winter standards.
You can help, by contacting GA-DNR directly, or by filling out this form.
Floridians, relax: Florida already classifies all rivers by default as Recreational, including our rivers.
-jsq, John S. Quarterman, Suwannee RIVERKEEPER®
You can join this fun and work by becoming a WWALS member today!
Short Link: