Suwannee Riverkeeper signed on to this Waterkeeper Alliance request for EPA to protect both surface and groundwater.
It includes a mention of the U.S. Army Corps of Engineers (USACE) abdication of oversight over the proposed titanium strip mine far too near the Okefenokee Swamp.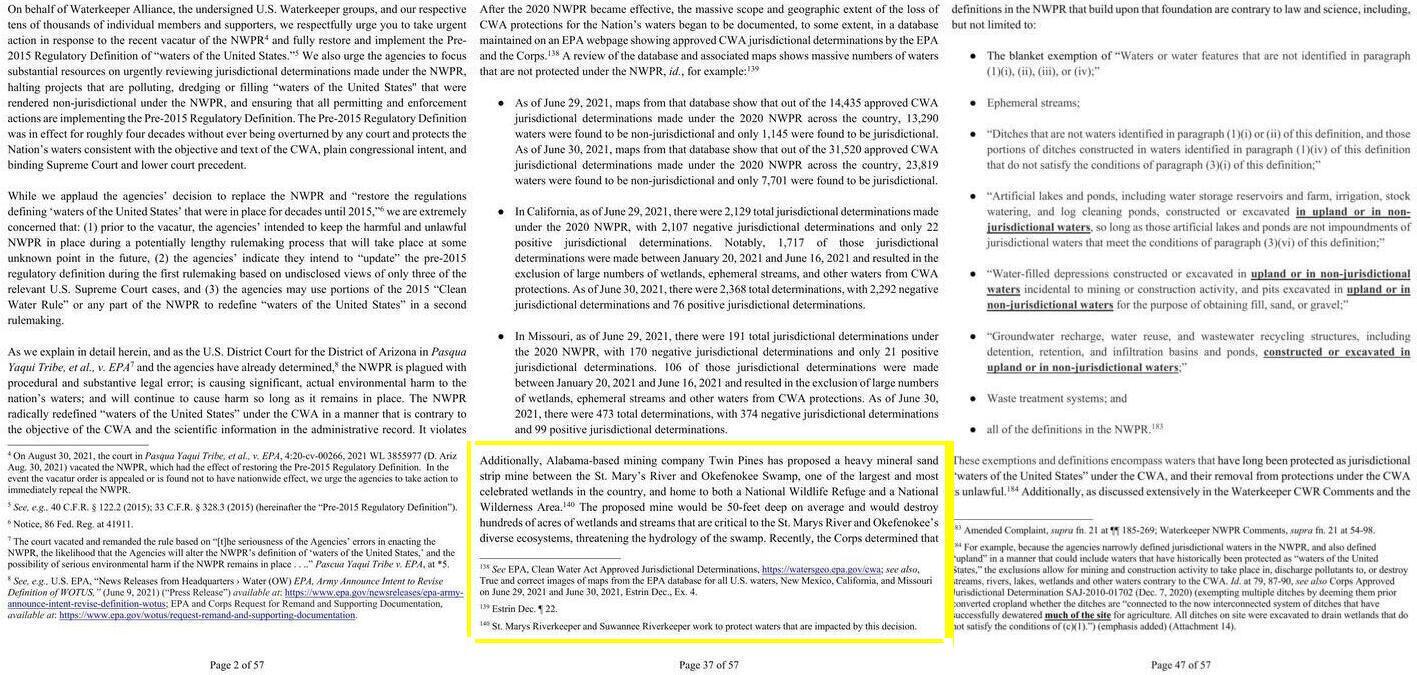 Restore WOTUS, mine too near Okefenokee Swamp, groundwater recharge
That USACE decision was based on the EPA and USACE 2020 Navigable Waters Protection Rule ("NWPR") redefining jurisdictional "Waters of the United States" ("WOTUS") under the Clean Water Act ("CWA"). On August 30, a U.S. District Court vacated the NWPR. On September 3, Waterkeeper Alliance these lengthy comments on EPA's WOTUS rulemaking.
Also on September 3, EPA announced that EPA and USACE have halted implementation of NWPR and will be applying the pre-2015 WOTUS definition, which was one of Waterkeeper letter's requests.
Meanwhile, you can ask the Georgia Environmental Protection Division (GA-EPD) to reject the five permit applications from Twin Pines Minerals for that strip mine, or at least to thoroughly study with independent review potential effects of that mine on the Okefenokee Swamp, the Suwannee River, and the Floridan Aquifer.
https://wwals.net/?p=55092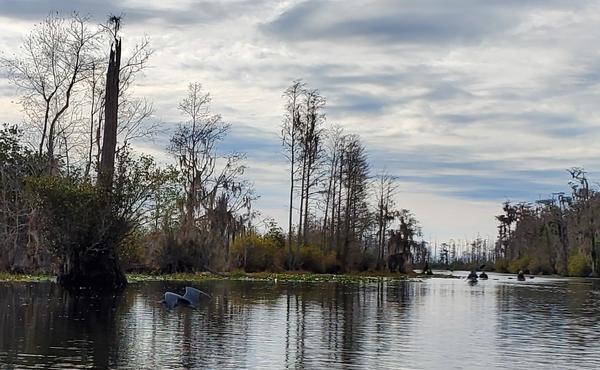 Great Blue Heron flying, Suwannee River, Okefenokee Swamp, 2019-12-07
Update 2021-09-11: This is what the Waterkeeper Alliance letter says about the Okefenokee Swamp and the threatening strip mine:
Additionally, Alabama-based mining company Twin Pines has proposed a heavy mineral sand strip mine between the St. Mary's River and Okefenokee Swamp, one of the largest and most celebrated wetlands in the country, and home to both a National Wildlife Refuge and a National Wilderness Area.140 The proposed mine would be 50-feet deep on average and would destroy hundreds of acres of wetlands and streams that are critical to the St. Marys River and Okefenokee's diverse ecosystems, threatening the hydrology of the swamp. Recently, the Corps determined that nearly 400 acres of previously jurisdictional wetlands near the Refuge are now unprotected by the Clean Water Act, allowing the mining company to begin mining without any involvement by the agency.141 For reasons that are unclear, the Corps did not discuss the streams at the site, which appear to be, but not are not being treated as, jurisdictional waters under the CWA.142 This decision has important implications for the initial part of the mine as well as the longer-term expansion of the mine to more than 8,000 acres near the Refuge.

140 St. Marys Riverkeeper and Suwannee Riverkeeper work to protect waters that are impacted by this decision.

141 Corps Approved Jurisdictional Determination, ORM Number: SAS-2018-00554 (Oct. 14, 2020) (Attachment 11).

142 National Wetlands Inventory Map of the Twin Pines Mine Site Area, available at: https://www fws.gov/wetlands/data/Mapper html (Attachment 12).

Multiple Streams and Wetlands, including Wetlands Intersecting Streams
PDF
The entire Waterkeeper comment letter is on the WWALS website, along with its exhibits: Continue reading →