Update 2022-07-26: You can comment or intervene on the Rulemaking on small inland Liquid Natural Gas (LNG) facilities that WWALS and six co-signers got started with FERC, the Federal Energy Regulatory Commission. We don't need more methane leaks and we don't need highly compressed explosive LNG trucks rolling down I-75 and I-10 with no environmental oversight and no safety plans.
FOR IMMEDIATE RELEASE
Washington, D.C., June 13, 2018 — WWALS Watershed Coalition (WWALS) prepares to sue the Federal Energy Regulatory Commission (FERC) for shirking its legally-required oversight of inland liquid natural gas (LNG) terminals. "LNG trucks barrel down I-75 right by my old high school in Lowndes County, Georgia," said Suwannee Riverkeeper John S. Quarterman, after meeting with WWALS' attorneys in Washington, D.C. "Those trucks from LNG terminals in Alabama and Georgia pass a technical college, a conference center, motels, homes, and businesses, going to I-10 for Jacksonville, Florida, where that LNG goes at least as far on ships as Puerto Rico."
Since the Federal Energy Regulatory Commission (FERC) in 2015 abdicated its jurisdictional duties under the Natural Gas Act to regulate the siting, construction, operation and maintenance of Liquefied Natural Gas (LNG) small-scale inland export facilities, instead these facilities operate with basically no Federal oversight.
"I am greatly concerned that an LNG commercial project of this magnitude is not only planned, but that apparently has slipped through the cracks of local and federal regulators," said WWALS member Harriet Heywood of Citrus County, Florida.
At the ends of the Sabal Trail pipeline chain in Florida, trucks go out from half a dozen LNG export operations authorized by the U.S. Department of Energy Office of Fossil Energy (FE). If any of those trucks wrecks, federal standard everyone should be evacuated half a mile downwind, including high schools and hospitals. Very few local emergency responders know this and fewer have appropriate emergency plans.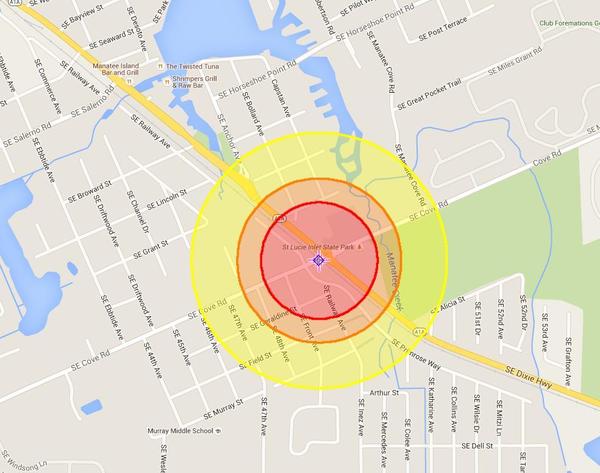 Vulnerability of LNG by Rail, by Martin County Fire Rescue, December 15, 2015.
"The unintended consequences of FERC's abdication of Congressional jurisdictional authority are mind-boggling," said WWALS member Cecile Scofield of Palm City, Martin County, Florida, "They include siting LNG plants in neighborhoods and hauling LNG by truck and rail through densely populated areas. FERC's own "Strategic Plan for 2014-2018", Objective 2.2, said FERC was going to minimize risks to the public associated with FERC-jurisdictional energy infrastructure, including insuring safety of LNG facilities. Yet FERC has relegated to citizens the responsibility of ensuring compliance of inland LNG export facilities with the Federal laws that are designed to protect the public in the event of an LNG accident. This is unfair and dangerous."

Map by WWALS of LNG terminals in Alabama, Georgia, and Florida, with likely truck routes.
PDF
Compounding the problem, the Federal Railroad Administration (FRA) has authorized the transport of LNG freight by rail through densely populated areas, including 100,000 gallons a day from one inland LNG plant in Miami that began exporting LNG on February 5, 2016, to the Caribbean from Ports Miami and Everglades.
LNG is natural gas (methane) that has been cooled to -259 degrees Fahrenheit. In liquid state, LNG has 600 times the energy of natural gas and occupies 1/600th the volume. FE has has authorized LNG exports from deep water ports from Miami to Jacksonville, Florida, and beyond. LNG is loaded into 40-foot, 10,000-gallon ISO containers (giant thermos bottles) for truck or rail transport. Under the right conditions, a breach of an LNG container as small as 4 inches can result in catastrophic devastation and loss of life over a wide area.
"Sabal Trail and FERC said this gas was needed by the public and NOT for export, and that's how they justified eminent domain. To risk wetland destruction for private corporate gain is just wrong; to take private land to allow the companies to export fuel rattles the foundations of our democracy," said Mike Roth, president of Our Santa Fe River (OSFR). OSFR has been protecting Florida's Santa Fe River by opposing Sabal Trail since 2013 and its LNG export offshoots almost as long. OSFR also contributed to the $3,500.00 WWALS raised before starting public fundraising for this case.
About WWALS Watershed Coalition, Inc. (WWALS)
Founded in June 2012, WWALS has supported solar power and has opposed the Sabal Trail fracked methane pipeline since 2013, including its associated LNG export terminals. WWALS Watershed Coalition, Inc. is an IRS 501(c)(3) educational charity.
WWALS advocates for conservation and stewardship of the Withlacoochee, Willacoochee, Alapaha, Little, Santa Fe, and Suwannee River watersheds in south Georgia and north Florida through education, awareness, environmental monitoring, and citizen activities. John S. Quarterman is the Suwannee Riverkeeper®, which is a staff position and a project of WWALS Watershed Coalition (WWALS) as the Member of the Waterkeeper® Alliance for the Suwannee River basin.
Contact:
WWALS Watershed Coalition
P.O. Box 88
Hahira, GA 31632
www.wwals.net
wwalswatershed@gmail.com
850-290-2350
John S. Quarterman
Suwannee RIVERKEEPER®
contact@suwanneeriverkeeper.org
229-242-0102
===
You can join this fun and work by becoming a WWALS member today!
Short Link: