FOR IMMEDIATE RELEASE
Washington, D.C., June 13, 2018 — WWALS Watershed Coalition (WWALS) prepares to sue the Federal Energy Regulatory Commission (FERC) for shirking its legally-required oversight of inland liquid natural gas (LNG) terminals. "LNG trucks barrel down I-75 right by my old high school in Lowndes County, Georgia," said Suwannee Riverkeeper John S. Quarterman, after meeting with WWALS' attorneys in Washington, D.C. "Those trucks from LNG terminals in Alabama and Georgia pass a technical college, a conference center, motels, homes, and businesses, going to I-10 for Jacksonville, Florida, where that LNG goes at least as far on ships as Puerto Rico."
Since the Federal Energy Regulatory Commission (FERC) in 2015 abdicated its jurisdictional duties under the Natural Gas Act to regulate the siting, construction, operation and maintenance of Liquefied Natural Gas (LNG) small-scale inland export facilities, instead these facilities operate with basically no Federal oversight.
"I am greatly concerned that an LNG commercial project of this magnitude is not only planned, but that apparently has slipped through the cracks of local and federal regulators," said WWALS member Harriet Heywood of Citrus County, Florida.
At the ends of the Sabal Trail pipeline chain in Florida, trucks go out from half a dozen LNG export operations authorized by the U.S. Department of Energy Office of Fossil Energy (FE). If any of those trucks wrecks, federal standard everyone should be evacuated half a mile downwind, including high schools and hospitals. Very few local emergency responders know this and fewer have appropriate emergency plans.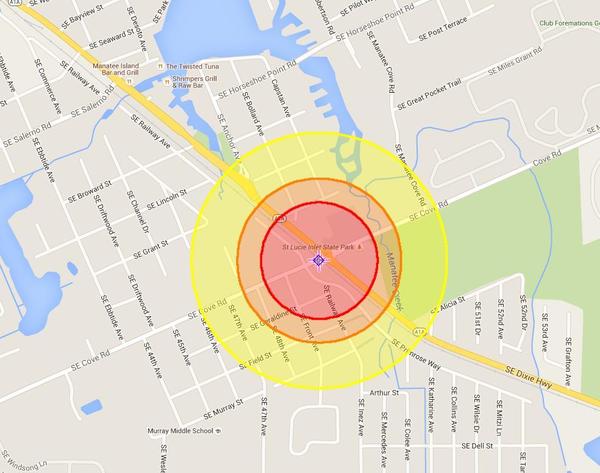 Vulnerability of LNG by Rail, by Martin County Fire Rescue, December 15, 2015.
"The unintended consequences of FERC's abdication of Congressional jurisdictional authority are mind-boggling," said WWALS member Cecile Scofield of Palm City, Martin County, Florida, "They include Continue reading →