This is the WWALS request to WATERKEEPER® Alliance to add the Upper Suwannee Hydrologic Unit Code (HUC) watershed to WWALS territory that was approved 15 July 2015.
See also the original WWALS WATERKEEPER® Affiliate application.
---
WWALS Watershed Coalition, Inc.
a WATERKEEPER® Affiliate
wwalswatershed@gmail.com
www.wwals.net
PO Box 88, Hahira, GA 31632
Bart Mihailovich
Waterkeeper Alliance
Re: Request to add Upper Suwannee HUC to territory of WWALS Watershed Coalition
Bart,
Three years ago when WWALS was forming, we decided not to include
the Upper Suwannee at that time, because we wanted time to solidify WWALS as an organization in its smaller territory of the watersheds of the Withlacoochee and Alapaha Rivers and all their tributaries. Even then, we put the S in WWALS so it could be redefined to mean Suwannee, so our acronym would expand to Withlacoochee, Willacoochee, Alapaha, Little, and Suwannee River watersheds.
WWALS now asks Waterkeeper to add Upper Suwannee HUC 03110201 to WWALS territory.
Please find enclosed letters of support from the only two adjoining Waterkeepers, Flint Riverkeeper Gordon Rogers, and Satilla Riverkeeper Ashby Nix.
Current WWALS territory is 4234 square miles:
Alapaha HUC 03110202: 1840 square miles (including its tributary the Willacoochee River)
Withlacoochee HUC 03110203: 1510 square miles
Little River HUC 03110204; 884 square miles
This original WWALS territory of all or parts of 22 counties also includes all the biggest population centers in the entire Suwannee River Basin: Valdosta in Lowndes County, Tifton in Tift County, and Moultrie in Colquitt County, all in Georgia.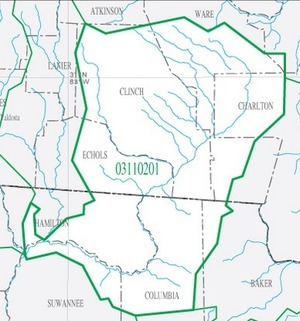 We ask to add this additional territory:
Upper Suwannee HUC 03110201: 2720 square miles.
This additional territory will add in Georgia the rest of Echols County, a sliver of Brantley, parts of Ware (with Homerville), Baker, and Charlton Counties, and most of Clinch County (with Fargo). In Florida it will add the rest of Hamilton County (with Jasper plus White Springs), parts of Suwannee and Columbia (with Watertown and part of Lake City), and a sliver of Baker County.
Total WWALS territory then adds up to 6,954 square miles.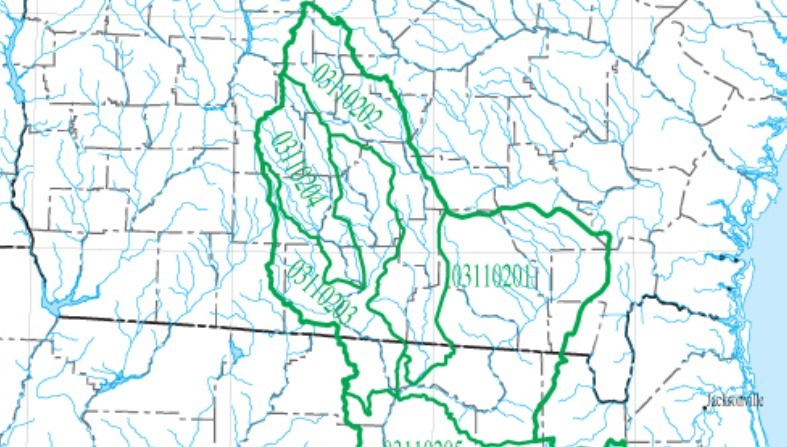 WWALS has active participants in the Upper Suwannee HUC. One of the judges for the Alapaha River Water Trail (ARWT) logo contest lives in White Springs, Florida. Jasper Hardware donated a prize to that contest. The Hamilton County, FL Tourist Development Council that contributed funds for the ARWT is headquartered in Jasper. Two of the most active outfitters for the Alapaha and Withlacoochee are actually on the Suwannee River in the Upper Suwannee HUC (one in Hamilton County and one in Suwannee County). Columbia County, FL has also shown quite a bit of interest in the ARWT. We also have a member in Dupont, Ware County, Georgia.
WWALS co-signed with others a letter by Southern Environmental Law Center on behalf of Satilla Riverkeeper asking the Georgia Department of Transportation and the U.S. Army Corps of Engineers for more information and a hearing about a proposed widening of US 84 between Waycross (in Satilla River territory) and Homerville (in the Upper Suwannee HUC).
Another view of total WWALS territory after adding the Upper Suwannee HUC is everything upstream of the red dot in this USGS Streamer map: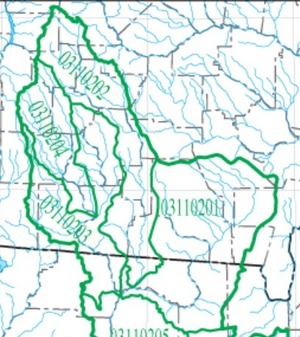 WWALS asks Waterkeeper to add Upper Suwannee HUC 03110201 to WWALS territory, for a total of 6,954 square miles.
Thanks,
-jsq
John S. Quarterman
President, WWALS Watershed Coalition, Inc.
229-242-0102