FOR IMMEDIATE RELEASE
June 26, 2018, Valdosta, GA — The jury deliberated a bit less than an hour two hours, delivering a verdict just before 7PM tonight: $103,385 for easement and $4,531.50 for timber. The figures offered by Sabal Trail were $19,979 for easement and $4,117 for timber. Assuming these numbers transcribed from various speakers are correct, the jury awarded five times what Sabal Trail offered for the pipeline easement and somewhat more than their offer for timber.
"When Sabal Trail goes to jury trial, it loses," said Suwannee Riverkeeper John S. Quarterman.
Here are the winners, waiting in the hall before the jury came back: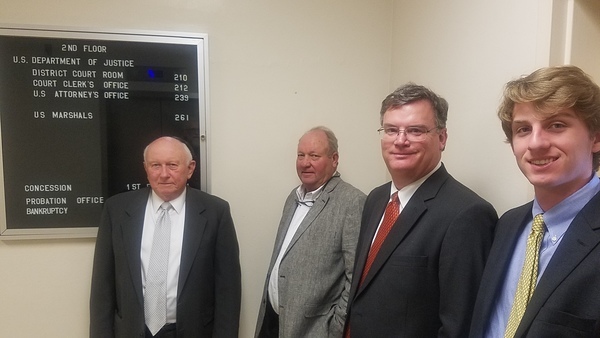 The winners: Fred Jones, Lynn Lasseter (Defendant), Jonathan Waters (attorney), Reese Waters (attorney's assistant)
This jury verdict from the U.S. Court, Middle District of Georgia, is very similar to Continue reading →