When I started out the day, I wasn't planning on spending the morning watching jury selection but I did. Honestly, everyone should go observe court our government in action now and then. Voir dire!
I knew that electronic devices weren't allowed so I left my phone in the car. I couldn't find any paper so I used Moonwalking with Einstein to remember things.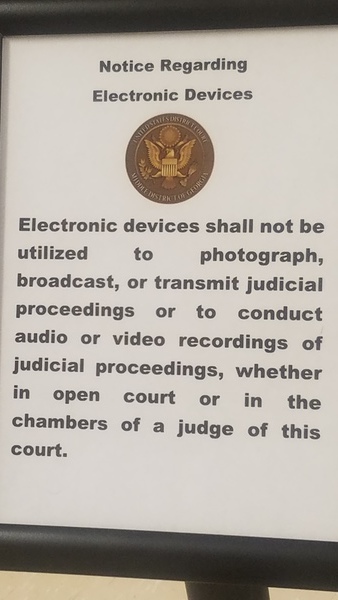 I arrived at the Federal Building about 9:15AM and noticed the changes since the post office moved out. The only thing you can do is go into the elevator. I took the elevator to the second floor to the security screening but had to go back to the car to get ID. I successfully negotiated security by 9:30AM.
When I actually arrived, jury selection was on a break.
The security screeners (I assume they are Federal Marshals of some sort) said that I should sit on the back row and not talk to any of the juror. I sat on back row (left side).
The potential jurors came back into the room and sat in numeric order 1-56 Roll call. Jurors 3 and 21 were absent.
Clay D. Land, Chief U.S. District Judge, Middle District of Georgia, came in.
Judge Land introduced the particulars of the case. Civil not criminal. Civil cases are disagreements that the parties can't settle on their own. Citizens are called upon to settle these disagreements.
Sabal Trail LLC is suing W. Lynn Lasseter of Colquitt County over condemnation value of property.
This condemnation isn't the kind where a building is torn down but the kind where the government says property can be taken or used for public benefit.
The Judge went over details of why someone might be excused (deferred to another time — likely August or September). These reason included contagious illness (we don't want everyone here to get sick), non contagious illness that would keep you at home today, primary care giver without other support, pre-planned vacation. He stressed that he did not generally excuse people.
The Judge went over details of why some one might be legally excused from this case (related to one of parties, lawyers, witnesses, etc).
The Judge heard from jurors on why they might need to be excused.
a woman who had a husband with recent surgery and two children at home – excused
a woman who was friends with property owners who had Sabal Trail condemnations – excused
a man that is friends with Mr. Lasseter's family – excused
a man with vacation coming up on Friday – excused from Friday onwards
The Judge then began asking questions. This is voir dire, "the questioning of prospective jurors by a judge and attorneys in court. Voir dire is used to determine if any juror is biased and/or cannot deal with the issues fairly, or if there is cause not to allow a juror to serve…."
Have you heard about Sabal Trail? (a couple but neither had details — maybe heard something on TV)
One man (an agronomist) from Lake Park works at Generation Farms in Hamilton County the pipeline crosses that property He did not have any direct interactions with Sabal Trail or the construction. His part of the farm grows onions.
Do you know any of the lawyers? Have you been represented by them or their firms? (none)
Do you know Mr Lasseter? (maybe a few)
Have you worked for Mr Lasseter or Sabal Trail. (maybe a few worked for Lasseter – one guy at a restaurant)
Can you be impartial in making a decision if you know him? – all said yes they could be impartial
Are you a lawyer or are you related to a lawyer? (a few)
Do you work in construction or are you related to someone who does? (a few)
Are you a farmer or related to a farmer? ( a few)
Are you a realtor or are you related one? (several – one woman from Thomasville spoke up on several bits)
Do you know any of the expert witnesses? (carefully read a list)
maybe Harris or Smith – clarification of who these people were – no one knows them
Have you been involved in a condemnation? none
Do you have a pipeline on your property? none
Have you ever been against a rezoning in your area? – none
Have you ever owned a home? four had not
Other than your home, have you ever had property appraised (the Thomasville lady)
Have you ever appealed the appraisal of your property? – none
Have you ever had property rezoned? – (not directly but hears about it from her husband – the Thomasville lady)
Do you belong to any environmental groups (Sierra Club, Georgia Conservancy)? – none
Have you ever protested (not necessarily with picket signs — but opposed some government action)? – only one person
Do you know any of the parent companies of Sabal Trail Transmission LLC (carefully read out a list) – none
Do you work for any of these companies?
Do you own stock in any of these companies (this may have been a Lasseter question)
Each legal team was allowed to ask questions. Each side asked two.
Plaintiff Sabal Trail, attorney Matthew Calvert:
Do you heat or cook with natural gas? – 4 raised their hands
Does your employer heat or cook with natural gas? – 1 said there is a gas stove at the restaurant where he works.
Defendant Lasseter, attorney Jonathan P. Waters:
Do you own stock in any energy companies (Southern Company, Georgia Power parent, etc)? One woman has investments but her husband handles them so she didn't know
I couldn't remember the second question.
The general make up of the pool of jurors appeared to be as follows:
56 potential jurors
9 were not white (8 black, 1 hispanic)
I didn't count men vs. women
Striking the jury is where either side can reject a juror without saying why. It goes first to plaintiff and then defendant. They do not call out who was rejected.
Selected jurors were called by name, not number.
4,5,6,9,11,13 were selected for sure. I think that the others were 7&8 but I'm not positive.
Five women, three men, 4 black, 4 white, 3 do not own homes.
There was talk about opening statements before lunch but then some one of the lawyers wanted to confer so lunch break was given.
The Judge repeatedly instructed the jurors to not talk among themselves about the case. To not talk to anyone else about the case. To keep their minds open and listen until all the materials had been presented.
The Judge dismissed the court for lunch about 11:30 AM.
–Gretchen
Short Link: