Pick from a pair of floating Georgia Rivers Alive cleanups for Earth Day, and bring your boat!
Gretchen Quarterman will lead a floating cleanup on Joree Millpond in Valdosta, Georgia, starting at 913 Millpond Road (PDF flyer for Joree Millpond). You can return whenever you want to, but we expect this boating cleanup to last about two hours. If you have a jon boat and are willing to take a volunteer onto the pond to remove litter, please contact either Gretchen Quarterman (229-834-1945) or Austin Fiveash (229-563-6262). You can also participate in your kayak or canoe. Volunteers will remove litter from along the edge of the pond and from near the spillway. The City of Valdosta is providing a large trash receptacle at the site, thanks to Valdosta Stormwater Manager Angela Bray.
Bobby McKenzie will lead a paddle cleanup from Sugar Creek behind the Salty Snapper off of Gornto Road, down the Withlacoochee River, and a short hop up the Little River to Troupville Boat Ramp. That's less than 4 river miles, and even with stops for trash collection should take less than three hours. We will leave the bagged trash at that destination, where Lowndes County Public Works will pick it up Monday.
When: Gather 9 AM, launch 9:30 AM, end 12:30 PM, Saturday, April 17, 2021
Millpond put in: 913 Millpond Road, Valdosta, GA, Take Country Club Drive to Mill Pond Road. Turn right and 913 is last house on left before right-only exit onto Jerry Jones Road.
Drop your boat at the water, then park near the street.
Millpond GPS: 30.867375, -83.309558
River paddle put in: The Salty Snapper parking lot, 1405 Gornto Road, Valdosta, GA.
Go to the back of the parking lot to drop off your boat at Sugar Creek.
Sugar Creek GPS: 30.861785, -83.318793
River Paddle Take Out: Troupville Boat Ramp, 9664 Valdosta Hwy, Valdosta, GA 31602. Go west on St. Augustine Road across I-75 (exit 18) and cross the Withlacoochee River. At the light for Val Tech Road, turn left, which takes you down to the boat ramp.
Troupville Boat Ramp GPS: 30.851842, -83.346536.
Safety: All volunteers must sign a WWALS liability release, which makes WWALS insurance cover them, and must wear a life jacket at all times while in boats.
Bring: the usual personal flotation device, boat, paddles, snaks, drinking water, warm clothes, and first aid kit. Also trash pickers and trash bags, and good boots.
Free: This outing is free to everyone, because it is a cleanup.
We recommend you support the work of WWALS by becoming a WWALS member today!
https://wwals.net/donations/#join

Joree Millpond, trash, Withlacoochee River
Photos: Russell Allen McBride.
COVID 19: We will check temperatures with an infrared thermometer, and everyone will be expected to keep their distance from people not in their party, and to wear masks when closer than six feet.

Map: Joree Millpond and Twomile Branch
in the WWALS map of the Withlacoochee and Little River Water Trail.
No shuttle for the Millpond: take out where you put in.

Map: Joree Millpond, Sugar Creek, Withlacoochee River, Little River, Troupville Boat Ramp
in the WWALS map of the Withlacoochee and Little River Water Trail.
River Paddle Self Shuttle: 3.2 miles, 8 minutes. Anyone attending the river paddle is encouraged to set up their own shuttle, with family members or other close associates, to get their vehicle from the Salty Snapper to Troupville Boat Ramp and to get back before paddling. We will call this the self shuttle.
River Paddle Team Shuttle: 3.2 miles, 8 minutes. Those who were not able to set up a self shuttle prior to 9:30 AM will depart the Salty Snapper at 9:30 AM joining in a team shuttle. Only the drivers will take their vehicles to the takeout. At the takeout another vehicle will return to the put in with the passengers. This team shuttle will be created on site as we have account of who will need to be shuttled. The vehicles returning to the put in will need to be shuttled back after depositing collected litter at the Troupville boat ramp.
There will be COVID-19 questions, temperature checks, and mask enforcement, as well as riding one person per window. If available and necessary, also one member may be in the bed of a truck.
Backup: in case of high or low water or weather is: Cancel.
More: For more WWALS outings and events as they are posted, see the WWALS calendar or the WWALS outings and events web page. WWALS members also get an upcoming list in the Tannin Times newsletter.
We recommend more trash traps to catch this stuff before it gets into ponds or rivers.

Trash goes over the spillway and down Twomile Branch to Sugar Creek and on to the Withlacoochee River. The more trash we capture in the pond the less makes it to the river.
Valdosta already has one trash trap, off of Baytree Road west of Springhill Drive.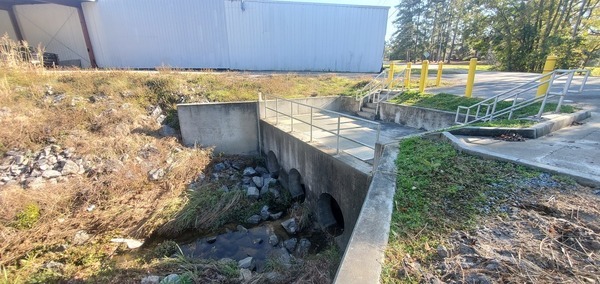 Outfall of trash trap, 10:16:37, 30.8471573, -83.3288788
See how clean Sheri Branch looks as we paddle past it, just before the I-75 bridge, where it comes down from Lake Sheri below that trash trap.
Remember: the real trash problem is the companies that make all that single-use plastic and aluminum packaging for soft drinks, water, beer, and fast food.
Among the worst offenders: Nestlé and Coca-Cola.
It's time to ask the Georgia and Florida state legislators to bring back bottle and can deposits. The half-dozen states that have those have much less of a trash problem.
Speaking of Coca-Cola, they provided a $350,000 grant for trash traps on Proctor Creek in Atlanta. Nedra Rhone, Atlanta Journal-Constitution, 27 September 2019, Can litter traps reduce trash in Proctor Creek?
Grant money will pay for five Litter Gitters — a basket-style catcher attached to the river bank with floating booms — that run less than $10,000 each and can be moved from place to place.


Chattahoochee Riverkeeper, September 2019, In-stream 'Trash Traps' collect litter pollution before it reaches the river.

In January, a larger, more permanent litter trapper called the Bandalong will be installed. A Bandalong litter trap can run $100,000 or more depending on the area where it is being installed. It also floats on waterways but is supported by polyethylene pipes held in place by chains attached to anchors or poles. Collection booms funnel litter through a one-way gate where trash is held until removed.

…

An additional $50,000 in funding from the Coca-Cola Foundation will cover the cost for employees from the City of Atlanta and Groundwork Atlanta to be hired and trained on maintenance and management of the systems for one year, Radtke said.
Chattahoochee Riverkeeper has much more on In-Stream Trash Removal, including a writeup on different types of trash traps they've tried.
The U.S. Environmental Protection Agency (EPA) has a list of Trash Capture Technologies.
EPA also has provided grants for a variety of trash capture projects.
Maybe the City of Valdosta can get some grants like that. And maybe other cities in the Suwannee River Basin.
-jsq, John S. Quarterman, Suwannee RIVERKEEPER®
You can join this fun and work by becoming a WWALS member today!
Short Link: