2019-12-24: E. coli at Troupville, Little River Confluence, and Spook Bridge, Withlacoochee River 2019-12-21.
FOR IMMEDIATE RELEASE
Hahira, GA, Monday, December 23, 2019 — At Knights Ferry Boat Ramp Saturday Suzy Hall tested 4,966.67 cfu/100 ml E. coli, far higher than anything previously recorded there, and almost five times the Georgia Adopt-A-Stream alert level. There were still no warning signs, not at Knights Ferry, and not at State Line Boat Ramp, where Suzy Hall got 100 cfu/100 ml, when all our previous readings were zero (0).
"It appears that Valdosta's record-largest wastewater has caused a public health emergency in the Withlacoochee River and Valdosta is not even warning people about it at river access locations," said Suwannee Riverkeeper John S. Quarterman. "Florida is being proactive; what is Valdosta doing? How about Lowndes Health? Lowndes County (didn't cause this problem, but needs to help deal with it). GA-EPD? EPA? Statehouse and Congressional delegations? This report will go to all of them today."

Photo: Suzy Hall, of her Petrifilms of water samples taken from the Withlacoochee River at Knights Ferry & State Line Boat Ramps.
Method: count blue dots with bubbles (E. coli colonies) on each plate.
Add the counts, divide by three, and multiply by 100, to get colony forming units (cfu) per 100 mililiter of water.
The Georgia Adopt-A-Stream Bacterial Monitoring manual says:
E. coli counts (cfu/100ml) that exceed 235 cfu/100 ml are considered "high" and should be closely monitored, but when counts exceed the 1000 cfu/100 ml threshold, they warrant special action.A count of 235 cfu/100 ml correlates to 8 incidents of 1000 people getting sick, but a count of 1000 cfu/100 ml correlates to about 14 incidents of 1000 people getting sick.
That's not linear, so it's not clear how many people getting sick would correlate to 4,966.67/100, but more than 14, and any is too many.
"Thanks to all who have already donated, we are ordering more Petrifilm today," said WWALS Executive Director Gretchen Quarterman "Looks like we're going to need it. Nobody else appears to be testing at the Little River Confluence, or at Spook Bridge, Knights Ferry, Nankin, or State Line Boat Ramp."

Valdosta to Madison Blue Springs, in WWALS map of all public landings in the Suwannee River Basin, these all on the Withlacoochee and Little River Water Trail.
The only Valdosta warning sign on any river remains the one at Troupville Boat Ramp on the Little River, upstream of the Little River Confluence with the Withlacoochee River.

Photo: Scotti Jay, of Valdosta Caution sign at Troupville Boat Ramp, 2019-12-21.
Someone has decorated that signpost with flowers, like the crosses you see at highway wreck sites.
Withlacoochee River water just above that Confluence was noticeably green Saturday.

Photo: Scotti Jay, of Green upstream Withlacoochee, 2019-12-21
We will soon also have results from Sara Jay testing at the Little River Confluence and Spook Bridge Saturday. Thanks to The Langdale Company for testing access to Spook Bridge.
All our reports after this Valdosta record-largest sewage spill are here:
wwals.net/issues/vww/valdosta-spills/
You can help WWALS test water quality by donating to our WWALS water quality testing program.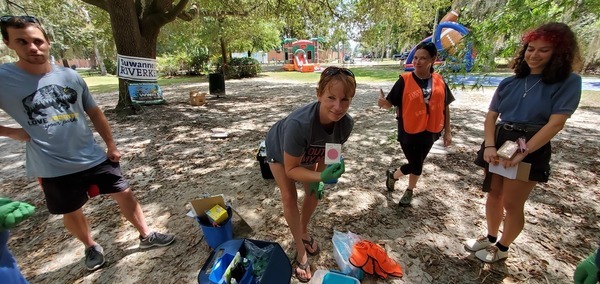 Suzy Hall with a Petrifilm.
Each bacterial test costs $6 for Petrifilms alone.
WWALS is spending about $40 a day on Petrifilms after this Valdosta spill.
-jsq, John S. Quarterman, Suwannee RIVERKEEPER®
You can join this fun and work by becoming a WWALS member today!
Short Link: