Update 2020-01-17: Mostly clean in Georgia, not in Florida, Withlacoochee River 2020-01-15
FOR IMMEDIATE RELEASE
Hahira, Georgia, January 13, 2020 — Water quality tests since last Wednesday are looking good for the Withlacoochee River in Georgia, and if those continue this Monday and Wednesday, it will be all clear to paddle with the new Mayor of Valdosta, Scott James, this Saturday, January 18, 2020. "We'll paddle by the site of the projected Troupville River Camp, supported by Valdosta and Lowndes County, Georgia, and Madison and Hamilton Counties, Florida," said Suwannee Riverkeeper John S. Quarterman. "We'll also pass the outflow from Valdosta's Withlacoochee Wastewater Treatment Plant (WWTP), which did not spill, although it is in a stretch of the river that was contaminated by Valdosta's December 2019 record raw sewage spill."

WWTP Outfall, 2019-06-15 30.8362200, -83.3592400
Mayor Scott James was quoted in Valdosta Today:
"The paddle was requested by me and John was gracious enough to organize it and call it the 'Mayor's Paddle.' It is to show my commitment to zero tolerance for future spills and to show my love for our natural resources."
"The only way to dispell the stigma of sewage spills that affects the entire Suwannee River Basin, is frequent, regular, water quality sampling with published results," added Quarterman. "The dozen-county Florida Rivers Task Force to deal with Valdosta sewage wants to promote cross-state-line eco-tourism. We should all be marketing our rivers. We are, with this paddle, and with Troupville River Camp. But we need a solid foundation of testing so we can say when the rivers are clean, and the few (we hope) times when they are not."
WWALS Watershed Coalition, Inc., parent organization of Suwannee Riverkeeper, will be collecting water quality samples this Wednesday at numerous points on the Withlacoochee River to have current results before the paddle. Lowndes County (which has its own sewer system, that did not spill) is sampling weekly. The Florida Department of Enviromental Protection (FDEP) and the Suwannee River Water Management District (SRWMD) are sampling downstream, and SRWMD has even sampled some sites well into Georgia. WWALS is publishing all this data, along with what data Valdosta has supplied in response to open records requests, online:
https://wwals.net/issues/vww/valdosta-spills/#vldrecord2019
On the paddle, WWALS will be sampling above and below the WWTP outfall and at other locations along the route.
Meanwhile, the recent rains have provided plenty of water in the river, several feet more than when we paddled the same route with 300 people in Paddle Georgia in June 2019, so we should have smooth sailing!
To paddle, please arrive by 9AM, Saturday, January 18, 2020 so we can start paddling by 10AM. You can just show up. However, our expedition leader, Bobby McKenzie, likes to have some idea of how many people are coming. So if you can, please mark yourself as attending on the facebook event or the meetup.
If you do not have a boat, please let us know in advance, and we can probably get you one. If you do have a boat, be sure to bring a personal flotation device and water and snacks for a day on the river.
This paddle is free to WWALS members and $10 for non-members. We will waive the fee for elected officials.
The put-in is Troupville Boat Ramp, 19664 Valdosta Hwy, Valdosta, GA 31602: on GA 133 off I-75 exit 18. in Lowndes County. Go west on GA 133 (St. Augustine Road) from Valdosta towards Moultrie. Soon you will see signs saying turn right for Val Del Tech Road. Turn left instead, and that will take you to the boat ramp.
The paddle will take about six hours to go 11 river miles.
Due to the distinguished paddlers, WWALS has organized an intermediate takeout for those who do not wish to continue the entire distance. There will be Port-A-Potties there and at the takeout.
The takeout is Spook Bridge, slightly downstream from US 84. Thanks to the Langdale Company for access at both Spook Bridge and the intermediate location.
Before paddling, we will shuttle. This means we will drive most vehicles to the takeout, and pile into a few vehicles to return to the put-in. That way most people's vehicles will be at the takeout when we paddle in.

Spook Bridge landing Zoom, 15:51:46, 30.7908289, -83.4518955
Thanks again to The Langdale Company for permission to take out just below Spook Bridge.
You can help WWALS test water quality by donating to our WWALS water quality testing program.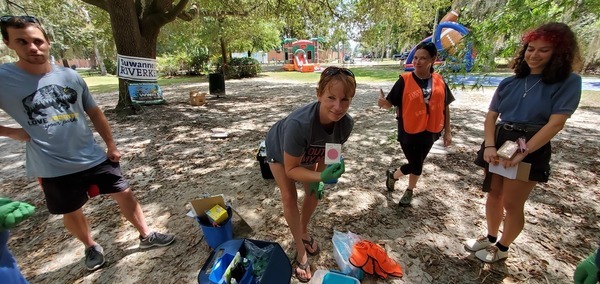 Suzy Hall with a Petrifilm.
Each bacterial test costs $6 for Petrifilms alone.
WWALS is spending about $40 a day on Petrifilms after this Valdosta spill.
About WWALS: WWALS Watershed Coalition (WWALS), a 501(c)(3) educational charity, established 2012, advocates for conservation and stewardship of the Withlacoochee, Willacoochee, Alapaha, Little, Santa Fe, and Suwannee River watersheds in south Georgia and north Florida through education, awareness, environmental monitoring, and citizen activities. WWALS is the Waterkeeper® Alliance member for the Suwannee River Basin as Suwannee Riverkeeper®.
Contact: John S. Quarterman, Suwannee Riverkeeper, 229-242-0102, contact@suwanneeriverkeeper.org
===
-jsq, John S. Quarterman, Suwannee RIVERKEEPER®
You can join this fun and work by becoming a WWALS member today!
Short Link: