Update 2019-07-05:: Some WWALS videos on YouTube.
The first day of #PaddleGA2019 was a fun day, with a confluence, greetings by VIPs, creeks, small rapids, a limpkin, Valdosta's notorious Withlacoochee Wastewater Treatment Plant Outfall, one bad water quality reading (not there), swimming, an even more notorious fracked methane pipeline, and Spook Bridge, with a pet deer across the river. Thanks to The Langdale Company for that takeout and the Port-A-Potty location, and thanks to the Battery Source for the loan of the golf cart to WWALS.
Here's Gwyneth Moody, Georgia River Network Water Trail coordinator, getting her orange kayak in the water.

Load 'em up, 07:51:54, 30.8515032, -83.3476099
Somebody was flying a drone.
Maybe we'll see his videos.
Took a while for everyone to pile into the water at Troupville Boat Ramp

Bret Wagenhorst, WWALS board member, 07:54:17, 30.8515500, -83.3477600
Bret Wagenhorst was the Trip Naturalist the first day. He is a font of knowledge about the plants and animals of the rivers.

John S. Quarterman
Notice the Withlacoochee and Little River Water Trail (WLRWT) signs on the post in the background.
A few days later Emma Wheeler of WCTV covered Helen Tapp, one of the landowners of Land Between the Rivers at the Little River Confluence with the Withlacoochee River.

Landowner Helen Tapp welcoming to Lowndes County 300 paddlers in Paddle Georgia, coming down the Little River to its Confluence with the Withlacoochee River, 2019-06-15, 08:12:39, (384M) 30.8470000, -83.3475400
Gwyneth Moody on behalf of Paddle Georgia greeted Lowndes County Chairman Bill Slaughter, Valdosta City Council Tim Carroll (delegate of Mayor John Gayle), and Valdosta Historical Society Director Don Davis.

Don Davis, 08:27:11, 30.8471209, -83.3475174

At the Little River Confluence with the Withlacoochee River, 2019-06-15, 08:32:11, left to right:
Don Davis (Valdosta-Lowndes County Historical Society and Museum),
Helen Tapp (landowner, Land Between the Rivers),
Tim Carroll (Valdosta City Council and delegated by Valdosta Mayor),
Bill Slaughter (Chair, Lowndes County Commission),
Gwyneth Moody (Georgia River Network),
John S. Quarterman (Suwannee Riverkeeper and WWALS President). 30.8472140, -83.3476880
See the WWALS videos of history of the rivers and Troupville, and greetings by Lowndes County and Valdosta.
Some people went upstream a bit on the Withlacoochee River.

Tom H. Johnson Jr., 08:47:55, 30.8471200, -83.3476300
Thanks to the Battery Source of Valdosta for the weekend rental of the golf cart. For that donation the Battery Source is a sponsor of the Suwannee Riverkeeper Songwriting Contest, coming up August 24, 2019, in Valdosta. Thanks to Katherine Ball for rustling up the golf cart. Thanks to WWALS members Trudy and Conn Cole for helping, including by driving the golf cart. The previous day, WWALS Board Member Shirley Kokidko was there early,

WWALS E.D. Gretchen Quarterman starts up the golf cart with the VIPs, 08:44:23, 30.8472100, -83.3475200
Onwards past the Little River Confluence down the Withlacoochee River.

Paddlers departing from the Little River Confluence downstream on the Withlacoochee River,
T2 & Mary Caroline Pindar depart, during Paddle Georgia, 2019-06-15, 09:14:29, 30.8470700, -83.3476100
This little creek appears to come out of Scruggs Pond in Brooks County.

Scruggs Branch?, 11:15:12, 30.8400930, -83.3543360
The limpkin watched from the bank, flew ahead, watched from the other bank, etc.

On shadow, 11:17:08, 30.8395500, -83.3549000
The famous $100 million waterfall, Valdosta's Withlacoochee Wastewater Treatment Plant (WWTP) Outfall, was very visible.

Movie: WWTP Outfall, 11:23:17, (15M) 30.8362200, -83.3592400
Paddlers were swimming in the river by Spring Branch.

Swimmers, 12:09:54, 30.8284400, -83.3849100
The fish samplers found many species.

Sampling fish, 12:16:46, 30.8282700, -83.3851300
Of course there was a water cannon.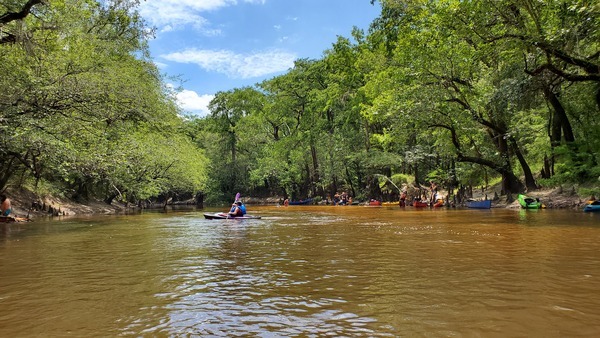 Water cannon, 12:19:52, 30.8285700, -83.3854900
The water had come up so much since Joe Cook had to drag his boat 17 times on June 5th that there were only minor rapids at the numerous shoals.

Upstream, 12:38:35, 30.8268600, -83.4003000
The Port-A-Potty, planted thanks to permission from The Langdale Company, was popular.

T2 to Port-A-Potty, 13:32:45, 30.8162700, -83.4249100
It was planted the previous day by Scott Hudgins of Outhouse Port-A-Potties. We only got stuck in the sandy woods roads once.

Delivery, Scott Hudgins, 16:06:25, 30.8160300, -83.4246720
Here's Joe Cook returning down Millrace Creek.

Joe Cook returns, 14:27:12, 30.8147300, -83.4373100
I'm calling this one Rotten Egg Branch.

Strong hydrogen sulfate odor, 14:48:22, 30.8183397, -83.4494719
There were more creeks, and swimmers didn't wait for creeks.

Above pipeline, 15:24:34, 30.7958900, -83.4518200
Within sight of the US 84 bridge, you can see here on the left bank a sign of the notorious Sabal Trail 36-inch high-pressure fracked methane pipeline that leaked drilling fluid up into the Withlacoochee River here.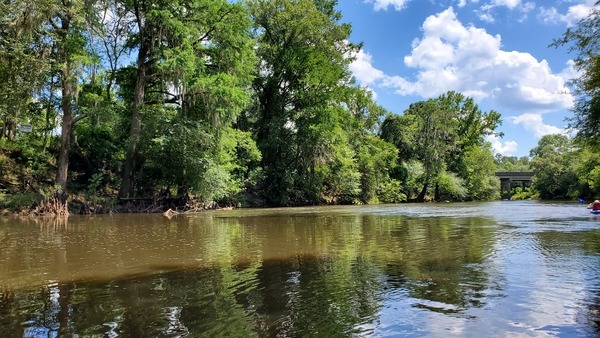 Left bank (Lowndes County), 15:34:04, 30.7953000, -83.4523700
The only slight problem shoal was just above US 84.

Right was not optimal, 15:44:10, 30.7939232, -83.4536950
As I should have known from previous experience, keep left, and sail right through.

Movie: Stay to the left, (15M) 30.7938200, -83.4533400
Past the US 84 highway bridge and the CSX Railroad bridge…

CSX RR and US 84 highway, 15:48:14, 30.7922200, -83.4532500
Around the bend appears Spook Bridge.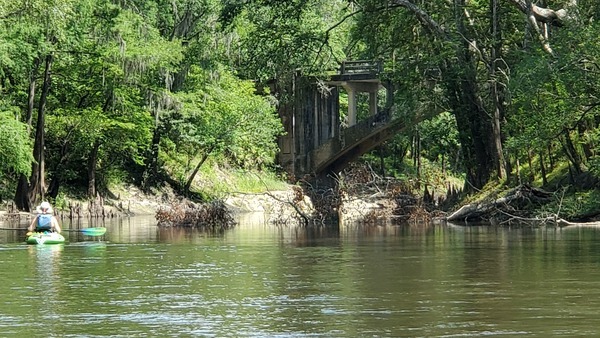 Around the bend, 15:50:36, 30.7913600, -83.4525800
Thanks to The Langdale Company of Valdosta, Georgia, WWALS obtained permission for Paddle Georgia to take out just below Spook Bridge.

Zoom, 15:51:46, 30.7908289, -83.4518955
Gretchen looks rested, since she did not paddle that day; she paddled the next day.

Gretchen and the boats, 16:01:54, 30.7894900, -83.4511100
From Spook Bridge, you can see boats taking out on the left bank in Lowndes County while Joe Cook photographs a pet deer on the right bank in Brooks County.

Joe Cook photographing the pet deer, 16:09:54, 30.7898433, -83.4517402
The pet deer is wearing a collar in the upper right of this picture.

The pet deer, upper right, wearing collar, 30.7896800, -83.4518700
There was a long walk up to the road, but fortunately, thanks to the Battery Source for the golf cart, and WWALS member Steve Miller for charging, delivering, and driving it, tired paddlers could hitch a ride for free.

Gretchen and Mary Caroline, 16:17:53, 30.7899999, -83.4497044
And on the busses to Grassy Pond for the evening. The previous day, WWALS members Dave Hetzel and Bobby and Monica McKenzie helped with registration there.

Registration, 18:34:20, 30.6551112, -83.2359651
Many more pictures are on the WWALS website, and there is a WWALS Google map.
See also #PaddleGA2019 on facebook and on Instagram.
WWALS paddled this same route with much higher water February 2, 2019. But that was nothing! Here's what Spook Bridge looked like in 1928 when it was in use and the water was 28 feet higher:

During flood of-1928 with Blue Springs sign
#PaddleGA2019 to be continued in later posts.
-jsq, John S. Quarterman, Suwannee RIVERKEEPER®
You can join this fun and work by becoming a WWALS member today!
Short Link: