Suzy Hall's results from Monday samples at Knights Ferry and Nankin are now within Georgia state limits, lower than when I tested there three days earlier, indicating Valdosta's record-largest sewage spills has indeed moved on to Florida.

Photo: Suzy Hall, who wrote, "Did a clean up at KF. Probably 40-50 lbs collected by 2 adults and 2 very involved little girls."
Suzy's E. coli results for Monday, December 30, 2019:
200 cfu/100 mL at Knights Ferry Boat Ramp
100 cfu/100 mL at State Line Boat Ramp
So Monday Knights Ferry was down from my 300 on December 27, three days earlier, and State Line was the same. Florida Department of Health got 262.0 on Dec. 27th, but they almost certainly sampled earlier in the day since I was there after sunset, so presumably the E. coli level decreased during the day.
At Knights Ferry, Suzy got 6,767 for December 24, and 4,966 for December 21. She got 200 at State Line on Dec. 24, already up from 100 on Dec. 21.
Yet Monday she remarked, "No surprise there were no signs."
Other than the Withlacoochee and Little River Water Trail signs that Dan Phillips replanted for WWALS the previous day.
Suzy's results are consistent with Florida Department of Health (FDOH) getting 262.0 at State Line for Dec. 27, 3667.0 on Dec. 26, and 517 on Dec. 24. And of course FDOH also saw 295.0 at CR 150 on Dec. 26 and 197.0 on Dec. 24.
So Valdosta's sewage appears to be almost entirely in Florida now, probably already passing Madison Blue Spring.
Hm, is Nestlé bottling that water? Or is this why Nestlé wants water from Ginnie Springs?

Valdosta to Madison Blue Springs, in WWALS map of all public landings in the Suwannee River Basin, these all on the Withlacoochee and Little River Water Trail.
The only Valdosta warning sign on any river remains the one at Troupville Boat Ramp on the Little River, upstream of the Little River Confluence with the Withlacoochee River.

Photo: Scotti Jay, of Valdosta Caution sign at Troupville Boat Ramp, 2019-12-21.
Someone has decorated that signpost with flowers, like the crosses you see at highway wreck sites.
Thanks to Suzy and family for cleaning up at Knights Ferry Boat Ramp!
All our WWALS reports after this Valdosta record-largest sewage spill are here:
wwals.net/issues/vww/valdosta-spills/
WWALS continues to test, using the big bunch of Petrifilms WWALS Executive Director Gretchen Quarterman ordered last week, which were a tad expensive, yet saved 20% by ordering in bulk. You can help WWALS test water quality by donating to our WWALS water quality testing program.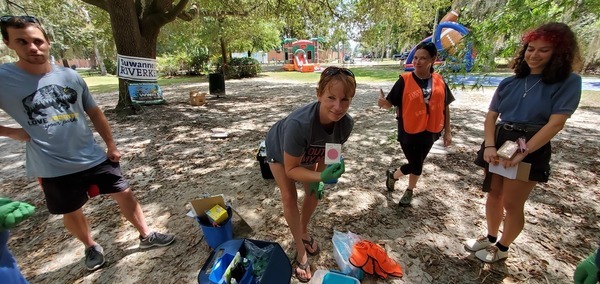 Suzy Hall with a Petrifilm.
Each bacterial test costs $6 for Petrifilms alone.
WWALS is spending about $40 a day on Petrifilms after this Valdosta spill.
-jsq, John S. Quarterman, Suwannee RIVERKEEPER®
You can join this fun and work by becoming a WWALS member today!
Short Link: