Update 2020-01-06: Well testing results, Madison County, FL, after Valdosta sewage spill 2020-01-03.
Florida state Senator Bill Montford has scheduled "a meeting concerning the Valdosta sewage spill issue" this Wednesday afternoon, the same day and before the meeting of the Florida Counties Rivers Task Force with the Valdosta City Council. We have some questions (see below). You probably do too, and you can ask them at one or both of these Wednesday public meetings.
When: 1 PM, Wednesday, January 8, 2020
Where: Madison County University of Florida
Institute of Food and Agricultural Sciences Extension Office
184 Northwest College Loop, Madison, FL 32340
Event: facebook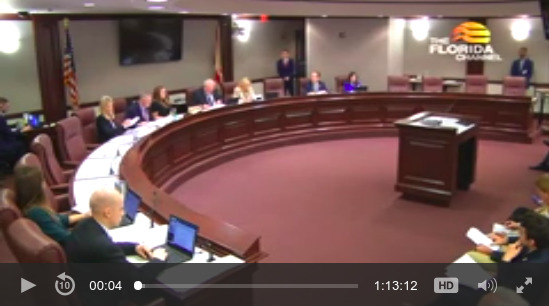 I have confirmed that this Madison meeting is a public meeting. The venue is small, but that's no reason for the public not to come.
Sen. Montford held a meeting on Valdosta sewage March 20, 2019 of his Florida Senagte Environment and Natural Resoures Committee. Most of us thought that Valdosta's sewage problems were maybe fixed, or at least less, after that, until Valdosta's record-largest raw sewage spill of December 2019, with no rain.
A week ago, on December 27, 2019, the North Central Florida Regional Planning Council (NCFRPC) sent a notice to "River Task Force Members" and two others, one a reporter. Yet Suwannee Riverkeeper only heard of this meeting yesterday from Merillee Malwitz-Jipson of OSFR (and also a WWALS member); she only heard of it through that reporter.
Back at the July 10, 2019 Task Force meeting with Valdosta, NCFRCP asked me to be sure to sign in so I would be on their distribution list, and I did. Yet despite all our work on this subject before and since then, neither I nor Merrillee (who was also there) were notified.
The good news is that the Florida Department of Health (FDOH) lifted its health advisory for the Withlacoochee River on Friday, January 3, 2020.

HEALTH OFFICIALS IN HAMILTON, MADISON COUNTIES LIFT ADVISORY FOR WASTEWATER CONTAMINATION IN THE WITHLACOOCHEE RIVER
This was because of "extensive testing"; see Valdosta sewage from Sugar Creek to Florida 2019-01-01.
Yet many questions remain, including, but not limited to:
Can the various municipalities, counties, and agencies in two states and NGOs such as Suwannee Riverkeeper and OSFR establish a process by which we can track the progress of a sewage spill down the Withlacoochee (or Alapaha) River, so that FDOH doesn't have to issue an advisory, lift it, issue another advisory, and lift that one, too, when, as in this case, the first advisory was not necessary?
How can the public be informed in a timely manner of this extensive testing data? The only organization publishing that data this time appears to be WWALS, i.e., Suwannee Riverkeeper.
Where is the data collected by the Florida Department of Environmental Protection (FDEP)? Apparently even FDOH does not have it. Why does FDEP have a four-month delay on publishing its data?
FDEP told us in November at a Triennial Review Public Workshop that the Florida legislature had appropriated additional funds for water quality testing, and FDEP was allocating that money regionally. OK, can we get some of those funds for FDOH or Suwannee River Water Management District (SRWMD) or both to test the Withlacoochee and Alapaha Rivers from the state line to the Suwannee at least, and to do it weekly, with additional funds for daily during events such as this December Valdosta sewage spill?
Can we have timely publication of the resulting data, for example on SRWMD's Water Data Portal?
How much lower were Nestlé's water withdrawals at Madison Blue Spring during these December FDOH health advisories? Are these Valdosta sewage spills a partial cause for Nestlé wanting another source of water, from Ginnie Springs?
Who is going to pay for the water well testing conducted by the Madison and Hamilton Counties, Florida, health departments? The taxpayers of those counties? The state of Florida? Or the city of Valdosta?
Why was Brooks County, Georgia, apparently not informed of this record-largest raw sewage spill until Suwannee Riverkeeper told them?
Why did the Georgia Department of Health (GA-DOH) never issue a health advisory?
Why did Valdosta never place warning signs on the Withlacoochee River downstream of Sugar Creek?
What consequences have ensued inside the city of Valdosta for those involved in this massive case of negligence and incompetence?
What will GA-EPD do to enforce its Consent Order on Valdosta this time?
You probably have other questions. You can come to this meeting in Madison, Florida, or the one later this same Wednesday in Valdosta, Georgia, and ask them directly.
-jsq, John S. Quarterman, Suwannee RIVERKEEPER®
You can join this fun and work by becoming a WWALS member today!
Short Link: