Update 2019-01-28: Fourth wave: bad water quality at State Line and Knights Ferry 2020-01-26
Update 2020-01-24: Emma Wheeler, WCTV, January 24, 2020, Wells test positive for e-coli in Madison County,
If you weren't at the Madison County meeting about Valdosta sewage, 1PM, Wednesday, January 8, 2020, you can see the whole thing in these videos I took for WWALS.

Movie: Fines? Lawsuits? EPA answer questions? (331M)
If you want a shorter version, try Stew Lilker, Columbia County Observer, January 11, 2020, 7.5 Mil Gal of Raw Sewage Headed Into N. FL From Valdosta – FL Sen. Bill Montford Wants Answers. See Stew ask his very perceptive question, Does contamination spread underground?.

Movie: Does contamination spread underground? –Stew Lilker (124M)
Another reporter visible in these videos, although he did not speak, Nathan Dean, WTXL, January 8, 2020, Community pushes for solutions after massive sewage spill in Withlacoochee River.

Nathan Dean, WTXL, with his TV camera.
Below are links to each WWALS video of the Madison meeting, with notes, followed by a WWALS video playlist. The notes are not exhaustive; just some high spots. You can watch the whole thing and form your own opinions.
Here's a WWALS video playlist:

FL state Sen. Montford in Madison about Valdosta sewage 2020-01-08
Video by John S. Quarterman for WWALS Watershed Coalition, Inc.
There are some higher resolution stills on the WWALS website. And this:

Nathan Dean of WTXL next to Suwannee Riverkeeper table and the WWALS video camera
You can help WWALS test water quality by donating to our WWALS water quality testing program.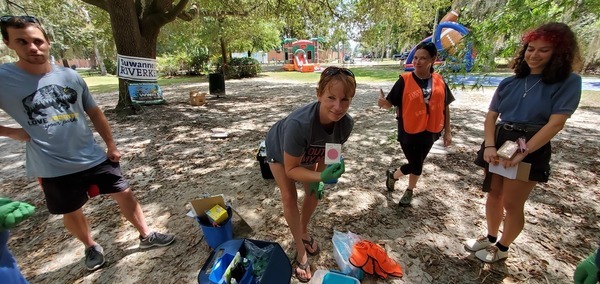 Suzy Hall with a Petrifilm.
Each bacterial test costs $6 for Petrifilms alone.
WWALS is spending about $40 a day on Petrifilms and other materials after this Valdosta spill.
-jsq, John S. Quarterman, Suwannee RIVERKEEPER®
You can join this fun and work by becoming a WWALS member today!
Short Link: