Updated 2020-01-29: Plus Lowndes County data and what these numbers mean.
Updated 2020-01-28: Florida results added to the WWALS composite table, but the most recent from Florida was for Thursday, three days before the WWALS high Sunday results at the state line.
Bad news. WWALS found these results for Sunday, January 26, 2020:

Photo: Suzy Hall for WWALS, of WWALS and County warning signs at State Line Boat Ramp 2020-01-26
Those stations are 15.55 river miles apart on the Withlacoochee River, with Nankin Boat Ramp in between. We are leaving our WWALS CAUTION signs up at all three locations.
The Lowndes County warning signs were also still up at those places Sunday.
Suzy Hall, who took these samples, remarked:
I'm saddened. I feel like these numbers are conservative because I only counted the obvious larger purples, whereas some of the typical small "reds" could be purple, I honestly cannot rule that out. The sheer numbers of bacteria is horrid tho.


Photo: Suzy Hall, Too many E. coli colonies for 2020-01-26

You can easily see the difference in color between the blank and the rest. Just like they did with the very highest counts before.
There has been some drizzle of rain in the past few days, but hardly enough it would seem to cause this, especially since the river has continued going down.

Little rain, much contamination
The entire spreadsheet depicted above is on the WWALS website.
We don't know where it came from. Maybe Okapilco Creek, which Lowndes County discovered contaminated back on January 10 and January 16. Maybe something still washing down from Valdosta's record-largest December 2019 raw sewage spill.
Whatever it is, we recommend don't go in the river from Knights Ferry to the state line.
The entire spreadsheet depicted above is on the WWALS website. You'll notice it's rather empty of results from Florida, Lowndes County, or Valdosta for the past ten days. I am sending this off to those other sources to see if they will send their results.
You can help WWALS test water quality by donating to our WWALS water quality testing program.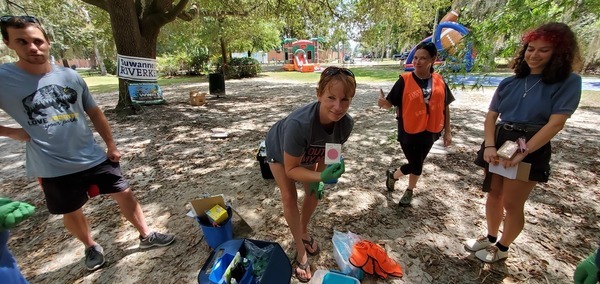 Suzy Hall with a Petrifilm.
Each bacterial test costs $6 for Petrifilms alone.
WWALS is spending about $40 a day on Petrifilms and other materials after this Valdosta spill.
-jsq, John S. Quarterman, Suwannee RIVERKEEPER®
You can join this fun and work by becoming a WWALS member today!
Short Link: