Update 2020-02-12: Madison Co., FL Withlacoochee River Bacterial Advisory 2020-02-11.
Good another Wednesday: Lowndes County water quality results for the Withlacoochee River. Meanwhile, about an inch of rain registered upstream Thursday. We will have more WWALS results in a day or so. The only way to tell what is in our waterways is regular, frequent, closely-spaced testing. You can help.

Good Withlacoochee
Thanks to Lowndes County Chairman Bill Slaughter for these Lowndes County results.
Along with the WWALS composite results spreadsheet, they are on the WWALS website.
There are no new Florida results; the Florida agencies stopped testing after they lifted the third Florida river advisory.
See What do these numbers mean?

Map: Cook County Landing to State Line Boat Ramp in the WWALS Map of the Withlacoochee and Little River Water Trail.
The Skipper Bridge USGS Gauge, upstream of Valdosta on the Withlacoochee River, shows about an inch of rain Thursday.

Inch of rain upstream of Valdosta
The Withlacoochee River has peaked at that point, but that water is headed downstream.

Peaked, water going downstream
At US 84, the USGS Quitman Gauge showed less than an inch of rain Thursday.
The Withlacoochee River rose a couple of feet at US 84, and is rising again from water coming downstream.
Meanwhile, upstream on the Little River at Folsom Bridge on GA 122, the USGS Hahira Gauge shows about an inch of rain Thursday.
The Little River has risen three feet at Folsom Bridge and is still going up. That water will go downstream, usually cleaner than the Withlacoochee River water, so presumably it will dilute whatever is still in the Withlacoochee.
What will be the result of this Thursday rain? More contamination washed downstream on the Withlacoochee River? Or remaining contamination diluted by rainwater, especially coming down the Little River? Or something else flushed down Okapilco Creek?
You can see it's very hard to predict what will happen, so the only way to know is regular, frequent, water quality testing.
We'll find out more when we see this weekend's WWALS water quality results.
You can help WWALS test water quality by donating to our WWALS water quality testing program. Or maybe you know a bank or other source of larger financial support.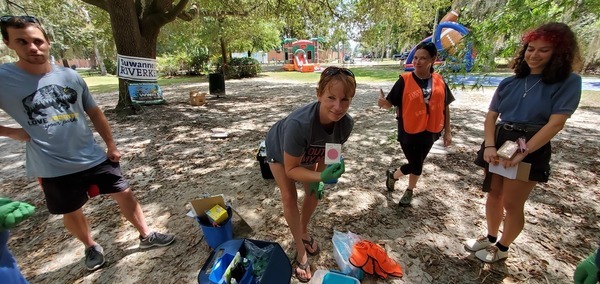 Suzy Hall with a Petrifilm.
Each bacterial test costs $6 for Petrifilms alone.
WWALS is spending about $40 a day on Petrifilms and other materials after this Valdosta spill.
Maybe you want to get trained and help test; if so, follow this link.
-jsq, John S. Quarterman, Suwannee RIVERKEEPER®
You can join this fun and work by becoming a WWALS member today!
Short Link: