Update 2020-01-23: Okapilco Creek better, Withlacoochee still clean 2020-01-22.
The good news: Gretchen Quarterman's test results from the Mayor's Paddle Saturday were clean.

Photo: Suzy Hall, of Gretchen Quarterman testing during Mayor's Paddle 2020-01-18
The Withlacoochee River tested clean all the way from the state line to the Suwannee, and the Suwannee River clean all the way to US 250, on Friday, January 17, 2020, according to the Florida Department of Health (FDOH). But somebody (Valdosta?) needs to pay for the well and river testing incurred to date from that record-largest Valdosta raw sewage spill of December 2019. And we need ongoing regular, closely spaced, water quality testing, and sources of funding (Valdosta?) for that, for at least two reasons detailed below.
Maybe you'd like to come talk about that at the Florida Rivers Task Force meeting 4PM today at the Holiday Inn, 213 SW Commerce Blvd, Lake City, FL, or at the North Central Florida Regional Planning Council (NCFRPC) meeting at 7PM, same location.
Or you can speak in Citizens To Be Heard at the end of the Valdosta City Council meeting, 5:30 PM today, Valdosta City Hall, 216 E. Central Ave., Valdosta, GA.

Clean rivers 2020-01-15-18
The entire composite spreadsheet by WWALS is on the WWALS website, along with the recent data from Lowndes County and Florida.
The Suwannee River Water Management District (SRWMD) projection reported by WCJB on Thursday that Valdosta sewage had reached the Suwannee River fortunately proved not to come to pass. Cleaner Friday than Thursday, by results from WWALS, Lowndes County (which has its own sewer system that did not spill), and Florida Department of Environmental Protection (FDEP). Valdosta did not test on any weekdays last week, even though their Mayor was scheduled to paddle.
The difficulty of projecting river flows is one reason continual testing is the only way to be sure what's in our rivers.
The interesting news: Lowndes County found high E. coli on Okapilco Creek south of Quitman for Thursday, January 16, 2020 (the red L2419.6 in the middle of the above table), but clean at GA 76, and WWALS found that creek clean at US 84. Apparently something is getting into Okapilco Creek between US 84 and the Withlacoochee River. The Okapilco Creek Confluence is between Spook Bridge (just south of US 84) and Knights Ferry Boat Ramp. This might explain why bacterial counts have previously gone up at Knights Ferry much higher than at US 84 or Spook Bridge.

Okapilco Creek in Brooks County, in Brooks County Tax Appraiser map.
That's another reason continual testing is needed: while Valdosta is by far the worst source of sewage into our waterways, it's not the only source of contamination. For that matter, weekly testing on Sugar Creek probably would have caught Valdosta's December 2019 spill before Valdosta got around to noticing.
What's on that stretch of Okapilco Creek? Mostly forestry, and it's hard to believe there are enough deer in there to cause E. coli to be that high. But also the Quitman Land Application Site (LAS), highlighted on the above map. Quitman did not report any spills to GA-EPD during December 2019 or January 2020. Maybe there are also cows or horses?
I don't know where "the Bray prop." is, so if Lowndes County tested below where Piscola Creek joins Okapilco Creek, it's worth pointing out that the Aviagen chicken hatchery is upstream of feeders creeks of Piscola Creek, in the Brooks County Industrial Park, shown left center in the above map.
So recent tests illustrate two reasons that the only way to be sure our creeks and rivers are clean is to test them ongoing, at least weekly, at all the places they've been tested in the past month.
According to FDEP, Valdosta also tested at Knights Ferry Boat Ramp on December 31, 2019, and also at Nankin and State Line Boat Ramps. Valdosta's results at Knights Ferry that day were actually higher than WWALS results the previous day.

Knights Ferry and Nankin 2019-12-31
We had received these December 31 Valdosta numbers from Lowndes County previously, labelled as "CoV lab", which did not ring a bell at the time. Apparently either Lowndes County sent samples to the City of Valdosta's laboratory for analysis, or Lowndes County was also reporting some independent samples taken by Valdosta. FDEP attributes these numbers to the City of Valdosta.
Either way, I don't find these December 31 Valdosta results in any Valdosta responses to open records requests. I will go back and look, but if they're not in those responses, it would appear that Valdosta is in violation of the Georgia Open Records Act (GORA) on another count.
That would be in addition to not timely supplying the Valdosta December 26, 2019, Knights Ferry Boat Ramp datapoint in response to a GORA request.
Sometimes different testers get different test results on the same day. On January 15, 2020, SRWMD and FDOH got very different results at several locations. This can happen because they tested at different times of the day.
Test results can be very different from one day to the next. For example, on December 18, 2019, SRWMD tested all the way up to just below Sugar Creek on the Withlacoochee River, as well as at GA 133 and US 84, and got results far higher than either WWALS or Valdosta the day before or the day after.
(In previous versions of this table, I had those SRWMD results attributed to Valdosta. This time I combed the table from FDEP and other sources and added attributions for every datapoint.)
Perhaps the most obvious case is Valdosta's test at Knights Ferry Boat Ramp on December 26, which was much lower than the WWALS results on December 24 and December 21, 2019. The Valdosta City Manager appeared to argue on January 8, 2020, that that single Valdosta datapoint invalidated the WWALS results. Well, no, especially considering the WWALS E. coli result from December 27 was very similar to Valdosta's December 26th result.
What happened? Probably the 2 inches of rain on December 22 at US 84 and upstream of Valdosta at Skipper Bridge causing the river to continue to rise washed the contamination downstream.

U.S. 84 rising Withlacoochee River, USGS 02318500 Gauge.
The 2.15″ of rain at GA 122 west of Hahira on December 22 sent cleaner water down the Little River to join the Withlacoochee upstream of US 84. This is one reason projecting flow and contamination motion is so difficult, and only ongoing testing can determine what is really in our waterways.
You can help WWALS test water quality by donating to our WWALS water quality testing program.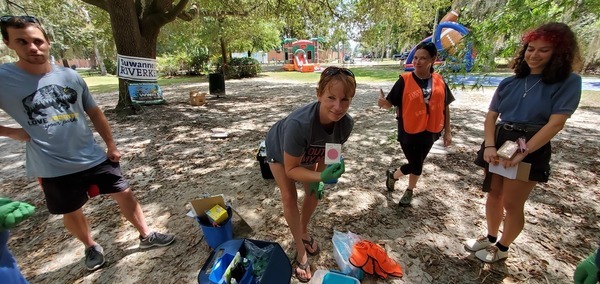 Suzy Hall with a Petrifilm.
Each bacterial test costs $6 for Petrifilms alone.
WWALS is spending about $40 a day on Petrifilms after this Valdosta spill.
-jsq, John S. Quarterman, Suwannee RIVERKEEPER®
You can join this fun and work by becoming a WWALS member today!
Short Link: