According to a WWALS member eyewitness, raw sewage ran across Ashley Street, with a very strong odor, about 11:50 AM yesterday, Wednesday, June 19, 2019.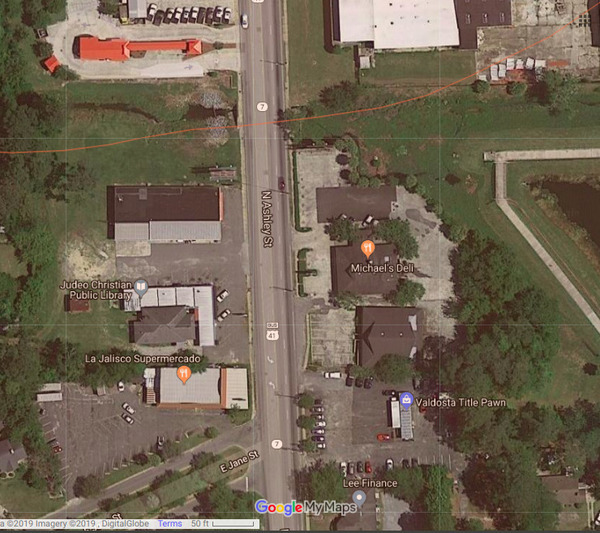 About 1300 block of Ashley Street. WWALS google map of the Withlacoochee and Little River Water Trail.
She said it was near the old Coca-Cola bottling plant. Which means near One Mile Branch, which runs through Drexel Park and VSU, then into Sugar Creek and the Withlacoochee River.
There was nothing about this in yesterday's GA-EPD Sewage Spill Report, which was published before the eyewitness saw the sewage.
I called Valdosta Utilities. After a delay due to a FOG (Fats, Oils, and Greases) meeting, Utilities confirmed there was a spill at that location, near La Jalisco and Brookwood Drive, thus my guesstimate of the 1300 block.
Scott Fowler of Valdosta Utilities said they got a vac [vacuum] truck out there quickly and removed the sewage, and also sandbagged the storm drains to keep it from getting in. He said the spill was completely contained and did not get into waterways. We shall see.
He said he would send a picture and a precise location. Maybe he meant he would send those things today.
Meanwhile, 63 miles downstream, Paddle Georgia, #PaddleGA2019, will paddle from Suwannee River State Park (SRSP) past the Withlacoochee Confluence. Nothing from Valdosta will reach that location for days, and anything this small will be too diluted to notice by then, even if it did get into One Mile Branch.
Last night at Paddle Georgia I asked two representatives of the Suwannee River Water Management District (SRWMD) if they had heard of this spill. They had not. They said they depended on Valdosta to tell them. They wondered how I knew, considering I was an hour away from Valdosta in Suwannee County, Florida, at the SRWMD office, at the time. I told them it's hard for people not to notice something that stinks across the main drag in the middle of the day.
Until yesterday, I had been saying Valdosta had no sewage spills this year.
-jsq, John S. Quarterman, Suwannee RIVERKEEPER®
You can join this fun and work by becoming a WWALS member today!
Short Link: