Many sewer spills tend to be small, many caused by fats, oils, or greases (FOG) that people should not be pouring down the drain anyway. On August 8, 2018, I visited Scott Fowler, Environmental Manager, Valdosta Utilities. Joseph Gangler, who handles the city's FOG program, posed somewhat reluctantly with the city's new FOG pamphlets.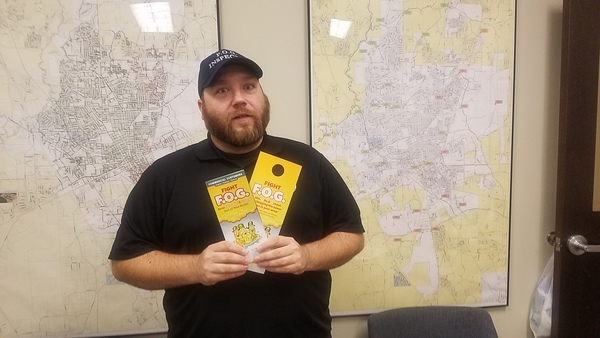 Valdosta has started a YouTube video program called Keeping You Informed (KIY), which includes FOG Program KYI, Metro 17 Valdosta Production, 27 August 2018, in which FOG Prevention Program Technician Joseph Gangler shows you what it's about.
Ashlyn Becton, PR, Valdosta, 3 August 2018, City Utilities Department to launch 'Fight Fats, Oils, & Grease (F.O.G)' campaign,
During the month of August, the City of Valdosta Utilities Department is launching the 'Fight Fats, Oils, & Grease (F.O.G.) campaign. The goal of the campaign is to encourage residents and business owners to keep the sewer lines clean, which helps prevent sewer overflows that can pollute our creeks, rivers, lakes, and groundwater.

"We are trying to do what's best for the city as a whole, starting with each individual house. In the end it will save time, money, and resources," said Joseph Gangler, F.O.G Coordinator.

In the City of Valdosta, there are approximately 300 miles of sewer lines flowing with waste. Gangler said there are approximately 24,000 water/sewer customers within the city and 300-500 specialized wastewater customers. If these lines become clogged, it can cause serious problems and be costly not only to the city but to residents as well. According to Utilities Department staff, the average cost of fixing a backed up sewer line during normal working hours is around $600, and if the residents' sewer lines have to be replaced it can cost several thousand dollars.

"In the past, this program (F.O.G.) has focused mainly on food establishments and industries with specialized commercial waste such as auto mechanic shops, restaurants, or anywhere that isn't normal septic waste. While we have geared a lot towards those establishments in the past, we've seen a lot more research come out and we are constantly trying to stay in front of what is going on nationwide. It shows that really most of our issues are coming from our residential areas, our high occupancy apartment complexes, and big neighborhoods," said Gangler.

The main sources of fats, oils, and grease that clog pipes are food scraps, butter and margarine, dairy products, cooking oils, and sauces and greasy leftovers. Fats, oils, and grease don't mix well with water and easily adhere to the walls of underground pipes when washed down the drain as liquids. As they cool, these substances solidify and adhere to the interior of the pipe. If allowed, over time the grease builds up and causes blockages which in turn cause overflows and breaks in the pipes.

By following a few simple steps, you can help prevent sewer backups and spills:

Pour cooled fats, oils, and grease into a covered, disposable container and throw it into the garbage.
Never pour fats, oils or grease down sink drains or toilets.
COOL IT, CAN IT, TRASH IT.
Soak up the remaining oils and grease with an absorbent material such as paper towels, and throw it into your garbage.
Before you wash dishes, scrape food scraps, fats, oils, and grease into your garbage.
Use sink strainers to catch any remaining food waste while washing dishes.

Posted by Ashlyn Becton Friday, August 3, 2018 4:12:00 PM Categories: Environmental Press Release Public Information
There's more information in Valdosta's Fats, Oils, and Grease (FOG) Elimination Program web page. Restaurants or other big producers of fats, oils, or grease may want to install their own grease interceptor:

Grease interceptor
All new or remodeled food establishments are required to have a grease interceptor, by Valdosta's Ordinance 2010-17 about FOG.
I'd like to congratulate the City of Valdosta on getting better at doing its own public relations, especially about the Utilities Department. I had planned to post something about FOG shortly after I met Joseph Gangler, but the Mud Creek WTP spill news from WALB intervened. So it's good Valdosta did its own video. And here, finally, is what I had intended to post, plus that city video.
-jsq, John S. Quarterman, Suwannee RIVERKEEPER®
You can join this fun and work by becoming a WWALS member today!
Short Link: