Update 2020-04-15: See much longer and more recent version of the Consent Order, in Valdosta Sewer System Standard Operating Procedures 2020-03-05.
Due to tens of millions of dollars spent by Valdosta, we don't see spills of tens of millions of gallons anymore. The most obvious Valdosta Sanitary System Improvement is the new, uphill, out of the flood plain, Withlacoochee Wasterwater Treatment Plant, pictured here on Scott Fowler's office wall at Valdosta Utilities: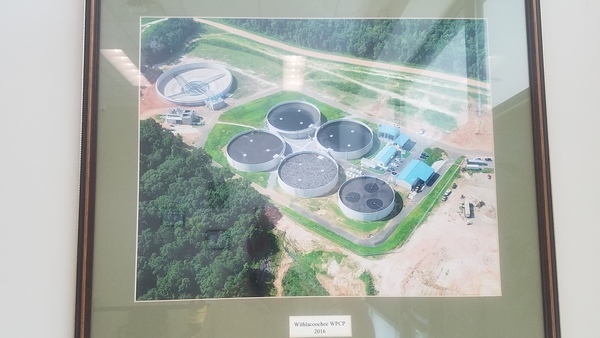 Withlacoochee WPCP 2016
The old, now-closed, Withlacoochee WTP was the plant that had the biggest problems back in 2009 and 2013. As found on the City of Valdosta website, the 23 September 2013 Valdosta Consent Order from the Georgia Environmental Protection Division is now also on WWALS website, including I made a web version, from which I extracted the paragraphs quoted below.
This was the original problem: Continue reading →