Received 4:19 PM yesterday, Florida has lifted its river warning advisory. But everyone should keep testing rivers, creeks, and wells, not just after this December 2019 record-largest Valdosta raw sewage spill, but ongoing, at least weekly, to eventually lift the stigma so we can all promote eco-tourism. You can help.

01-24-2020 Wastewater Spill Valdosta Hamilton Madison LIFTED 0001
PDF
But WWALS will leave our warning signs up at Knights Ferry, Nankin, and State Line (GA 31, Madison Highway, Mozell Spells, CR 145) Boat Ramps in Georgia for now.
This is because that 397 cfu/100 mL E. coli at US 84 on the Withlacoochee River in Lowndes County's results for Wednesday, January 22, 2020 is troubling, especially coupled with Lowndes County's discovery of contamination in Okapilco Creek, which joins the Withlacoochee River between US 84 and Knights Ferry. (Lowndes County has its own sewer system, which did not spill; nonetheless, the county has taken up the testing Valdosta should be doing.)

Lowndes County water quality test results 2020-01-22
We will wait until the results from Suzy Hall's tests today before making a decision. We would also like to hear Lowndes County's decision on its own warning signs first.

Photo: John S. Quarterman, County and WWALS warning signs at Knights Ferry Boat Ramp, 2020-01-10
WWALS will keep testing the rivers and creeks, and you can help. We recommend Lowndes County and the Florida agencies also keep testing, at least weekly. The Florida Counties Task Force also recommends that; more later.
As always, we recommend that Valdosta take up its responsibility as the by far the largest city in the Suwannee River Basin and by far the largest source of sewage contamination of our waterways, not to mention half of the penny SPLOST tax from which Valdosta derives much of its revenue for fixing its sewer system comes from people who live elsewhere. That responsibility would include ongoing weekly testing up and down the Withlacoochee River at least as far as the state line, together with paying for the river testing and well testing expenses incurred by counties and individuals since this December 2019 Valdosta raw sewage spill.
The only way to overcome the stigma on the entire Suwannee River Basin caused by Valdosta's chronic sewage spills is regular at least weekly testing to support eco-tourism marketing, such as for the Troupville River Camp at the confluence of the Little River with the Withlacoochee River, just west of Valdosta.

Valdosta to Dowling Park, Withlacoochee & Suwannee Rivers in WWALS map of all public landings and boat ramps in the Suwannee River Basin.
We also concur with the Madison County, Florida, BOCC:
Private well testing is still taking place and sampling kits are still available. If you have a well that has tested positive, we urge you to follow the treatment protocols you were given and continue to sample until a clean test is achieved. While there are only certain areas that have been impacted by this river event, we urge all county residents with wells to periodically test them to ensure they are healthy and free from bacteria.
So far as we know, Madison and Hamilton Counties, Florida, are offering free well tests. Suwannee County is not, but they don't cost a lot.
In Georgia, so far as we know, Lowndes County Environmental Health is still offering free well tests for both Lowndes and Brooks Counties, Georgia.
The advisory being lifted was the third successive Florida advisory after the December 3, 2019, Valdosta, Georgia, record-largest raw sewage spill of 7.5 million gallons into Sugar Creek, which eventually washed down the Withlacoochee River in three waves, each about a week apart. We don't know there won't be a fourth wave.
See also the PDF.
January 24, 2020

HEALTH OFFICIALS IN HAMILTON, MADISON, SUWANNEE COUNTIES LIFT ADVISORY FOR WASTEWATER CONTAMINATION IN THE WITHLACOOCHEE AND PART OF SUWANNEE RIVERS

Impacts from Valdosta, GA Wastewater Overflow

Contact:
Florida Department of Health, Tallahassee
Michael Mitchell
Michael.Mitchell@flhealth.gov
850-528-4698

Florida Department of Health, Tallahassee
Bob Vincent
Bob.Vincent@flhealth.gov
850-251-7510

Withlacoochee River in Madison and Hamilton Counties and Part of the Suwannee River in Suwannee County, FL — On December 9, 2019, the City of Valdosta, Georgia reported a spill of approximately 7.5 million gallons of untreated sewage that they believe began on December 3, 2019 due to repair work on a major lift station. Sampling and laboratory test results showed the river water was impacted by the sewage spill and had moved into the Withlacoochee River at the Florida/Georgia border during the last few rain falls. A public health advisory was issued on January 9, 2020 for the entire Withlacoochee River in Florida and a portion of the Suwannee River from where the Withlacoochee River connects down to County Road 250 at Dowling Park.

There has been extensive river water sampling for laboratory testing completed by the Florida Department of Environmental Protection, the Florida Department of Health, and the Suwannee River Water Management District. The most recent lab test results indicate the river water again meets surface water quality standards for fecal-indicator bacteria confirming the public may resume water-related activities ( https://www.flrules.org/gateway/notice_Files.asp?ID=17115667).

For information pertaining to the sewage spill and the city's remedial actions, contact the Valdosta Utilities Department Environmental Manager, Scott Fowler, at 229-259-3592 or sfowler@valdostacity.com.

About the Florida Department of Health

The Department works to protect, promote and improve the health of all people in Florida through integrated state, county and community efforts.

Follow us on Twitter at @HealthyFla and on Facebook. For more information about the Florida Department of Health please visit www.FloridaHealth.gov.
Far more about this Valdosta record-largest raw sewage spill with no rain is on the WWALS website:
https://wwals.net/issues/vww/valdosta-spills/#vldrecord2019
You can help WWALS test water quality by donating to our water quality testing program.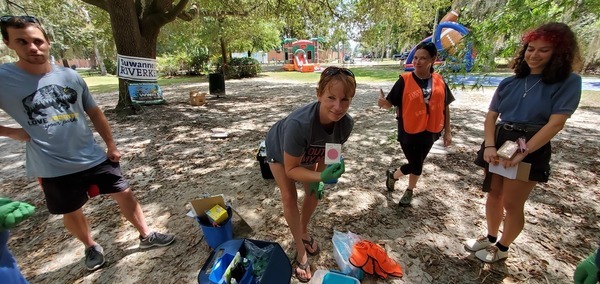 Suzy Hall with a Petrifilm.
Each bacterial test costs $6 for Petrifilms alone.
WWALS is spending about $40 a day on Petrifilms after the record Valdosta spill.
-jsq, John S. Quarterman, Suwannee RIVERKEEPER®
You can join this fun and work by becoming a WWALS member today!
Short Link: