Update 2020-01-15: Georgia Department of Health can't or won't do as much as FDOH 2020-01-07.
The Withlacoochee River still looks clean for the Mayor's Paddle from Troupville Boat Ramp to Spook Bridge this Saturday.
SRWMD actually tested upstream from there last Wednesday at GA 133. SRWMD's and FDEP's test at US 84, Knights Ferry, and State Line Boat Ramp (GA 31) were also clean that day, and the next day FDOH tested at GA 31 and still found it clean. Suzy Hall tested for WWALS this Saturday, and found Knights Ferry, Nankin, and State Line Boat Ramps clean.
The not so good news is that the most recent FDOH tests in Florida, on Thursday, January 9, FDOH found higher counts that would be pleasant at CR 141 (Allen Ramp). So the big slug of bacterial contamination that Lowness County and FDEP saw on Monday, January 6, and FDEP tracked down the Withlacoochee River to FL 6 on January 8, and FDOH saw at CR 141 on January 9, may still be moving down the Withlacoochee River in Florida.
We hope to see test results maybe later today or tomorrow, from Lowndes County in Georgia and FDEP, SRWMD, or FDOH in Florida for this Monday, January 13, 2020. WWALS will be testing numerous locations on the Withlacoochee River tomorrow, January 15, 2020, so our results should be available at the latest Friday morning, January 17, 2020.
Also note Valdosta saw a rather high 520 Fecal coliform count at GA 133 three days before Lowndes County counted high Fecal coliform and E. coli at Knights Ferry, Nankin, and State Line on January 6. But, unlike Lowndes County, Valdosta did not tell anybody. I got Valdosta data for that day through an open records request that arrived shortly before the meeting in Valdosta on January 8th.
On the left in this wider view of recent data are Lowndes County's first tests, which you can see were within safe levels. But Lowndes County continued the process it started, and tested again. A week later it got counts quite high on the same day that FDEP did. Lowndes County (which has its own septic system that did not spill) continues it process with weekly testing, including, if I'm not mistaken, adding more upstream testing stations.

Since first Lowndes County tests
The entire composite spreadsheet is on the WWALS website. So far as I know, it has all the relevant water quality data collected since Valdosta's record raw sewage spill was discovered on December 9, 2019. If there are any errors, or if anyone knows of more data, please let me know.
Here are Lowndes County's most recent results, from January 6, 2020. It says Spain Ferry, but I'm guessing they meant Knights Ferry; I will inquire.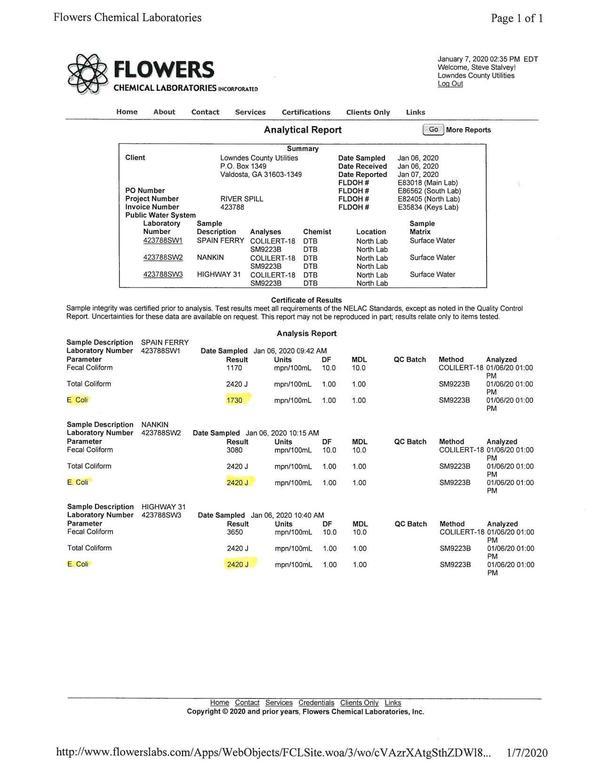 2020-01-06 Lowndes Co. results
PDF
Summary: so far the Withlacoochee River looks clean at least as far as FL-6. But I'd like to see more tests, because something might still wash loose from the recent rains. And I wouldn't want to say the rivers are clean in Florida until FDOH lifts its most recent (third) warning.
Even that won't be the end of this matter. There could still be sewage, diapers, or other stuff that was flushed down the river stuck on deadfalls. Some of that raw sewage sitting in Sugar Creek and the Withlacoochee River that long must have seeped into the ground. And there are all the expenses of counties and people for well testing, river water testing, meetings, etc.
Much more about this situation is on the WWALS website:
https://wwals.net/issues/vww/valdosta-spills/
You can help WWALS test water quality by donating to our WWALS water quality testing program.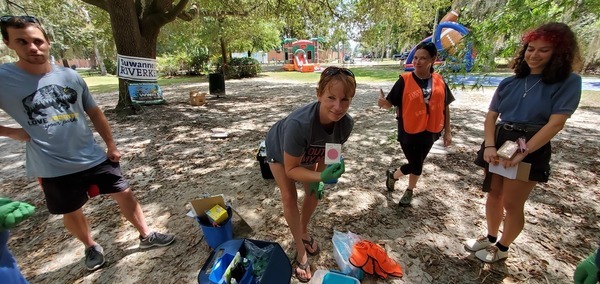 Suzy Hall with a Petrifilm.
Each bacterial test costs $6 for Petrifilms alone.
WWALS is spending about $40 a day on Petrifilms after this Valdosta spill.
Thanks to all who have donated recently, we're closer to being caught up with expenditures.
-jsq, John S. Quarterman, Suwannee RIVERKEEPER®
You can join this fun and work by becoming a WWALS member today!
Short Link: