Update 2020-01-17: Mostly clean in Georgia, not in Florida, Withlacoochee River 2020-01-15
Here's why we keep sampling.

Suwannee Riverkeeper sampling water at Troupville Boat Ramp, Emma Wheeler, WCTV, January 15, 2020, Withlacoochee River tested ahead of Mayor's Paddle.
SRWMD reports high bacterial counts for the third time at State Line (GA 31), and again at CR 150 (Sullivan Launch).

SRWMD 2020-01-14 (WWALS composite spreadsheet)
Will the Mayor's Paddle happen as scheduled this Saturday, January 18, upstream (See Albany Herald, January 15, 2020)on the Withlacoochee River?
That depends on what we see in the WWALS results from samples collected yesterday and today. Emma Wheeler, WCTV, January 15, 2020, Withlacoochee River tested ahead of Mayor's Paddle:
If we do paddle, maybe the two reporters along with us will ask the Mayor some questions about these SRWMD results and why Valdosta isn't helping test the river. So far as I know, Valdosta City Manager Mark Barber and Utilities Director Darryl Muse will not be on the paddle. Oh, and the Valdosta warning sign that was at Troupville Boat Ramp, where the Mayor's paddle will begin: that sign is not there anymore./kee
Darlene Velez, SRWMD Water Resources Office Chief, sent me her slides (now on the WWALS website) from her presentation at the SRWMD board meeting yesterday. They conclude with this one:
She didn't yet have at the Suwannee River Water Management District (SRWMD) Board meeting Tuesday the test results she sent me yesterday evening, which show that yet again bacterial counts are far above limits at State Line (GA 31) and even higher this time at CR 150 (Sullivan Launch).
Here's the problem:
Nobody can recall ever seeing an event like this, with millions of gallons of raw sewage spilled when there was no rain and the creeks and rivers were very low. Most of the spill apparently stayed in Sugar Creek for a week, and then only travelled slowly down the Withlacoochee River after rains. Worse, some of it seems to have gotten stuck and only moved along after more rain. And a third time this seems to be happening.
I hope to get Lowndes County's results from Monday, January 13. But as you can see from SRWMD's data for Tuesday, January 14, things can change a lot in one day.
So WWALS keeps sampling.
Sure would be helpful if Valdosta, which caused this problem that is affecting 38 river miles of the Withlacoochee River in Georgia, and at least part of the 28 river miles in Florida, would also sample downstream of Sugar Creek on the Withlacoochee River, all the way to the state line. So far, all we've heard from Valdosta is "we did what we were required to do". Well, they weren't required to flush 7.5 million gallons of raw sewage down our waterways.
And what happens if somebody paddles the same route next weekend as the Mayor does this Saturday? Or anywhere on the Withlacoochee or Little or Suwannee (or Alapaha, or Santa Fe, or Ichetucknee) Rivers? Wouldn't they want to know if the water tested clean just before that? We need regular weekly water quality testing at many access points on all these rivers.
You can help WWALS test water quality by donating to our WWALS water quality testing program.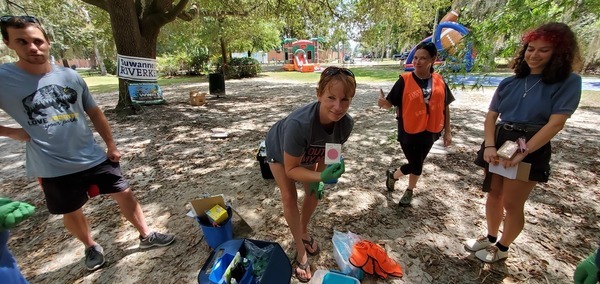 Suzy Hall with a Petrifilm.
Each bacterial test costs $6 for Petrifilms alone.
WWALS is spending about $40 a day on Petrifilms after this Valdosta spill, and more this week.
Much more about this December 2019 record-largest Valdosta raw sewage spill and its ongoing aftermath is on the WWALS website: https://wwals.net/issues/vww/valdosta-spills/#vldrecord2019
-jsq, John S. Quarterman, Suwannee RIVERKEEPER®
You can join this fun and work by becoming a WWALS member today!
Short Link: