And the winner in yesterday's tower of trash was….
Zacados!
We haven't decided what the winner's prize is yet.
Bobby McKenzie and Russell McBride staged one of their almost-weekly cleanups at the Sugar Creek logjam below the Salty Snapper on Gornto Road in Valdosta, and netted (literally) this tower of trash.

Tower of trash, 13:59:48, 30.8620050, -83.3185500
Sure, people shouldn't litter. But if there wasn't so much single-use packaging, there wouldn't be nearly so much litter.
We need trash traps to contain the trash from Ashley Street, Baytree Road, and St. Augustine Road, before it gets downstream into Twomile Branch, Onemile Branch, and Sugar Creek.
And we need bottle deposits like half a dozen states already have. People could sure use some spare cash from reverse vending machines about now.
And we need Georgia and Florida to do what Baltimore and all of Maryland have done: ban single-use styrofoam packaging. Colorado also just passed a styrofoam ban. Bottles and cans are bad enough, but styrofoam breaks up into tiny pieces that turtles, fish, and birds ingest and can't digest.
So sure, don't litter, and help us all get some trash traps, bottle deposits, and styrofoam bans!
We kind of thought the mayor was coming, but maybe he was busy working on plans for trash traps to stop this stuff from getting down Sugar Creek into the Withlacoochee River, and the Suwannee River, to the Gulf of Mexico.
But don't worry: without trash traps upstream, this log jam will probably be full of trash again in a week or two.

Trash jam before, 11:44:36, 30.8620383, -83.3181124
Maybe we'll schedule the next Sugar Creek cleanup as a regular WWALS outing, and see who that attracts to help clean up. You could help!
Here's Bobby testing out the trash tower idea with only what we collected upstream on Sugar Creek, before the main cleanup started.

Preliminary trash tower, 11:50:03, 30.8619830, -83.3185750

Russell joins the circus, 13:03:14, 30.8622430, -83.3184310
Not sure this is what Waterkeeper Alliance thinks of as patrolling with the Suwannee Riverkeeper vessel, but it sure is one thing we do.

Suwannee Riverkeeper patrolling by Bobby McKenzie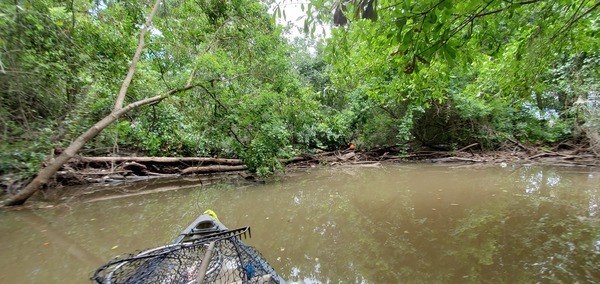 Trash jam after, 13:31:22, 30.8624101, -83.3183633

Trash in Suwannee Riverkeeper canoe, 13:35:31, 30.8621260, -83.3183910

Tower of trash, 13:59:48, 30.8620050, -83.3185500

Russell washing the canoes, 14:57:51, 30.8365549, -83.5225833
-jsq, John S. Quarterman, Suwannee RIVERKEEPER®
You can join this fun and work by becoming a WWALS member today!
Short Link: