Update 2021-10-07: A trash source success: parking lot on St. Augustine Road, Valdosta.
A month ago Bobby McKenzie found a motherlode of trash. He went upstream on Sugar Creek, then Hightower Creek, across St. Augustine Road, to the parking lot that contains Cook Out, Chick-fil-A, and Steak and Shake.
He reported it to Valdosta Code Enforcement. Since then, we've been having some fruitful conversations with the city and with business owners. More on that later.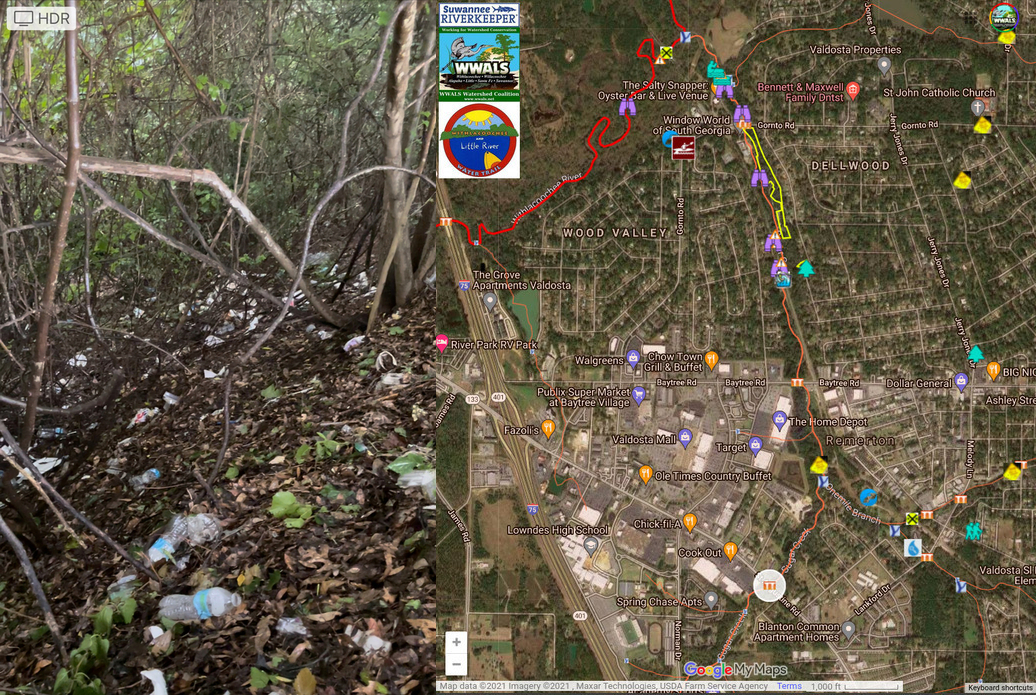 Trash heap, St. Augustine Road, Sugar Creek, Withlacoochee River
From: bobby mckenzie
To: bcorbitt@valdostacity.com
Sent: Tuesday, July 13, 2021, 11:17:14 AM EDT
Subject: Massive Valdosta Litter Source Found

Good Morning,

I would like to report 2 locations within Valdosta for being a significant contributor to a recurring litter problem to Sugar Creek. Both locations can be reached on St Augustine Road. One location is the far south end of the parking lot that is home to Hobby Lobby, Tractor Supply and fast food places Cook Out and Steak and Shake.

The excessive debris field is in the tree line at the edge of that parking lot within proximity of the Enterprise Car rental.

This hot spot is only feet from Sugar Creek as it is referred to on the map. There are signs posted roadside that refer to the waterbody as Hightower Creek.


Hightower Creek across St. Augustine Road on the WWALS map of the Withlacoochee and Little River Water Trail.

A quick peek into the woods from the parking lot and you can see this area is a significant contributor to the massive trash filed that accumulates in Sugar Creek and gets washed into the Withlacoochee, on down to the Suwannee River and into the Gulf.

I have permission and the contact information for the private property owner on Hightower Circle. The contact happened to be out with his dog and when I showed him the videos and pictures of the trash problem we were trying to stop. He was more than happy to grant permission to get a vantage point on the opposite side of the creek. He also asked if we could follow up with him on the outcome.

A second massive location has been identified also with a large debris field that is deposited directly into Sugar Creek via a storm drain. This location is surrounded by a chain link fence the has significant gaps in it. The debris field can be seen from parking lot behind the Candlewood Suites. If you were to park in the back row, the parking lot buts up to the chain link fence and the debris field is easily viewed from there.

I am more than happy to meet you at both of these locations to assist in showing you the debris field to help save some time.

GPS location for debris field at Shopping Center at St Augustine.

30.836733, -83.16512
[Actually 30.836733, -83.316512]

GPS location for holding area behind Candlewood Suites and Best Buy shopping center.

A little background. I am currently working as an intern for WWALS Watershed Coalition. I have participated in many trash cleanups in Valdosta and Lowndes County. One repeat trash collection point the we have pulled a massive amount of trash directly out of the river is a logjam in Sugar Creek just below the Salty Snapper.

In October 2020 WWALS, the City of Valdosta and Lowndes County held a cleanup at 6 sites and we literally pulled thousands of pounds of trash form these locations with the help of 100 volunteers. Most of these volunteers were children many came from Pine Grove Middle School and the Scouts. The trash recovered ranged from illegal dumping, litter bugs and runoff into the river. With the October cleanup behind us, water levels allowed for kayaking the Withlacoochee River Langdale Park to Troupville. During these kayak trips, we found large pockets of debris floating in the water below Sugar Creek.

Once again we held a cleanup in April 2021 at the notorious logjam and this time 7 volunteers pulled about 500 pounds of trash from this logjam.

WWALS held a "Pop-up Paddle" in May from Langdale Park to the Salty Snapper for lunch. This event brought over 20 paddlers including toddlers and Valdosta Mayor Scott James onto the Withlacoochee River for an eco-tourism event and supported a local restaurant. Trash was building back up at this same logjam and WWALS held 2 more subsequent cleanups as trash continued to accumulate at this location.


St. Augustine Road, Sugar Creek, Withlacoochee River

We believe we have found a significant contribution source for all of this trash entering Sugar Creek. I have attached pictures. The 1st picture is the logjam that I mentioned we clean up. The volume of trash at this logjam has reached this size on 4 occasions that WWALS has held a cleanup. The other pictures are from the identified sources that contribute to the downstream problem. The scale of the sources is much more significant than what can be seen in the pictures.

I am willing to guide you to the locations which are easily reached without leaving a parking lot.

Please Call me at 808-445-4503 for any questions or follow up.
We are still talking to Valdosta about trash traps. And we are working on dealing with the problem at its sources. Those include not only these heaps of trash, but also the companies that make all this single-use garbage.
Stay tuned. We will probably need your help before long.
Meanwhile, if you find any trash heaps like this, please report them through Valdosta Click 'n' Fix and let WWALS know, too.
-jsq, John S. Quarterman, Suwannee RIVERKEEPER®
You can join this fun and work by becoming a WWALS member today!
Short Link: