FOR IMMEDIATE RELEASE (See also PDF)
River and Creek Cleanup, Lowndes County, Valdosta, and WWALS 2020-10-10
Hahira, GA, September 8, 2020 — Lowndes County has three rivers, all great for fishing, boating, and swimming, and Valdosta has many creeks. Everyone enjoys our waterways better when they are clean. Here's a fun opportunity to get outside and clean them up.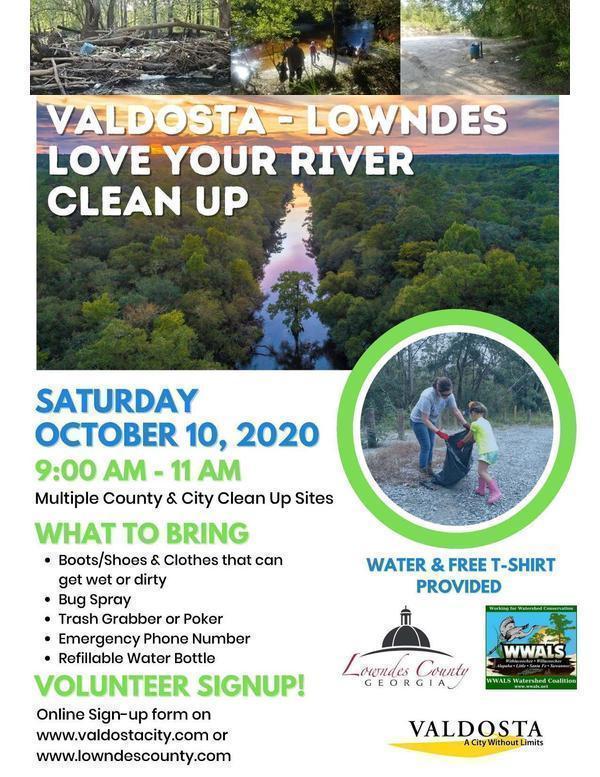 Flyer: Cleanup on three rivers, many creeks
Lowndes County, the City of Valdosta, and WWALS Watershed Coalition, Inc. (WWALS) are jointly organizing a three-river cleanup in the county, at Troupville Boat Ramp on the Little River, at Sugar Creek on the Withlacoochee River, and at Naylor Boat Ramp on the Alapaha River, plus cleanups in Valdosta on Onemile Branch, Twomile Branch, and Sugar Creek.
Please join us, from 9 AM to 11 AM, on Saturday, October 10, 2020. No boat required, although if you want to bring a boat, there are water cleanup opportunities at each river location and some of the creeks.
Please bring sturdy mud boots or shoes, long pants and clothes that can get wet or dirty, insect repellant, a refillable water bottle, and an emergency phone number. Trash bags and trash pickers will be provided, as well as drinking water and snacks, but bring your own if you can.
Please maintain a physical distance of at least six feet from people not in your household. Please wear a mask when near people not in your household. We will have extra masks.
The Valdosta Locations are:
VSU/Drexel Park (One Mile Branch)
Stone Castle/Mack Drive Two Mile Branch)
Salty Snapper (Sugar Creek)
Lee Street Pond (One Mile Branch)
Valdosta has provided a convenient signup form, which includes an event waiver:
https://www.cognitoforms.com/Valdosta1/RiverCleanUpVolunteerSignUp
Valdosta also made this nice flyer:
https://wwals.net/pictures/2020-10-10–tri-river-cleanup/River-Clean-Up-Event.pdf
The Lowndes County locations are:
At each of the county sites, Sugar Creek on the Withlacoochee River, Troupville Boat Ramp on the Little River, and Naylor Boat Ramp on the Alapaha River, WWALS will have sign-in sheets at each county location that are also event waivers so our insurance will cover you.

Sugar Creek @ Withlacoochee River 2020-09-01 (Bobby McKenzie),
Troupville @ Withlacoochee River, 2018-10-13 (John S. Quarterman)
Naylor Beach @ Alapaha River, 2019-04-30 (John S. Quarterman)
It will be hunting season. Please wear hunting orange. Reflective vests will be provided. Bring your own if you have one. Do not cross the river.
Two of the three county locations are owned and operated by Valdosta-Lowndes County Parks and Recreation Authority (VLPRA). We will put the trash in one place, and VLPRA will take it away.
This event is part of the Georgia Rivers Alive cleanup program.
Also participating will be Current Problems from Gainesville, Florida.
Sugar Creek on the Withlacoochee River,

Mounds of trash in Sugar Creek and at its Confluence with the Withlacoochee River.


Trash on Sugar Creek (Bobby McKenzie)

Address: Parking lot, Salty Snapper, 1405 Gornto Rd, Valdosta, GA 31602.
GPS: 30.861809, -83.318841

Directions: This is the same start point as Valdosta's Sugar Creek cleanup.
However, downstream from the Salty Snapper and on the other side of Sugar Creek is in the county, not the city.

What: the main cleanup will be on land, no boat required.

Extra: Some of us will be paddling downstream to the railroad, cleaning up and clearing deadfalls as we go. If you have a jon boat, please bring it. If you are very experienced with a chainsaw, you can bring one. No need for a shuttle: you can walk back to your car at the Salty Snapper.

Troupville Boat Ramp on the Little River

This is the biggest location, with plenty of trash.


Banner with Gretchen, 07:50:27

Address: 19664 Valdosta Hwy, Valdosta, GA 31602.
GPS: 30.851842, -83.346536

Directions: From Valdosta, take St. Augustine Road (GA 133) west past the mall.
From I-75, take exit 18 and turn west (away from Valdosta).
Drive across the Withlacoochee River. At the light for Val Tech Road, turn left (south) to go to the Troupville Boat Ramp parking lot.

What: we will be cleaning up the site of the proposed Troupville River Park, which includes the existing 49 acres of the VLPRA park, and another 74 acres downstream of the privately-owned Land Between the Rivers, with permission of the landowner. We will start at Troupville Boat Ramp and clean downstream to the Little River Confluence, plus somewhat up the Withlacoochee River. We can clean up back northwards up old Broad Street, the main north-south road until 1860 of old Troupville, the former county seat of Lowndes County. You can bring boats to paddle and clean down and back, but do not get out on the far side of the river.

Naylor Boat Ramp on the Alapaha River,

This is the newest boat ramp and the newest park, but it is not immune to trash.

Address: 6955 US 84 E, Naylor, GA 31641.
GPS: 30.92507, -83.03867

Directions: From Valdosta, go east on U.S. 84. Cross the Alapaha River. Make a U-turn. Cross the river again, and very quickly turn right down the boat ramp entrance road.
From I-75, take exit 16 and turn east towards Valdosta. You will be on U.S. 84 as above.

What: We will be cleaning up at Naylor Boat Ramp itself and at the beach downstream. Do not go north (upstream) from the boat ramp.
About WWALS: Founded in June 2012, WWALS Watershed Coalition, Inc. (WWALS) advocates for conservation and stewardship of the Withlacoochee, Willacoochee, Alapaha, Little, Santa Fe, and Suwannee River watersheds in south Georgia and north Florida through education, awareness, environmental monitoring, and citizen activities. John S. Quarterman is the Suwannee Riverkeeper®, which is a staff position and a project of WWALS as the member of Waterkeeper® Alliance for the Suwannee River Basin.
Contacts:
Paige Dukes, County Manager
Lowndes County, Georgia
pdukes@lowndescounty.com
(229) 671-2440
lowndescounty.com
Ashlyn Johnson, Public Information Officer
City of Valdosta
abecton@valdostacity.com
229-251-4779
www.valdostacity.com
John S. Quarterman, Suwannee Riverkeeper
WWALS Watershed Coalition
contact@suwanneeriverkeeper.org
850-290-2350
229-242-0102
Wwals.net
Bobby McKenzie, WWALS Outings Committee Chair
chevy752001@yahoo.com
808-445-4503
===
Short Link: