Update 2020-09-11: Wood pellet plant: speakers and documents @ Adel City Council 2020-09-08.
Update 2020-09-08: Adel agenda and WWALS letter 2020-09-08
If a company from Houston, Texas, gets its rezoning Tuesday at the Adel, Georgia, City Council, it could take trees from 75 miles around to turn into wood pellets to ship to Europe for burning for electricity. It takes 50 to 100 years for natural forest to regenerate completely. Meanwhile, rain on land without forest runs off faster, carries more sediment and pollution (pesticides, E. coli, etc.), damaging fishing and wildlife. Floods also become more likely.
You can help stop this biomass plant. Before 5:30 PM Tuesday, please, which is when the Adel City Council has this rezoning on its agenda.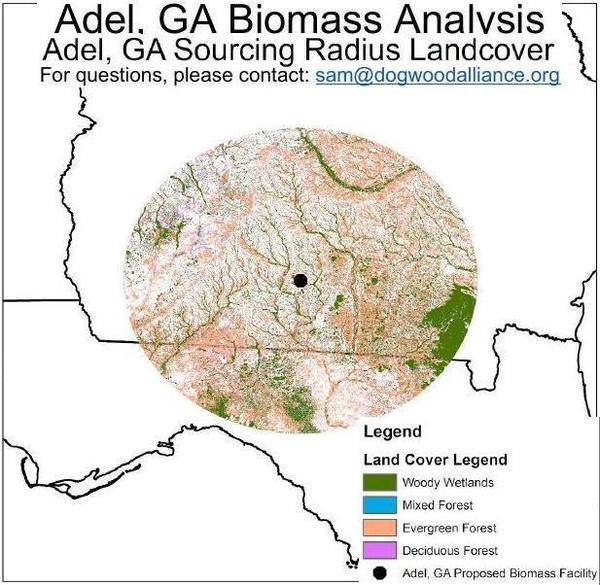 Adel, GA, pellet plant sourcing radius (PDF)
That 75-mile sourcing radius around Adel would reach Tallahassee, Florida, and Albany, Georgia, as well as all of the Red Hills longleaf area around Thomasville. It would include all the Suwannee River Basin in Georgia: the Suwannee, Alapaha, Little, Withlacoochee, and Okapilco Rivers, from Fargo and most of the Okefenokee Swamp to Cordele in the north and Moultrie, Quitman, and Valdosta. As well as much of the Suwannee River Basin in Florida, include White Springs, Live Oak, Mayo, Jasper, and Madison. Plus the Ochlockonee and Aucilla Rivers and much of the Flint River on the west, and on the east most of the Satilla River and a bend of the Altamaha River.
This is an environmental justice issue because the plant will go in an African-American part of town and poor people are typically most adversely affected by deforestation.
When a local activist alerted me a few months ago to a proposed biomass plant in Adel, I pointed them to Vicki Weeks of the Dogwood Alliance. She has put together an Action Alert. Please follow that link to send your comment to the entire Adel City Council.
According to K.K. Synder, Georgia Trend, 31 July 2020, Adel | Cook County: Community in Motion,
Houston-based Renewable Biomass Group will construct Continue reading →