FOR IMMEDIATE RELEASE (See also PDF)
River and Creek Cleanup, Lowndes County, Valdosta, and WWALS 2020-10-10
Hahira, GA, September 8, 2020 — Lowndes County has three rivers, all great for fishing, boating, and swimming, and Valdosta has many creeks. Everyone enjoys our waterways better when they are clean. Here's a fun opportunity to get outside and clean them up.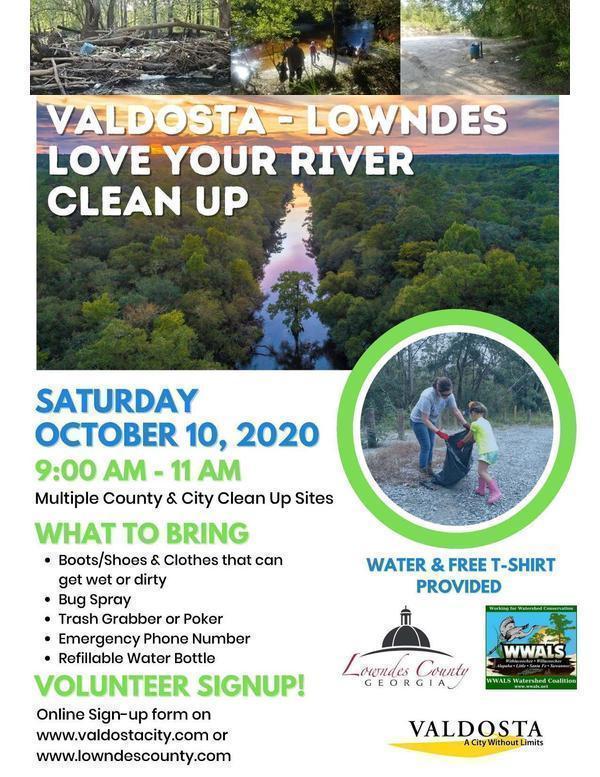 Flyer: Cleanup on three rivers, many creeks
Lowndes County, the City of Valdosta, and WWALS Watershed Coalition, Inc. (WWALS) are jointly organizing a three-river cleanup in the county, at Troupville Boat Ramp on the Little River, at Sugar Creek on the Withlacoochee River, and at Naylor Boat Ramp on the Alapaha River, plus cleanups in Valdosta on Onemile Branch, Twomile Branch, and Sugar Creek.
Please join us, from 9 AM to 11 AM, on Saturday, October 10, 2020. No boat required, although if you want to bring a boat, there are water cleanup opportunities at each river location and some of the creeks.
Please bring sturdy mud boots or shoes, long pants and clothes that can get wet or dirty, insect repellant, a refillable water bottle, and an emergency phone number. Trash bags and trash pickers will be provided, as well as drinking water and snacks, but bring your own if you can.
Please maintain a physical distance of at least six feet from people not in your household. Please wear a mask when near people not in your household. We will have extra masks.
The Valdosta Locations are:
Continue reading