Update 2023-05-14: Pictures: turtle rescue 2023-04-24.
Valdosta Community Protections Manager Anetra Riley yesterday told WWALS that City Marshalls have sent notices to all parking lot owners in Valdosta that they must follow city ordinances and place trash cans in their parking lots. Not just under the roofs at the store entrances: strategically placed, as the ordinance says.

Community Protections Manager Anetra Riley and trash cans in parking lot
Suwannee Riverkeeper John S. Quarterman and Two Mile Branch neighbor Katherine Ball were pleased to hear this new ordinance enforcement initiative. This ordinance enforcement is one of many levels WWALS continues to advocate to fix the trash problem.
Anetra Riley also told us that something long promised by the Mayor on his radio show has finally happened: there are trash cans inside the city-owned parking lot south across Central Avenue, around Customer Services. Her department did not do that, since that, because it's city-owned land. Nonetheless it's good news.

Trash cans in parking lot and Customer Service
There are other ordinance enforcement issues still to be sorted out, and we will be circling back to the City Manager on those. Congratulations to Acting City Manager Richard Hardy in being named sole finalist for city manager (Malia Thomas, Valdosta Daily Times, April 24, 2023).
This process will take a while. The ordinances allow 30 days to respond to a notice. If the problem is not fixed, a citation can be sent, with another 30 days to respond. City Marshalls may allow extra time if there are complications. And not every case is about parking lots; some involve other ordinances. Eventually, a case may go to court, and a judge will sort it out.
The ordinance section most relevant to parking lots is:
Sec. 82.1(b)(9) Commercial sites with on-site parking shall, at a minimum, have its parking area cleaned or swept as needed to prevent an accumulation of litter and to maintain a neat and orderly appearance. Furthermore, said sites shall provide and maintain litter receptacles that are strategically placed throughout the parking lot for individuals using same to properly deposit litter and other refuse. The number of receptacles shall be determined as follows:

One receptacle for establishments with one to 25 parking spaces;

Two receptacles for establishments with 26 to 50 parking spaces;

One additional receptacle for each additional 100 parking spaces at any location.
I added the emphasis on "strategically placed".
In Anetra Riley's office, we discussed the Disney Rule. Supposedly Walt Disney, while preparing to build Disney World, did some field research by watching people eat. They would walk about 30 steps before throwing trash down if they did not find a trash can. While I'm still looking for a source for this legend, you can easily verify something like it for yourself.
This is why "strategically placed" is important. Like still has not happened at the parking lot on St. Augustine Road at Hightower Creek, where people still park at the bottom of the lot, eat their fast food lunch, don't find any trash cans, and throw out trash.

Trash at parking lot above Hightower Creek, St. Augustine Road
This is the same place Valdosta Mayor Scott James Matheson stood in December as I videoed him saying there should be a couple of trash cans "along this stretch."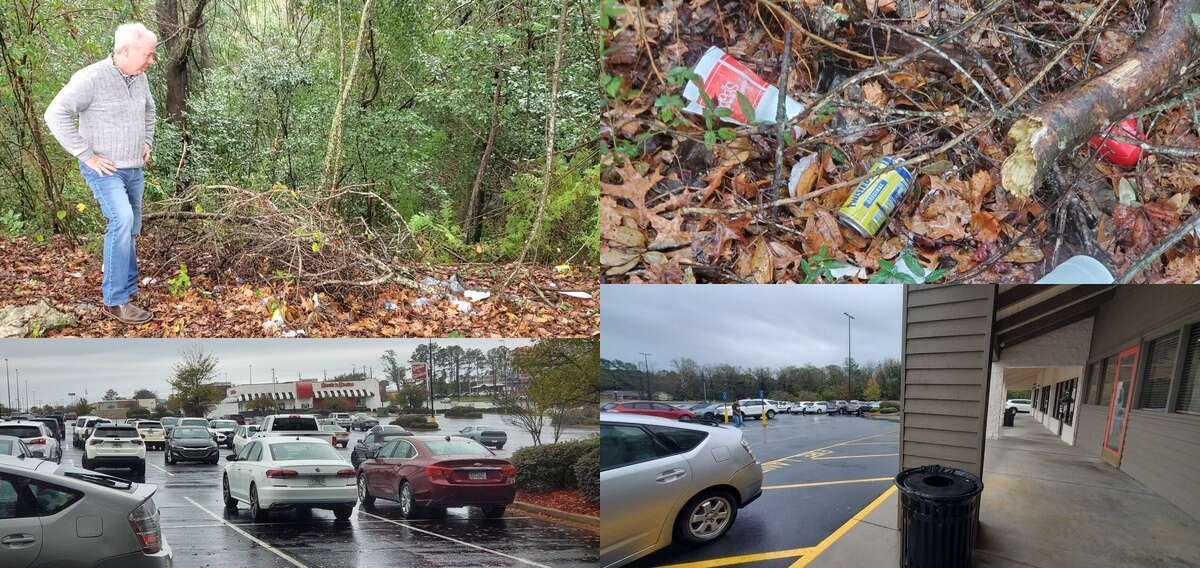 Mayor, trash, fast food, trash cans at storefronts
The various notices and citations should work their way around to this spot.
Nobody is interested in punishing anybody. WWALS just wants the trash problem fixed. Nonetheless, there are penalties in the ordinances:
Sec. 82.1(b)(10) Any person convicted of a violation of any portion of this article shall be punished by a fine not exceeding $500.00, or be required to work by removing litter, cutting grass or participating in other beautification projects as directed by the court or it's designee, on the public streets or highway or public right-of-way, and public property in the city not exceeding 30 days or any combination of both in the discretion of the judge of the municipal court. In the sound discretion of the judge of the court, the person may be directed to pick up and remove from any public park, private right-of-way, or, with the prior permission of the legal owner or tenant in lawful possession of such property, any private property upon which it can be established by competent evidence that the person has deposited litter, any and all litter deposited thereon by anyone prior to the date of execution of sentence. The court may, in its discretion, require any person convicted of a violation of any portion of this article to publish said person's name and photograph, at the violator's expense, in the legal organ for the city.
Naturally, some parking lot owners will fight this process all the way through the courts.
One basis of such fights could be that apparently planning and zoning have not been informing business owners of Chapter 82 – SOLID WASTE in the city ordinances. This needs to be brought up in business licensing and renewals, as well. Yet the ordinances are the ordinances, and they're online where anybody can find them.
Some people claim people won't use trash cans. Well, this is trash inside one of those cans inside the Customer Service parking lot:

Trash in can inside parking lot
And this is less trash inside the nearest trash can on Central Avenue:
That's hardly a scientific survey, but it is evidence that people do use trash cans in parking lots.
Which is a good thing for the people and events Valdosta wants to attract downtown, for example to the new amphitheater in Unity Park, east across Lee Street.

Unity Park amphitheater and trash cans in parking lot
The main remaining points have to do with Click 'n' Fix tickets. It sure would be nice for the public to know what is going on, instead of City Marshalls closing them whenever they file a notice or citation.

Trash, Two Mile Branch upstream from Ashley Street 2023-03-24
We shall see.
Remember, Valdosta has made plans to clean up this trash problem since at least November 2007, sixteen years ago, apparently in response to prodding from the Georgia Environmental Protection Division (GA-EPD). Nothing came of those 2007 plans for detention ponds on Two Mile Branch.
The 2010 Stormwater Master Plan, also required by GA-EPD, detailed the problem on more creeks, in words and pictures, said creeks attract children to play in them, showing it to be a public health problem, and said the problem should be fixed "immediately".
Well, it hasn't been fixed. We have gotten a few things fixed, sometimes with more prodding from GA-EPD, such as the two city-owned acres at the corner of Barack Obama Boulevard and Ricardo Street.
It's good the City of Valdosta is doing more cleanups, including the recent joint cleanup with WWALS on Two Mile Branch. Thanks to Bobby McKenzie for leading that one, and neighbor Jan Powell for rustling up more neighbors. Thanks to St. Johns Catholic School for parking access.
Many people, including VSU sororities and fraternities and various local people, get involved in cleanups. But cleanups alone are like cleaning up sewage after a spill and not even putting the manhole cover back on.
Congratulations to new Valdosta City Engineer Ben O'Dowd and Stormwater Manager Angela Bray for putting an improved trash trap in Sugar Creek.

Sugar Creek Watergoat, new and improved
That Watergoat looked clean yesterday. Apparently volunteer Russell Allen McBride and his family and friends had been there lately.
Congratulations for moving the old Watergoat to Two Mile Branch below Berkley Drive.

Watergoat seen from Baytree Road, Two Mile Branch
Russell can't take on any more locations, so the City of Valdosta has to clean that one out.
And congratulations on the city-built trash trap at the Lee Street detention pond above One Mile Branch.

Trash trap, Lee Street detention pond, above One Mile Branch
The city had cleaned that one out recently. See later post for the turtle.
More trash traps are needed, such as at Oak Street on Two Mile Branch, as we have been discussing with the City Engineer, and on Three Mile Branch.
Those trash traps will keep quite a bit of trash out of the creeks, and out of the Withlacoochee River.
WWALS continues to invite Valdosta City officials on our ongoing cleanups of legacy Valdosta trash from the Withlacoochee River.

Composite, Another KF to Nankin Cleanup, 2022-12-17
But at least less trash is showing up in the river.
This is especially fortunate because next year's Mayor and Chairman's paddle is changing route to go from Langdale Park past Sugar Creek to Troupville Boat Ramp, which goes through the previously trashiest area of the Withlacoochee River.
This new code enforcement by City Marshalls, directed by Anetra Riley, will keep a lot of trash out of the creeks before it even gets to the trash traps, improving public health inside the city. Thank you, Anetra Riley and City Marshals.
Getting planning and zoning and business licensing involved will help avoid even having to do notices and citations. That's three steps up from mere cleanups.

Solid waste management hierarchy
People will still throw trash out on streets. Valdosta Police still have a zero-tolerance policy (confirmed recently with the current Police Chief). But they can't do anything without direct evidence, such as names and addresses in the litter or a litterer caught in the act.
So what if there was less single-use trash to throw out?
It can be done.
Some fast food restaurants, even in Valdosta, are already shifting to reusable straws, cups, and boxes.
Since the Georgia legislature failed to pass a pre-emption bill back in 2015, local governments can pass ordinances requiring reusable packaging. Valdosta could lead the way.
More than half a dozen states still have bottle deposits, where you can get a nickle or a dime back for each bottle. They have fewer bottles trashed, and a small source of income for many people.
Finally, there can be bans on single-use packaging. Maryland and Colorado recently passed laws phasing out styrofoam packing. France and Canada are ending all single-use food packaging. And in France, McDonald's is leading the way to reusable packaging.
Sure, stateside McDonald's are all franchises. But they could ask the mothership for advice on how to shift their packaging. And the mothership already knows how, due to its experience in France. Other fast food franchises can follow.
So, we're not picking on City Marshalls in particular. They handle one important level of solving this trash problem, and we're happy to report they are actually moving ahead with it.
There is more to do, and WWALS won't stop until the job is done. We haven't forgotten Knights Creek and the other Alapaha River tributaries, either.
Valdosta is not the only trash source: we're just starting there because Valdosta is the most populous city in the Suwannee River Basin, and its trash goes all the way down the Withlacoochee River into Florida and the Suwannee River.
For much more about the trash situation, see:
https://wwals.net/issues/trash/
-jsq, John S. Quarterman, Suwannee RIVERKEEPER®
You can help with clean, swimmable, fishable, drinkable, water in the 10,000-square-mile Suwannee River Basin in Florida and Georgia by becoming a WWALS member today!
https://wwals.net/donations/
Short Link: