Much improved, the trash situation in the two-acre cypress swamp the City of Valdosta owns at Barack Obama Blvd. and Ricardo Street; the one with the Pepsi Adopt-A-Spot sign.
I now give Valdosta Stormwater an A- for upkeep of this tract.
Maybe if you report a trash or other problem through Valdosta's Click 'n' Fix, maybe they'll do something about that problem, too.
With this drought, the swamp is dry enough to walk right through the middle. There is occasional trash.

Pretty clean all across, 2022:12:01 15:16:07, 30.8547961, -83.2661184
Such as this Bud Light can, but you have to pay attention to see it.

Bud Light, 2022:12:01 15:17:26, 30.8543931, -83.2656934
It helps that there is a trash can near the Adopt-A-Spot sign and people are using it.

Trash can and Adopt-A-Spot sign, 2022:12:01 15:20:12, 30.8539524, -83.2654312
Follow this link for many more pictures.
I also checked back on August 10, 2022, when there was still standing water in the swamp. It was pretty clean then as far as I could see.

Probably styrofoam, 2022:08:18 09:14:14, 30.8539169, -83.2654078
There was some trash along the streets. Here's a Fry Bomb cup on the sidewalk.

Fry-Bomb cup, 2022:08:18 09:16:49, 30.8542975, -83.2660588
Here's a Zacadoo's cup at the culvert under Barack Obama Blvd. that leads to the drainage ditch to One Mile Branch.

Zacadoos at culvert, 2022:08:18 09:18:09, 30.8546474, -83.2659660
There are more pictures from August 10, 2022 on the WWALS website.
Sure, getting to this pretty clean situation took many Click 'n' Fix updates and talking to two offices of the Georgia Environmental Protection Division (GA-EPD). But Valdosta Stormwater does appear to finally be mostly keeping it clean, and this trash out of One Mile Branch.
Many thanks to Bobby McKenzie for finding this problem and for keeping on top of it.
The current situation is far better than back in April when there was floating trash, and way better than back in March, when there were trash jams clearly visible from the streets.
Purely for location reference, this two-acre cypress swamp is just south of the headquarters of the Valdosta-Lowndes County Parks and Recreation Authority (VLPRA). VLPRA has nothing to do with that two acres, which is owned and managed by the City of Valdosta.

Location reference: VLPRA sign and building, 2022:12:01 15:21:44, 30.8547457, -83.2660328
Here are previous episodes in this trashy saga:
According to the Lowndes County Tax Assessors maps, the City of Valdosta owns both the trashed property and the VLPRA HQ immediately to its north.

Map- Two-acre parcel owned by City of Valdosta below VLPRA HQ in the WWALS map of the Withlacoochee and Little River Water Trail (WLRWT).
On this aerial map, you can see what looks like a drainage ditch running due west behind the houses on the north side of Ricardo Street, heading to One Mile Branch, just upstream from Vallotton Park. And it is a drainage ditch: I've walked much of the way down it, before it is blocked by deadfalls the city needs to remove.

Map- two-acre tract below VLPRA HQ, east of Vallotton Park and One Mile Branch
Zooming farther out, you can see downstream on One Mile Branch is Drexel Park, VSU, and Sugar Creek, which flows into the Withlacoochee River.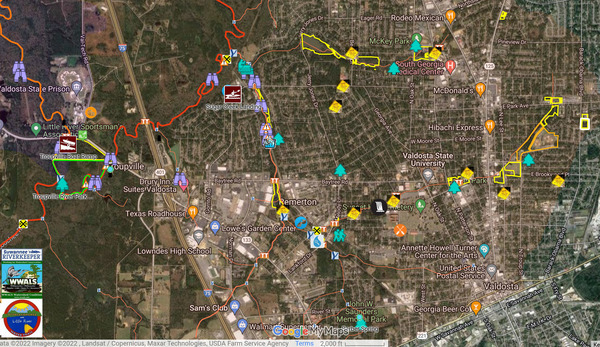 Two-acre tract, One Mile Branch, Sugar Creek, Withlacoochee River
So, try Click 'n' Fix. See what happens.
For more on the trash situation, see
https://wwals.net/issues/trash
-jsq, John S. Quarterman, Suwannee RIVERKEEPER®
You can join this fun and work by becoming a WWALS member today!
https://wwals.net/donations/
Short Link: