Update 2023-05-02: Pictures: Cleanup below Knights Ferry, Withlacoochee River 2023-04-08.
Clean up more trash jams we found last time on the Withlacoochee River. Plus someone has reported a trashjam blocking the river.
All Valdosta city officials are invited, especially Mayor, Council, City Manager, City Engineer, Stormwater Manager, and, as special guests, the City Marshalls. If you don't have a boat, we will supply one.
Russell promises to grill hamburgers at the end.
When: Gather 9 AM, launch 10 AM, end 3 PM, Saturday, April 8, 2023
Put In: Knights Ferry Boat Ramp
GPS: 30.71205, -83.45554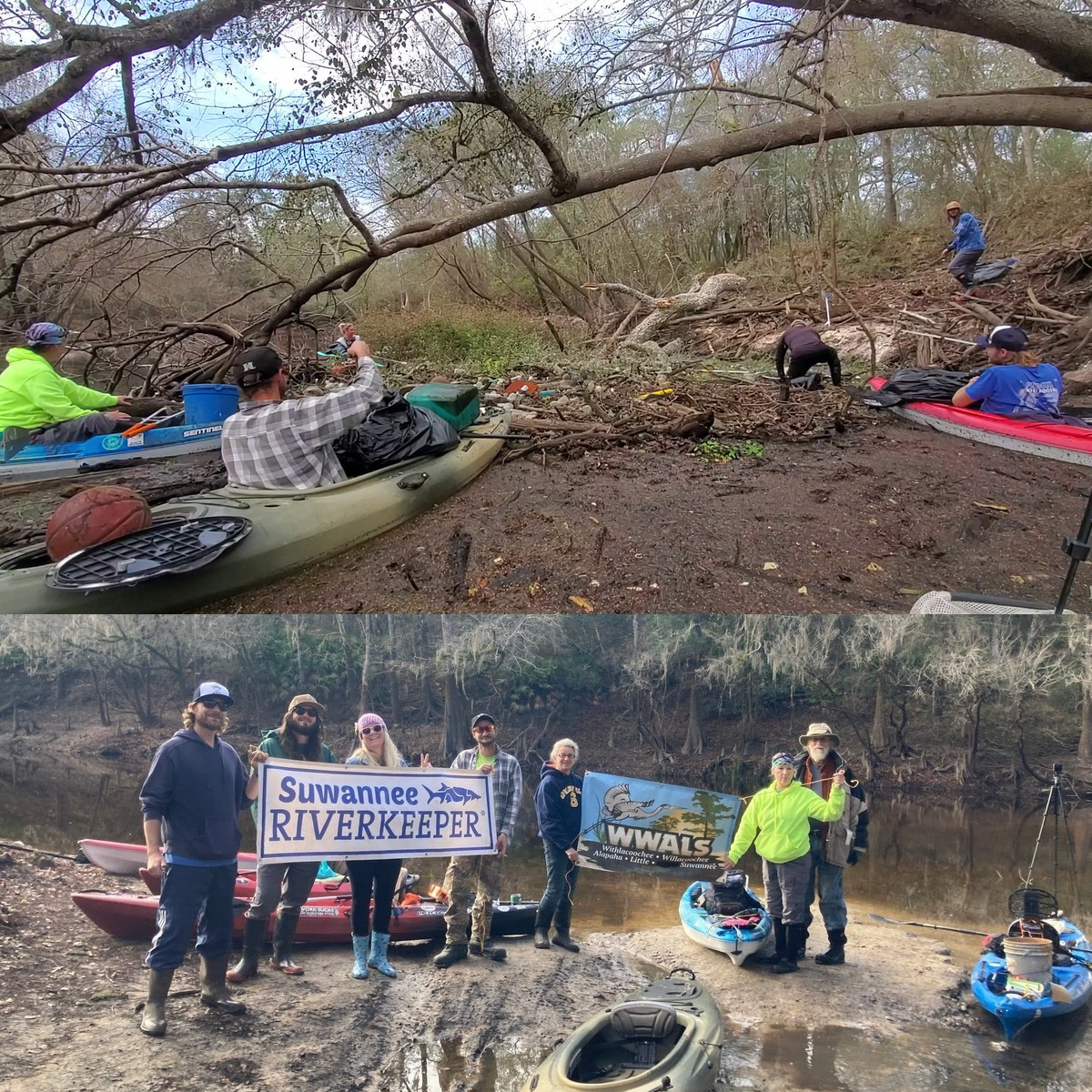 Cleanup at floating trash jam, banners at start 2022-12-17
Last Time: Pictures: Another Knights Ferry to Nankin Cleanup, Withlacoochee River 2022-12-17.
Take Out: Nankin Boat Ramp
Bring: Cleanup materials will be provided, but if you've got a trash picker, bring it along.
Free: This outing is free to everyone because it is a cleanup!
We recommend you support the work of WWALS by becoming a WWALS member today!
https://wwals.net/donations
Duration: 5 hours
Paddle: 3.58 miles, 3 hours.
Shuttle: 10 miles, 15 minutes.
This outing includes the traditional WWALS shuttle. Everybody takes their boats to the put-in, most people drive to the take-out, and the drivers pile into one or two vehicles and go back to the put-in.
Gauge: US 84
Host: Russell McBride
Contact: Suzy Hall
Backup: in case of high or low water is: Cancel
More: For more WWALS outings and events as they are posted, see the WWALS outings web page, https://wwals.net/outings/. WWALS members also get an upcoming list in the Tannin Times newsletter.
-jsq, John S. Quarterman, Suwannee RIVERKEEPER®
You can help with clean, swimmable, fishable, drinkable, water in the 10,000-square-mile Suwannee River Basin in Florida and Georgia by becoming a WWALS member today!
https://wwals.net/donations
Short Link: