Update 2023-07-30: Langdale Park to Sugar Creek Chainsaw Cleanup, Withlacoochee River 2023-09-09.
In which the Mayor of Valdosta does work. I lent him my Sawzall and he sawed off a deadfall.

Boats, Withlacoochee River, Deadfalls, Sugar Creek, Salty Snapper
Many kinds of boats started out at Langdale Park Boat Ramp.

WWALS water trail signs, boats, 10:14:27, 30.8876521, -83.3238601
Most of the trip was easy paddling.

Around the bend, 10:26:40, 30.8867740, -83.3239680
Good paddle!

Thumbs up, 11:02:11, 30.8778248, -83.3229802
There were several deadfalls.

Easy Deadfall, 11:21:57, 30.8735597, -83.3238812
Including the one Mayor Scott James sawed off. After I had already sawed several of those logs, but I could not reach that one.

Sploosh, 11:26:59, 30.8735529, -83.3239076
Here's a happy boater family.

Boater family, 11:42:05, 30.8719666, -83.3243666
Some deadfalls we could saw off and paddle through.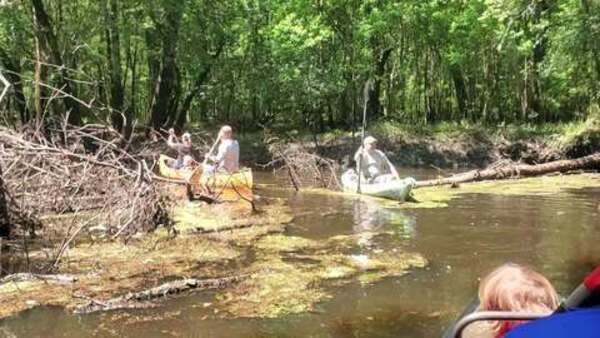 Movie: Paddling through sawed deadfall, 11:42:32, (2.0M) 30.8719666, -83.3243666
And there were some long straight stretches.

Boaters everywhere, 11:56:53, 30.8707577, -83.3222602
Thanks to Russell Allen McBride for being sweep (making sure all boats were accounted for).

Camera adjustment, 11:59:38, 30.8701285, -83.3213037
Some of those fallen logs were too big for my saw, so we had to pull the boats over or around them.

People portaging, 12:22:29, 30.8657214, -83.3215474
We pulled the boats up Sugar Creek

Boats and beach, 13:08:36, 30.8633053, -83.3188517
Valdosta City Council Tim Carroll joined us and Mayor Scott James at the Salty Snapper for lunch. That's the restaurant manager, Garrison, standing up.

With Mayor Scott James, Council Tim Carroll, Garrison of Salty Snapper, 13:56:37, 30.8610134, -83.3180406
Thanks to Bobby McKenzie for organizing this outing.

Bobby Mckenzie explains, 13:39:51, 30.8606620, -83.3096213
Everybody had fun, although nobody wanted to paddle up and do it again.
There are many more pictures on the WWALS website:
https://wwals.net/pictures/2021-05-15–langdale-park-sugar-creek-salty-snapper
Plus many pictures on facebook by many people.
You can see this whole stretch in 360-degree view on Earthviews, plus onwards to Troupville Boat Ramp. Bobby McKenzie took those at higher water, so the Withlacoochee River looks much different.
For more WWALS outings, see: https://wwals.net/outings/
-jsq, John S. Quarterman, Suwannee RIVERKEEPER®
You can join this fun and work by becoming a WWALS member today!
Short Link: