Update 2022-10-23: Pictures: Lee St. Detention Pond Cleanup 2022-10-21.
Update 2022-10-18: Or come to this other one, Sunday trash reporting cleanup, One Mile Branch, Valdosta's Lee Street detention pond 2022-11-23.
Come help make the creeks and rivers cleaner by stopping trash from getting into them.
We will teach trash (and other) reporting and followup at multiple locations in Valdosta, using Valdosta's Click 'n' Fix smartphone app.
More people involved will improve public health, quality of life, and eco-tourism, while providing community involvement.
City Council Sandra Tooley will be there to help encourage participants: it's her district.
We invite all Valdosta City officials, especially Stormwater Division and Public Works, to come instruct us in how it should be done.
We hear that Valdosta will be cleaning up other sites at the same time, but we don't know which ones, so we're going ahead with this WWALS outing. The goal is to get more people finding problems and reporting them with Click 'n' Fix, as several Valdosta City Council and the Mayor have recommended.
We will start at Valdosta's Lee Street detention pond (highlighted in the map above), where the city recently installed a trash trap it made.

Before with trash, reported by Bobby McKenzie as seeclickfix #13175736 on August 29, 2022.
Since Valdosta from time to time cleans that pond out, there should not be much trash in there.

After Stormwater cleaned it, posted by Stormwater Director Angela Bray that same day.
We will look at some nearby sites. Then we will range upstream on One Mile Branch as far as Fire Station No. 2 on Park Avenue, which used to have a lot of trash in its detention pond, and the strip mall to its east. In addition to trash, we're looking for trash cans in parking lots: if they're not there, they should be according to Valdosta's own ordinances, so you can report them missing.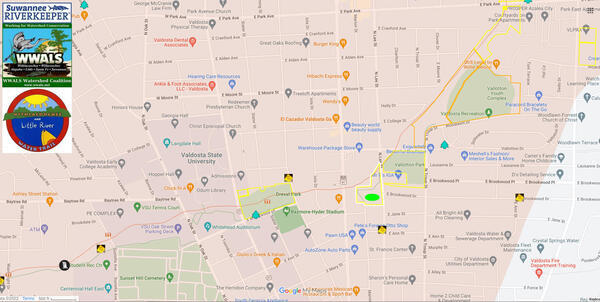 Map: One Mile Branch centered on Lee Street in the WWALS map of the Withlacoochee and Little River Water Trail.
We may go downstream on the Azalea City Trail across Ashley Street to Drexel Park and the VSU campus. We may go as far as Wainwright Drive to see if that manhole has ever been fixed: trash isn't the only thing needing to be reported.
Trash or sewage flows down One Mile Branch into Sugar Creek and the Withlacoochee River, forming a health hazard to anyone near the creeks or river. Especially including children, who are naturally attracted to creeks, as Valdosta's 2010 Stormwater Master Plan says.

Map: Lee St. Detention Pond on One Mile Branch upstream Sugar Creek and the Withlacoochee River, in the WWALS WLRWT Map
All the powers that be around here want eco-tourism and better quality of life for everyone who lives here. Come learn some ways you can help with those worthy goals.
When: 10 AM, Friday, October 21, 2022
Put In: Valdosta's Lee Street detention pond
GPS: 30.84703, -83.278705
Bring: Wear sturdy clothes, including mud boots if you have them. Cleanup materials will be provided, but if you've got a trash picker, net, or gloves, bring them along.
Get Valdosta's Click 'n' Fix app for your phone. It's linked in near the top of Valdosta's own website, https://www.valdostacity.com/.
Make yourself an account on seeclickfix.com where you can see all previous reports, including yours.
Don't worry: we'll show you how.
Free: This outing is free to everyone!
We recommend you support the work of WWALS by becoming a WWALS member today!
https://wwals.net/donations/#join
Host: Bobby McKenzie
Contact: Bobby McKenzie
Backup: in case of bad weather is: Cancel
More: For more WWALS outings and events as they are posted, see the WWALS outings web page, https://wwals.net/outings/. WWALS members also get an upcoming list in the Tannin Times newsletter.
-jsq, John S. Quarterman, Suwannee RIVERKEEPER®
You can join this fun and work by becoming a WWALS member today!
Short Link: