Update 2022-07-07: Chain link fence, trash cans, and dumpsters: Flying J, Exit 2 2022-07-02.
There's been some improvement down at the Flying J at I-75 Exit 2 in Lowndes County, Georgia, but there are still discarded boxes in the water, and Denny's and the Flying J still haven't finished the fence that would help a lot.

Boxes at Flying J, Marie Calender's
Apparently Marie Callender's itself has fallen on hard times, and Denny's lost 60% of its customers in 2021, after losing 52.7% the previous year. But that still doesn't seem an excuse for discarding boxes into nearby waterways.
Maybe if they finished the fence, like they were supposed to be doing in December 2019, that would cut down on the problem, which has been going on at least since August 2019.
I am also sending this report to Lowndes County Code Enforcement.
Somebody cleaned up much of the trash from my previous report.
Where does that detention pond water go?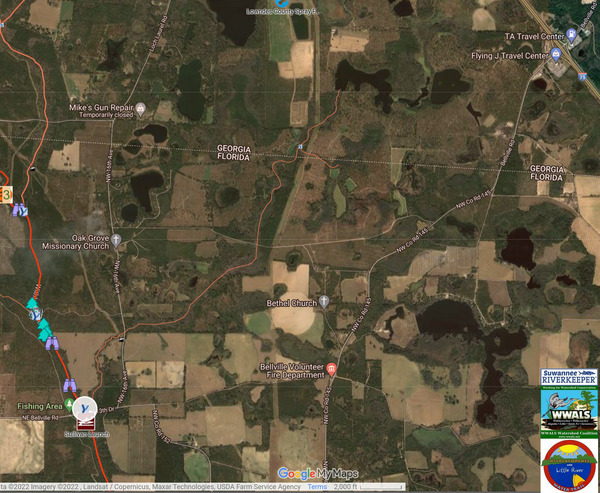 Map: Flying J to Withlacoochee River in the WWALS map of the Withlacoochee and Little River Water Trail (WLRWT).
It appears to be a skinny retention pond around the Flying J's property (in the upper right of this map). Where it goes if it overflows is not clear. According to USGS, I-75 is the divide between the Withlacoochee and Alapaha Basins at that point. The closest creek seems to have no name (we call it Deese Tract Creek), but flows southwest to join the Withlacoochee River just upstream of Sullivan Launch (in the lower left of the map), in Hamilton County, Florida.
-jsq, John S. Quarterman, Suwannee RIVERKEEPER®
You can join this fun and work by becoming a WWALS member today!
Short Link: