Update 2022-10-17: Pictures: Chainsaw Cleanup with pizza, Withlacoochee River 2022-10-16.
Update 2022-08-09: What made them? Pictures: Tracks, GA 133, Withlacoochee River 2022-07-30.
Everything went exactly as planned for Chainsaw Cleanup Returns, Withlacoochee River, Valdosta, if the plans included two trucks getting stuck, several chainsaws getting stuck, and the whole thing taking more like ten hours than three, with no lunch.

Banners, Chainsaws, Trash, River
But we cleared a bunch of deadfalls, collected many bags of trash, and recorded where the remaining deadfalls and trash are for later expeditions. That makes this stretch much more paddlable between Sugar Creek and Troupville on the Withlacoochee and Little River Water Trail.
Thanks to the three new chainsawers, Shawn O'Connor and Grant and Art Herring, and regulars Bobby McKenzie and Russell Allen McBride. And thanks to the Good Samaritan who gave me a ride to my truck so I could use my logging chain to pull Bobby's truck out at the take-out. Plus thanks to the two different vehicles that were used to pull my truck out at the put-in.
Note for next time: if you add a four-mile river paddle with a slow boat to chainsawing many deadfalls and the same people picking up many bags of trash, it takes longer.
There are many more pictures on the WWALS website.
See also facebook photosets by:
Here are a few sample pictures I took.

Banners: Grant and Art Herring, Shawn O'Connor, Bobby McKenzie, Russell Allen McBride, 09:05:27, 30.8624109, -83.3185604
Thanks to Russell Allen McBride for this picture of some of us immersed in the work, and me on the WWALS sawboat.

Bobby, Shawn, jsq sawing in WWALS boat

Shawn sawing from the WWALS boat, 11:06:13, 30.8614087, -83.3234156

Bobby and Shawn, 11:30:51, 30.8602365, -83.3242204

Grant and Art with an axe, 12:26:59, 30.8587148, -83.3256241
Have to come back to saw this one off. Squeezed under it this time.

Downstream from Riverhill Drive Deadfall 2, 13:51:19, 30.8560896, -83.3287204
Just when you think you got the last one.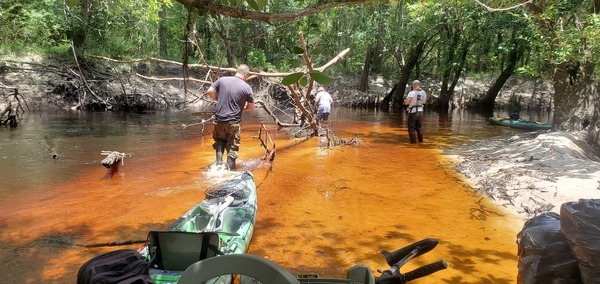 Colson Deadfall, 14:03:08, 30.8549134, -83.3325383
Downstream from Lake Sheri.

Russell in Sheri Run, 14:14:08, 30.8538772, -83.3327084
This landmark is easy to recognize.

Russell at I-75 Bridge, 14:18:32, 30.8547806, -83.3334273
Also have to come back to get this one.

Get low and go under Crowe Deadfall, 14:33:05, 30.8539092, -83.3374538
There were no footprints until we made them, so it wasn't people dragging something.

What makes these tracks?, 15:01:06, 30.8503790, -83.3400890
We decided not to take out here.

Boats and steep sand at GA 133 Landing, 15:04:39, 30.8501000, -83.3397000
And yes, another one.

Movie: Sawing Troupville Cutoff Deadfall, 15:34:56, (63M) 30.8464637, -83.3421012
We had no space left for this trash, so another time.

Trash Jam at Loch Winn Run, 15:47:12, 30.8458530, -83.3425270
A barge for some of the trash.

Trash barge, Bobby, 15:47:22, 30.8458527, -83.3425265
We left the trash at Troupville Boat Ramp; thanks to Lowndes County Public Works for picking it up from there.

Bobby, jsq, Shawn, trash at Troupville Boat Ramp, 18:17:00, 30.8512928, -83.3472771
For more WWALS outings, see: https://wwals.net/outings/
-jsq, John S. Quarterman, Suwannee RIVERKEEPER®
You can join this fun and work by becoming a WWALS member today!
https://wwals.net/donations/
Short Link: