Update 2023-06-14: Videos: Valdosta trash tour again 2023-05-23.
Malia Thomas, reporter for the Valdosta Daily Times, came to see some Valdosta trash locations.
You may remember Malia from reporting such as:
Here is a WWALS video playlist from some of the locations we toured.

https://www.youtube.com/playlist?list=PLKwQ5xfKf-Qytvzb8nDWe4Ydxt10SKMm1
As you can see, we found some of them improved, but there was ample room for further improvement. For example at the Azalea City Trail on One Mile branch above Lee Street, where trash was tumbling down into the creek.
We are aware there have been some changes since then. Stay tuned.
Meanwhile, there are many pictures below.
For much more about the trash situation, see:
https://wwals.net/issues/trash

VDT reporter Malia Thomas and Suwannee Riverkeeper John S. Quarterman, Two Mile Branch, Berkley Drive, 14:42:58, 30.8634340, -83.3019160

Upstream trash, Two Mile Branch, Berkley Drive, 14:47:45, 30.8633420, -83.3020360

Movie: Two Mile Branch at Berkley Drive, 14:52:13, (55M) 30.8633779, -83.3018921

Movie: Two Mile Branch at Oak Street, (110M) 30.8633779, -83.3018921

Two Mile Branch upstream, Ashley Street, 15:15:57, 30.8668959, -83.2861607

Two Mile Branch, downstream culvert, University Drive, 15:24:30, 30.8682553, -83.2846867

Downstream drain, Two Mile Branch, University Drive, 15:26:54, 30.8682186, -83.2846741

Racoon prints, Two Mile Branch, downstream, University Drive, 15:28:03, 30.8682200, -83.2847290

Two Mile Branch upstream from University Drive, 15:26:13, 30.8682136, -83.2846319

Zacadoos cup, One Mile Branch, upstream from Lee Street, 15:57:51, 30.8485500, -83.2779730

Movie: Lee Street Detention Pond and Azalea City Trail, (24M) 30.8483314, -83.2782617

Sugar Creek WaterGoat, 16:23:56, 30.8623806, -83.3187058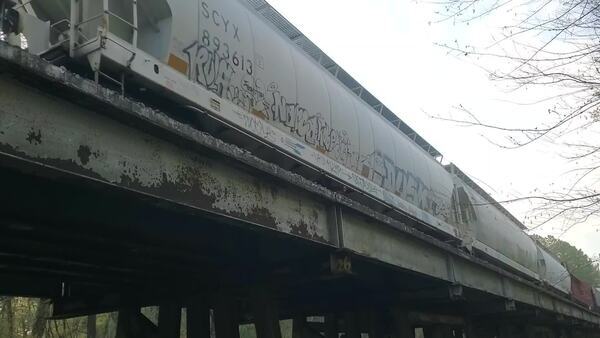 Movie: Withlacoochee River at NSRR Bridge, (108M) 30.8623806, -83.3187058
-jsq, John S. Quarterman, Suwannee RIVERKEEPER®
You can help with clean, swimmable, fishable, drinkable, water in the 10,000-square-mile Suwannee River Basin in Florida and Georgia by becoming a WWALS member today!
https://wwals.net/donations/
Short Link: