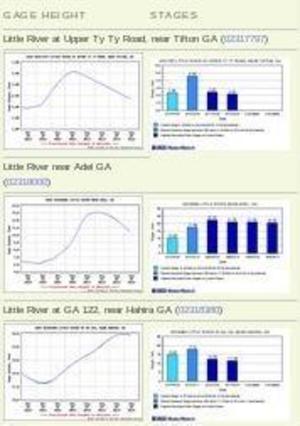 Related to the Withlacoochee and Little River Water Trail and the double USACE flooding study presentation tonight in Valdosta, here are river level charts upstream and down on the Little River, Okapilco Creek, and the Withlacoochee River related to a new USGS flood-tracking chart. In the example charts on the right, you can see the Little River peaked days ago at Tifton and yesterday at Hahira.
The Withlacoochee River peaked yesterday at US 41. while downstream it's going up at US 84, and barely starting up at Pinetta (click on the above chart example for the rest). Right now you can see all that in the charts below. If this works, you'll see something different later, because you'll see current charts whenever you refresh this page.
Update 2016-05-31: See sea level gage reports.
Update 2016-04-27: graphs from water.weather.gov and some WRWT Safe Water Levels.
Update 2014-11-04: Simplified gage formatting.
Update 2014-11-03: That works, and see also Alapaha River water levels.
---
---
High water level 181
---
High water level 11 feet, 144 NAVD; low water level 4.25 feet, 137 NAVD
---
---
---
High water level 94
---
---
High water level 59
---
---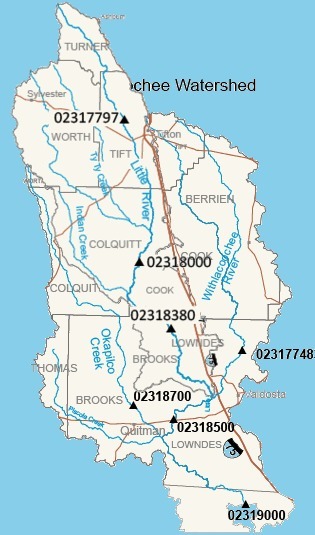 -jsq
Short Link: