Interactive Map
Follow this link to the interactive map, which is also embedded below:
See Also
Follow these links for:
This map is updated from time to time from the WRWT spreadsheet of the Withlacoochee River Water Trail (WRWT).
See also Maps Wanted for more things we want to make from the spreadsheet.
Static Maps
These static maps may not be up to date with the latest interactive map.
Landings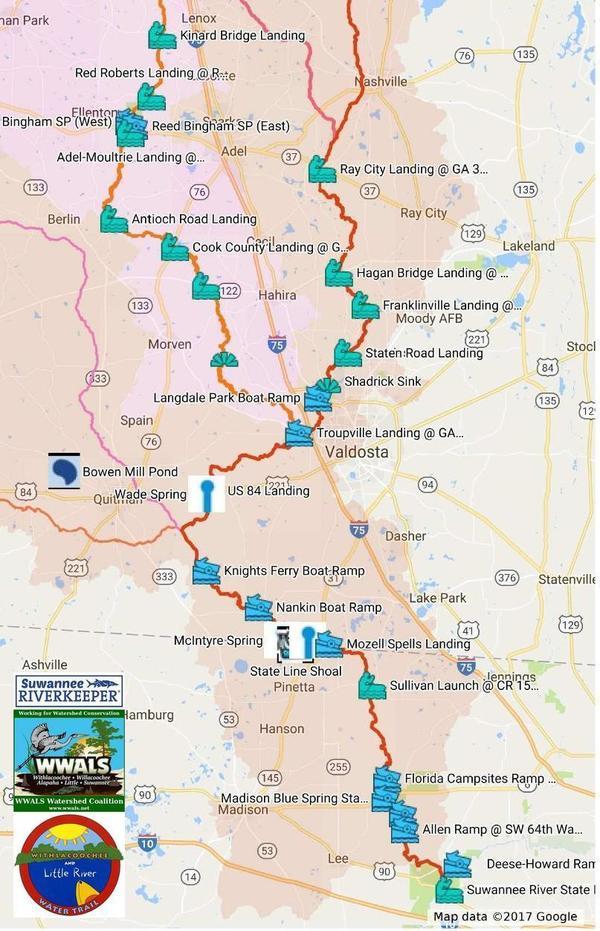 Rivers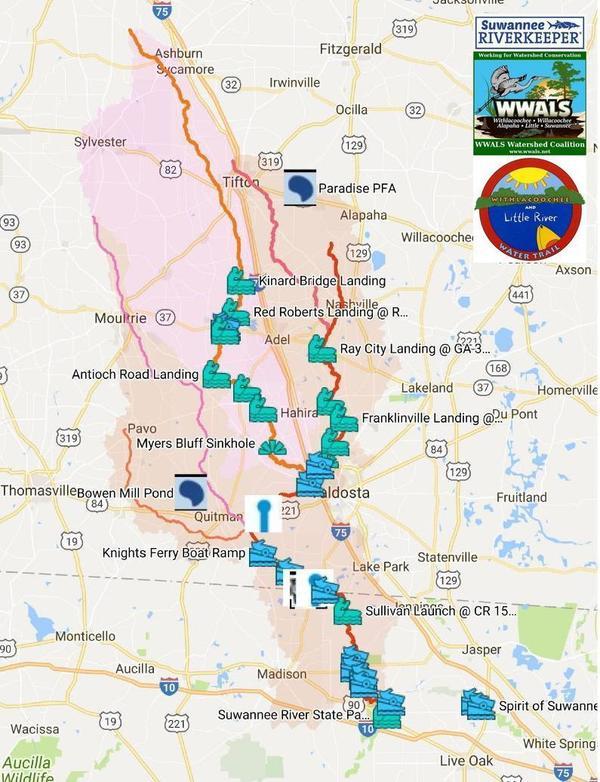 Sources and Notes
Florida miles are from the Suwannee Wilderness Trail.
Georgia access point distances are from Canoeing & Kayaking Georgia By Suzanne Welander, Bob Sehlinger, Don Otey.
The 57.5 miles for Kinard Bridge Road on the Little River matches Brown's Guide.
The distances for the Little River Boat Ramp and the GA 133 Bridge were measured.
All other distances are interpolations thus far.
Changes in this draft map of the Withlacoochee and Little River Water Trail, made from the WRWT Spreadsheet:
2017-11-04: Watershed background color, just landings in static maps, creeks and other new items in interactive map.

2015-05-04:

Tracks by Chris Graham for the Withlacoochee River, Little River, New River, and Okapilco Creek.
Access point distances corrected to match the distances in Canoeing & Kayaking Georgia. Other mile points in Georgia are still very rough.

This draft also contains:

All the road bridges from GA 37 to the Suwannee River
All the rail bridges from GA 37 to the Suwannee River
All the river gauges
Many creeks
A few points of interest
Paradise Lake PFA