It's the annual Georgia Water Coalition Capitol Conservation Day, Wednesday, February 18, 2015.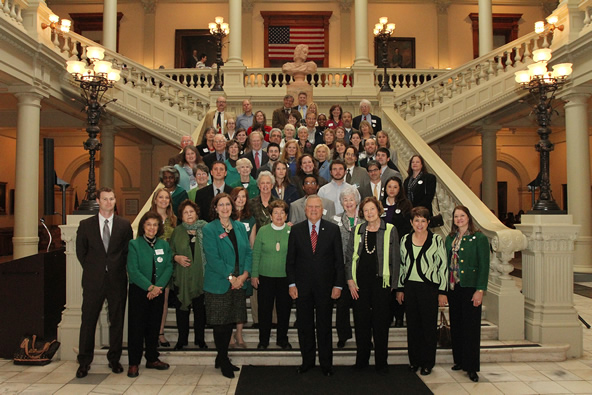 Save the date for the Georgia Water Coalition's Capitol Conservation Day on Feb. 18, 2015. While there, you can meet with your state legislators and tell them what you expect them to achieve during the 2015-2016 sessions. Bring your fellow members and other friends with you to support environmental and conservation causes!
The day will begin at 8:00 a.m. with complimentary continental breakfast in Central Presbyterian Church's Tull Hall, located across Washington Street from the Capitol. During breakfast, there will be a presentation on the most critical conservation bills in the General Assembly. We are working on important bills that would ban aquifer storage and recovery. We need your help, your horsepower, to get the message heard clearly by your elected officials.
Assistance will be available for identifying and locating your representative and senator. Following the informational session, the group will go to the Capitol around 9:30 a.m. for a group photograph to be taken at the bottom of the Capitol North stairs. After the group photograph, you will have time to call upon your legislators. Lunch will be on your own at either the "Sloppy" Floyd Building across Piedmont Avenue/MLK Drive or in the Capitol snack bar. Either before or after lunch, you will report to a debriefing room where you can share details of your visit.
Please contact Tally Sweat with questions: tallys@bellsouth.net.
Please register for this important event online via Eventbrite by Monday, February 16th so that our friends at the Garden Clubs of Georgia can have an accurate headcount for the breakfast caterer.
https://www.eventbrite.com/e/2015-gwc-capitol-conservation-day-registration-15421054790
Become a WWALS member to conserve our watersheds
WWALS Watershed Coalition, Inc. (WWALS) is an advocacy organization working for watershed conservation of the Willacoochee, Withlacoochee, Alapaha, and Little River Systems watershed in south Georgia and north Florida through awareness, environmental monitoring, and citizen advocacy. WWALS is a participating member of the Georgia Water Coalition. You can join WWALS online /donations/ or print the membership application, fill it out, and mail it in.
Short Link: