Not many miles, but packed with sinks, a beach, two rivers, and the big one: the Dead River Sink, on October 2, 2022. Thanks, Dennis Price, for leading us, and for chainsawing our way in.

Sasser Landing, Alapaha River, Dead River Sink 2022-10-02
Thanks to Randy Madison for the ropes that got the boats up the cliff at the Confluence.
Thanks to Phil Royce for helping haul a couple of boats up the Jennings Bluff stairs.
More pictures are below. They're also in a facebook photoset.
See also facebook photosets by:
Randy Madison, including how the boats got up that cliff by the Dead River Confluence.
Gretchen Quarterman, including some pictures from the Dead River Confluence on down to Jennings Bluff.
Shirley Kokidko, on the beach and on the rivers.
The tripod on my boat held a GOPRO360 camera, snapping every 10 seconds. Its pictures will follow.
For more WWALS outings and events, see:
https://wwals.net/outings/
-jsq, John S. Quarterman, Suwannee RIVERKEEPER®
You can join this fun and work by becoming a WWALS member today!
https://wwals.net/donations/

Movie: Ready at Sasser Landing, 30.6008525, -83.0731415

Happy paddlers, 10:39:04, 30.6007464, -83.0735682

Eddies and foam, 10:58:39, 30.5913608, -83.0650910

Sun and shade, 10:58:42, 30.5913608, -83.0650910

Tannic acid tea color, 11:03:20, 30.5890533, -83.0649603

Beaching, 11:24:00, 30.5866246, -83.0600532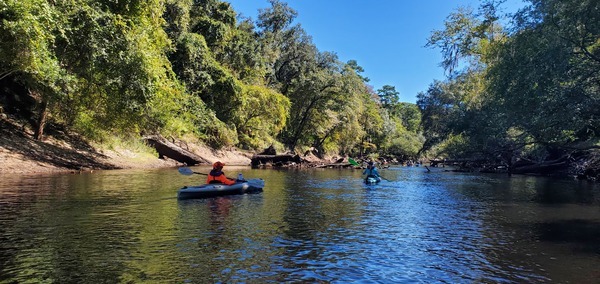 A bit farther, 11:52:16, 30.5868791, -83.0577689

Nice tree, 11:57:31, 30.5862913, -83.0537573

Under the branches, 11:58:53, 30.5858673, -83.0530009

Movie: Swallet eddies, 11:59:51, (36M) 30.5858673, -83.0530009

Flotilla, 12:01:34, 30.5854277, -83.0529308

Movie: Dead River Confluence, 12:02:31, (47M) 30.5849485, -83.0522646

Dead River, 13:01:29, 30.6008045, -83.0990415

Movie: Dead River and Sink, 13:01:29, (25M) 30.6008045, -83.0990415

Dead River kiosk, 13:03:18, 30.5820130, -83.0512589

Gretchen at the Dead River Sink, 13:05:42, 30.5822277, -83.0509627

Almost there, 13:17:07, 30.5825827, -83.0522110

Nice tree at the Dead River, 13:22:59, 30.5822263, -83.0516377

Dead River Sink, 13:23:37, 30.5822263, -83.0516377

Banners at the Dead river Sink, 13:29:10, 30.5818059, -83.0517141

Firewood that Dennis sawed up, later in Phil's truck, 14:00:42, 30.5782362, -83.0411901
Short Link: